Intro to Multi-Pitch Climbing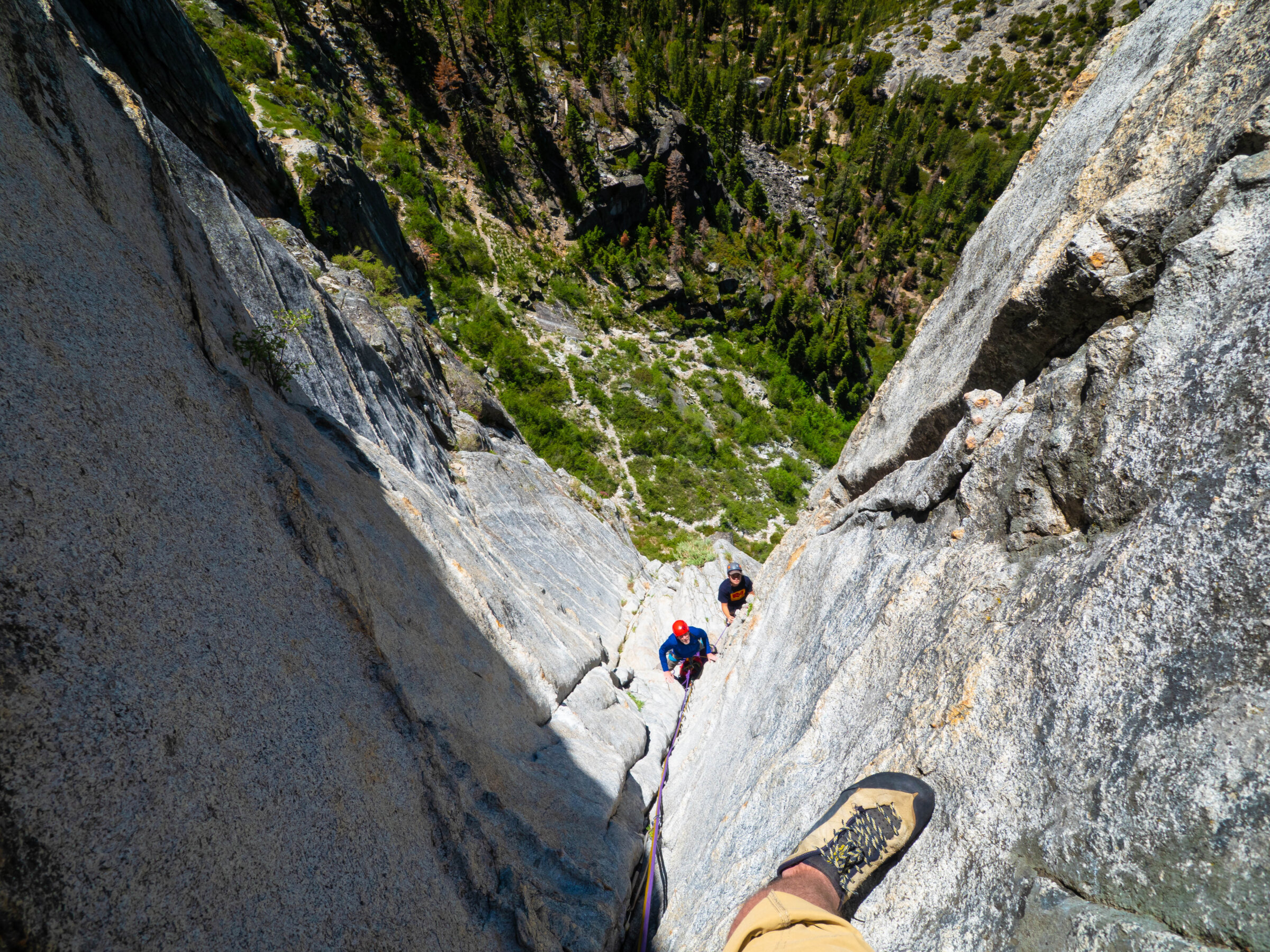 Intro to Multi-Pitch Climbing
2 climbers: $375/person
3 climbers: $466/person
4 climbers: $375/person
2 climbers: $399/person
3 climbers: $499/person
4 climbers: $399/person
Learn how to climb multi-pitch with our certified rock guides in Lake Tahoe. This skills day will take you beyond the limitations of a top rope and onto the faces of bigger crags and mountains. With the movement and technical skills you have learned in introductory classes or prior experiences, we will leave the ground far behind and show you how the multi-pitch system works. A private multi-pitch climbing course with Alpenglow allows you to pick the date for your day with one of our AMGA-certified rock guides. Call or inquire to check availability.
Lake Tahoe Intro To Multi-Pitch Course Overview
You know you've felt it: gazing at a wall that's longer than one rope length, the urge to scale a large cliff is magnetic to climbers and ultimately what draws many of us to the sport. If you wish to push beyond top-roping and single-pitch climbing, this day-long course is the one for you.
Many rock climbs across the world require the skills to build an anchor and bring your partner up before casting off on another pitch. The legendary cliffs of Yosemite Valley, for example, are filled with this style of climbing, and this multi-pitch course will prepare you to start tackling classic big lines around the world.
After a thorough review of basic technical systems, we will learn the skills needed to safely graduate beyond the single-pitch world. The day culminates with an ascent of a multi-pitch rock climb, putting all our new skills to the test.
Our Intro to Multi-pitch Climbing course will take place either on Donner Summit in the Tahoe Truckee region, or we can arrange a course to take place on the majestic cliffs of Lovers Leap in South Lake Tahoe.
THE ALPENGLOW DIFFERENCE
As a Tahoe guide company with countless expeditions to high-altitude peaks around the world over the last 15 years, we bring a wealth of experience and knowledge to our beloved "home mountain". Our teaching and guiding philosophy has been honed from the flanks of the Himalayan giants to the technical peaks of Peru, and we are beyond excited to be able to bring our program to this fantastic mountain. In addition to our international expedition roots, we are accredited by the American Mountain Guides Association (AMGA), being one of the very few guide services in the region to hold such a high standard. Each of our guides is trained by the AMGA in the terrain in which they operate, and the program is supervised by internationally licensed IFMGA mountain guides. This high standard, along with our many years of experience, translates to a fantastic mountain adventure!
Alpenglow Expeditions operates under special use permit with the Tahoe, Eldorado, Inyo, Humboldt-Toiyable and Shasta-Trinity National Forests. This institution is an equal opportunity provider.
Morning

Meet & Greet

Meet your guide, go over goals for the day.

First Half

Review Skills & Techniques

You'll review the necessary skills and techniques, like how to belay from above, how to build an appropriate anchor, and how to cast off on lead.

Second Half

Put those skills into Practice

Now it's time to get off the ground and get some climbing done. Your guide will lead most of the pitches, but if you're feeling up to it he may allow you to test your mettle on a lead of your own.
Alpenglow's California Guides
Our Lake Tahoe Rock Climbing Guides.
Meet who you will be climbing multi-pitch with in Lake Tahoe
FAQ's
Multi-pitch Climbing In Lake Tahoe Questions
The answers to our most commonly asked questions about climbing multi-pitch in Lake Tahoe.
Hat

Bring your favorite baseball hat for shelter from the sun. No white under the brim – the reflection off of it from the sun is blinding.

Recommended: Alpenglow Hat

Sunglasses

Must have dark lenses. Minimal light should come in below, above, or around the sides of the lenses."Wrap" style is best. Ventilation is important and a retainer strap is very useful (Chums or Croakies).

Recommended: Vaurnet Ice Rounds

Climbing Harness

Rock climbing harness that has gear loops, adjustable leg loops and waist belts. We recommend a harness that does not require the belt loop to be "double backed".

Recommended: Black Diamond Zone Harness

Technical Kit

While the technical equipment needed for a specific objective and season varies, this basic kit is a great baseline. Your guide will bring gear for you to use during your course, but participants are encouraged to bring some or all of this if you own it or are interested in purchasing it.

1 Cordalette (6mm x 5m/16.4′)
4 locking carabiners
2 non-locking carabiners
1 double-length Dyneema sling
Small prusik loop (6mm x 112cm/44″)
Auto-blocking belay device (eg. ATC guide)
Micro Traxion or similar

Helmet

An easily adjustable lightweight helmet that fits with hat and Balaclava. Make sure this is a climbing-specific helmet. *Climbing helmets are also available to rent (for our introductory climbing courses) at no charge from Alpenglow Expeditions on a first-come, first-serve basis.

Recommended: Black Diamond Vision Helmet – MIPS
Alpenglow was an amazing company to work with

Alpenglow was an amazing company to work with from booking to the actual rock climbing lesson. We purchased the half-day lesson on Donner Summit, and were blown away with the knowledge of our guide, Pete. Climbing can be an intimidating sport for people to try, but Pete's positive and playful personality made the day very enjoyable. I highly recommend this company for anyone looking for a fun and challenging adventure to do solo, with friends or with your family!
More Lake Tahoe Adventures