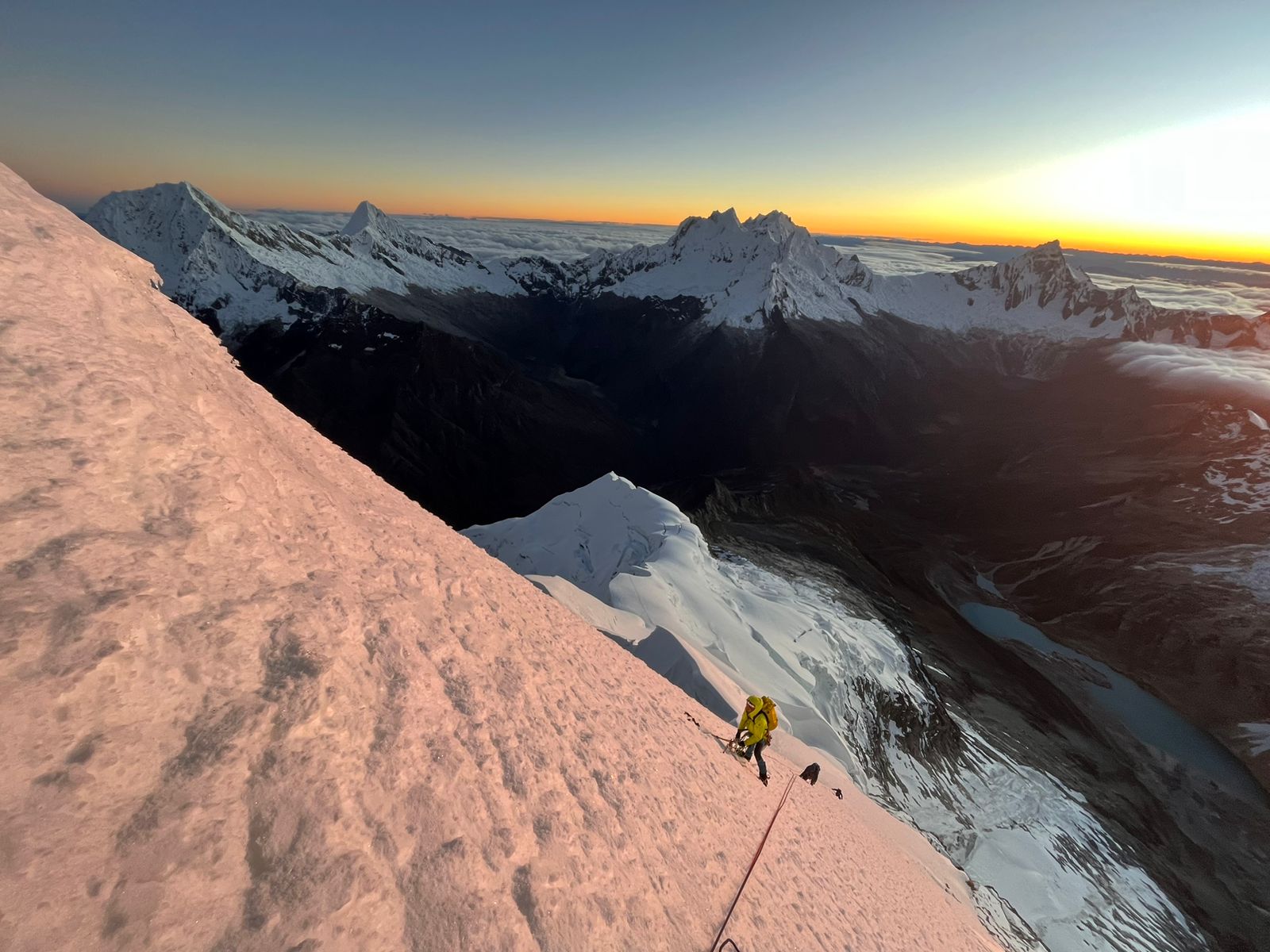 Climb Artesonraju with certified mountain guides who have climbed extensively in South America and know the Peruvian Andes intimately. Artesonraju is ideal for experienced technical climbers who excel at high altitude.
Jul 16, 2023 – Jul 29, 2023
Artesonraju Expedition Overview
Climb Artesonraju, the "Paramount Pictures" mountain.
Artesonraju (19,767'/6,025m) is considered one of the jewels of the Cordillera Blanca. The spectacular peak is often recognized as the Paramount Pictures icon and provides an incredible climbing experience in the Cordillera Blanca. Climbing Artesonraju demands an extremely long summit day, where efficiency and fitness are essential.
Artesonraju Itinerary
Day 1

Arrival

Arrive in Lima between 6pm and midnight.

Day 2

Drive to Huaraz

Drive to Huaraz (8 hours), where we base out of Olaza's Guest House, a small but beautiful hotel (10,000'/3,050m).

Day 3

Acclimatize and Organize

Acclimatize and organize in Huaraz. We'll go on a short hike outside of Huaraz as we start our acclimatization.

Day 4

Drive to the End of the Road

We'll drive to a refugio at the end of the Llaca Valley road (14,000'/4,267m). We prepare our gear for the climb and scope the complicated route through the moraine.

Day 5

Acclimatization Climb

Today, we climb Vallunaraju (18,655 feet/ 5,686 meters) and return to Huaraz. Vallunaraju provides us with a perfect acclimatization climb on moderate terrain, allowing us to review and practice our skills. We enjoy spectacular views all day long.

Day 6

Move to Llama Corral

Next, we drive to our trailhead in the village of Cashapampa (9,000'/2,743m). This 3-hour drive takes us through beautiful farming communities as we weave between the spines of the Cordillera Negra and the Cordillera Blanca. After organizing our burros, we hike with daypacks to Llama Corral (11,500'/3,505 meters), where we camp for the night.

Day 7

Move up to Basecamp

Today, we begin up the Santa Cruz Valley route on a mellow trail and then turn off to Artesonraju basecamp (13,944'/4,250m).

Day 8

Rest and Skills Day

Today we rest and work on our skills in preparation for the technical climbing on Artesonraju.

Day 9

Move to Moraine Camp

After another roughly 5 hours of hiking, we arrive at Moraine Camp (16,404/'/5,000m).

Day 10

Summit Day

Two-tool climbing takes us to the summit of this incredible peak at 19,767'/6,025m). We will need to move efficiently to successfully summit and descend by rappelling off this huge alpine route. We spend the night at Moraine Camp.

Day 11

Weather Window

Extra summit day for weather or rest.

Day 12

Descent to Basecamp

Descend to basecamp and enjoy our last sunset in the Cordillera Blanca.

Day 13

Return to Huaraz

Walk out to Cashapampa and return to Huaraz for a night of celebration with the team.

Day 14

Head Home

We depart from Huaraz back to Lima to catch our flights (after 11pm). Say goodbye to your team and head home!
Alpenglow's Peru Guides
Our Artesonraju Guides
Meet some of the guides you might be climbing Artesonraju with.
FAQ's
Artesonraju Questions
Below are some answers to commonly asked questions about Artesonraju
Hat

Bring your favorite baseball hat for shelter from the sun. No white under the brim – the reflection off of it from the sun is blinding.

Recommended: Alpenglow Hat

Beanie

A comfortable, warm well-fitting hat that covers your ears. Make sure that one of your hats fits under a helmet.

Recommended: Black Diamond Levels Beanie 

Balaclava

We recommend a tight-fitting balaclava that is worn under your hat. Make sure that it covers as much skin as possible, but is comfortable enough to wear for hours.

Recommended: Black Diamond Coefficient LT Balaclava

Neck Gaiter (Buff)

A multi-purpose neck gator that can also be worn under your hat. Make sure that it covers as much skin as possible and yet is still comfy.

Recommended: Alpenglow Buff

Sunglasses

Must have dark lenses. Minimal light should come in below, above, or around the sides of the lenses."Wrap" style is best. Ventilation is important and a retainer strap is very useful (Chums or Croakies).

Recommended: Vaurnet Ice Rounds

Goggles

These will be worn on stormy or windy days. Make sure you are getting a snug fit with lenses for bright sun. Ventilation and anti-fog features are desired.

Recommended: Vuarnet Everest Goggles

Liner Gloves

These gloves keep the inside of your mitts or other gloves from accumulating sweat on the inside and turning inside out when you take them off, as well as provide additional insulation.

Recommended: Black Diamond Lightweight Wooltech Gloves

Lightweight Gloves

All-around gloves for mountaineering, backcountry skiing, and hiking. These gloves (and similar options) are warm, wind-resistant, durable and have a sure grip. You will rarely take these gloves off. They should be snug-fitting, and have some sort of reinforced palm.

Recommended: Black Diamond Tour Gloves

Heavyweight Gloves

These gloves should be full GORE-TEX®, with a removable fleece liner (so you can take the liner out and dry it at night). These gloves are used at higher altitudes and are needed to keep your hands dry, and warm. Over the cuff style is desired.

Recommended: Black Diamond Guide Gloves

Liner Socks

A super-thin wicking sock that repels moisture. Liner socks help to reduce the likelihood of blisters. The socks should be thin wool, nylon, or Capilene®. NO COTTON

Recommended: Ice Breaker Merino Liner

Hiking Socks

Your everyday sock, good for day hikes, trekking, and in-town. It's good to bring several pairs of these socks. NO COTTON.

Recommended: Darn Tough Hiking Sock

Warm Socks

A wool synthetic blend. Pure rag wool socks are not nearly as effective in wicking moisture or retaining their shape and reducing blisters. Bring a few pairs of these socks. NO COTTON.

Recommended: Darn Tough Mountaineering Sock

Hiking Shoes

These light to mid-weight shoes are for everyday use. The ideal shoe is comfortable to wear for multiple days and scrambles decently on rock. A Gore-tex lined shoe stays drier when hiking in rain or snow.

Recommended: La Sportiva TX Guide

Mountaineering Boots (5,000 – 6,000m)

Should be warm single or double boots that have a stiff sole and accept a step-in crampon. The boots should be comfortable, have adequate wiggle room for your toes, and your heel should not lift more than 1/8th of an inch when walking. (If your feet run cold, we would recommend a double boot like the La Sportiva G2 Evo.) For our Introductory Climbing Schools, we have limited availability and sizes for free boot rentals. If you need rentals, please reach out to the office staff asap to ensure we have your size.

Recommended: La Sportiva G5 Evo

Waterproof Gaiters

GORE-TEX® or Schoeller® calf- high gaiters, insulated supergaiters recommended. *Gaiters are not needed if your pants and/or boots have built-in gaiters.

Recommended: Outdoor Research Expedition Crocodile Gaiters (required if your boots do not have integrated gaiters)

Expedition-Weight Base Layer

Duffle Bags

2 Duffle Bags – At least one bag should be extremely durable, waterproof, and big – between 90L and 120L. You should feel comfortable leaving it in a puddle for several hours. Remember dry clothes are hot commodities in the mountains! Large enough to fit everything you own, plus what you anticipate buying. Two duffel bags are necessary to fit all your equipment for travel (we don't recommend checking your backpack, best is to put all gear and backpack into your duffle). Once in country, you can consolidate your gear into one duffel and your backpack. It's common to leave the second duffel with city clothes and other non-necessary items behind in a locked and secure location that your guide will arrange for you.

Note: For ski expeditions such as the Ecuador Ring of Fire, you can replace one of these duffle bags with a ski/splitboard bag.

Recommended: Black Diamond Stonehauler 90L

Climbing Pack: 50-60L

Internal frame pack that is between 50 and 60 liters. Either purchase a matching pack cover, or use garbage bags as liners. Make sure the pack is fitted to YOUR body.

Recommended: Black Diamond Speed 50L Pack

Sleeping Bag (0°F)

Rated to 0º F. Make certain that the sleeping bag is the right length. DON'T FORGET A COMPRESSION SACK FOR THE SLEEPING BAG. Many climbers also like a silk liner. For the Ecuador Climbing School: If you're on our 9-Day (non-extension) trip, a 20º F rated bag is ok.

Recommended: Mountain Hardwear Phantom 0°F 

Inflatable Sleeping Pad

72-inch long inflatable pad required. Make sure you also purchase and bring a repair kit + bag for the sleeping pad.

Recommended: NeoAir Xtherm

Headlamp

L.E.D. headlamps are required. Make sure they have 3+ bulbs. Bring extra batteries. We highly recommend a tilting lamp.

Recommended: Black Diamond Storm 450

Compressible 1-1.5L Bottle

Wide mouth compressible 1-1.5 liter bottle. Optional but strongly recommended. Often used as a designated pee bottle.

Recommended: Nalgene Flexible Cantene

Plastic Bowl, Mug, and Spoon

A lightweight and compact cookware setup. You'll want a plastic bowl, mug and spoon.

Recommended Kit: MSR 2-Person Mess Kit

Helmet

An easily adjustable lightweight helmet that fits with hat and Balaclava. Make sure this is a climbing-specific helmet. *Climbing helmets are also available to rent (for our introductory climbing courses) at no charge from Alpenglow Expeditions on a first-come, first-serve basis.

Recommended: Black Diamond Vision Helmet – MIPS

Climbing Harness

Rock climbing harness that has gear loops, adjustable leg loops and waist belts. We recommend a harness that does not require the belt loop to be "double backed".

Recommended: Black Diamond Zone Harness

Ice Tool (2)

Two technical ice climbing axes. Its best to have one with an adze and one hammer. The tools should be approx. 50cm. long. These should be modern curved tools with waterfall ice picks. *Spinner leashes are required (Black Diamond leashes are excellent)

Recommended: Black Diamond Viper Ice Tools

Mountaineering Crampons

Steel crampons with anti-balling plates are required (so that snow does not build-up in the base of your foot). Make sure that crampons have a heel bail and that they fit snugly on your ski or snowboard boots. Crampons are available to rent (for our introductory climbing courses) at no charge from Alpenglow Expeditions on a first-come, first-serve basis.

Recommended: Black Diamond Sabretooth Crampons

Non-locking Carabiner (2)

Miscellaneous Items

Passport (with visa, if necessary)
2 luggage locks (TSA compliant)
Non-cotton underwear
Wag bags, 1 per night camping as to leave no trace
Stuffsacks: assorted sizes, for organizing your clothes and gear
Sunscreen: SPF 30 (or higher)
Lip balm with SPF 15 (or higher)
Personal first-aid kit (Band-aids, Ibuprofen, Cough Drops, Moleskin, Pepto-bismol, Imodium, Personal Medications)
Toiletries
3-4lbs of Snack food (a variety of snack food, some whole food, some bars, some gels)
Hand Warmers
Face Mask
Hand Sanitizer
Knife
Steripen
Headphones
Alpenglow is the best

"I've been climbing with Alpenglow for over ten years. After my first expedition, I knew I'd found the best team. I feel like I'm a member of the Alpenglow family, and have come to know and love many of their guides, office staff, and programs. Alpenglow is truly the best!"