Everest Expedition on Hold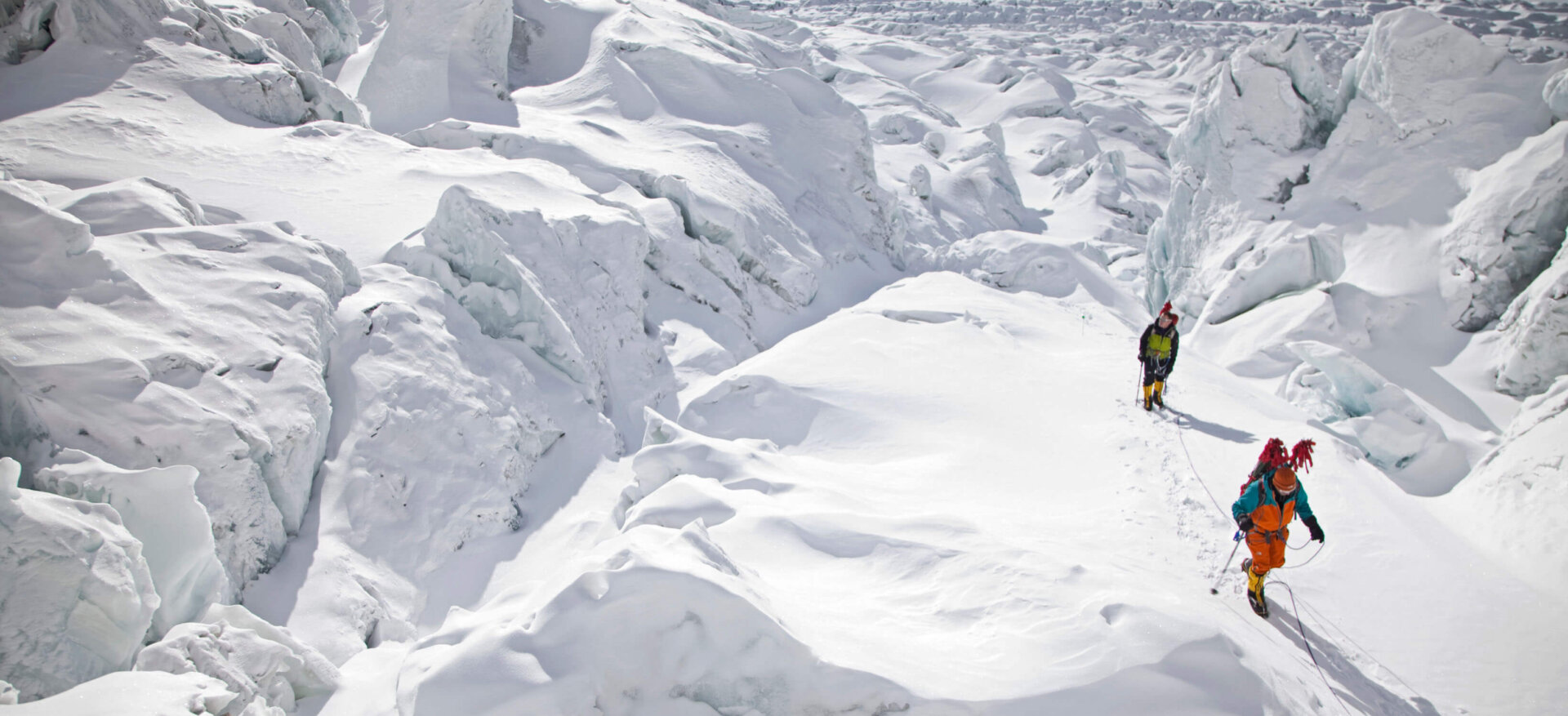 The following blog is courtesy of Billi Bierling, Himalayan Experience:
Dangerous Rockfall Thwarts Everest Expedition
Himalayan Experience has had to put its expedition on hold due to too many hazards on the mountain. "The danger on the Lhotse Face as well as in the Khumbu Icefall is way outside our parameters. The rockfall onto the Lhotse Face is relentless and I cannot put my members, guides or Sherpas through this danger," Russell explained during lunch on Thursday – shortly after the first Everest group, the 'Yetis' as well as the Lobuje team had arrived back at base camp.
While the Lhotse and Nuptse teams were perched on the summit of Lobuje East for two nights to acclimatise, the 'Yaks' and the 'Yetis' were at Camp II (6,400m/21,120ft) on their second acclimatisation rotation. "It was a hard week – the wind never abated and the constant rockfall onto the Lhotse Face was very unnerving," said our guide Brian. "The mountains are just too dry this year and there is no snow that could hold the rocks."
Last week saw three serious accidents caused by rockfall on the Lhotse Face and every day someone is getting hit by a rock , which has triggered discussions on finding a new route to Camp III. "We sent an exploratory team to have a look whether there is a possibility further to the right but we are not happy with that route either," Russell explained. "There are too many hanging blocks, which could fall down any time," said Adrian after having had a good look further to the right. However, even if the way to Camp III could be improved, Russell is still worried about the continuation across to the South Col. "The traverse over to the Geneva Spur is still underneath the rocks of Lhotse and I cannot see the situation improve a lot over there – it will still be dangerous."
Acclaimed mountaineers, such as Gerlinde Kaltenbrunner, Ralf Dujmovits and Simone Moro share our view on this year's condition of the mountains. "I turned back at about 7,000, (23,100ft) as I had to dodge the falling rocks continuously," Simone told me. "I might go back up but I am certainly not in a hurry."
Due to the current danger on the Lhotse Face, the Everest members did not climb up to Camp III (7,300m/24,100ft) for their one night of acclimatisation but they stayed an extra night at Camp II instead. "Even though we did not go to Camp III, we are still on schedule," Russell explained. The 'Yaks' will come down on Friday and once they are back at base, the remaining Sherpas will pack up Camp II and join the rest of the team. "I am pulling everybody off the mountain, however, it does not mean the expedition is over – it is currently on hold."
Snow Predicted
"We have to wait what the weather is doing. There is some snowfall predicted but I am not sure whether it will glue the mountain back together and make it safer," Russell told the team. "This is very hard for me but every one of you pays me a lot of money to make the right decisions and look after your lives –and that's what I am doing."
The members of the Everest team seem very understanding with Russell's decision to wait and see. "I totally respect his judgment and having been up at Camp II for six days seeing the rockfall, I am happy to be down here," said Amanda from Australia. "We saw the Sherpa, who was hit by a rock in the head. He looked very beaten up and it made me realise how dangerous the Lhotse Face is," said Greg from the States. "I absolute respect Russell's decision and that is what we pay Himalayan Experience for."
For the Lhotse team, the current condition most probably means the end of their expedition. "The rocks are coming down from Lhotse and nobody is prepared to fix the ropes in the couloirs – it is just too dangerous. So, at this stage I guess the expedition to Lhotse is over," Russell explained. "Nuptse might be the safest option this year."
Tragic Incident
While the 'Yeti' team was coming down from Camp II on Thursday morning, one of our Sherpas, Dawa Tenzing, collapsed just outside Camp I with a stroke. "Thanks to all concerted efforts, we managed to evacuate him by helicopter from Camp I in 1hr40min and he was in Kathmandu in less than three hours after his collapse," Russell said with tears in his eyes. After picking Dawa up from Camp I, the helicopter landed at base camp to collect his brother Dorjee, who accompanied him back to Kathmandu. "This tragic event is a huge shock for me. Dawa is now in a hospital in Kathmandu and he is in a very serious condition," he continued.
On Friday, Himalayan Experience will organise for Dawa's wife to be flown from Phortse in the Everest Region to see her husband in Kathmandu. All of us here at Base Camp from the Himalayan Experience team hope that Dawa will get better soon and wish him a speedy recovery.
As far as our expedition is concerned, we will keep you posted on what the mountain, the weather and the conditions are doing. We can only wait and see how it will unfold but what is most important to us is the safety of our Sherpas, guides and members.
www.himalayanexperience.com