High Sierra Backcountry Ski Tours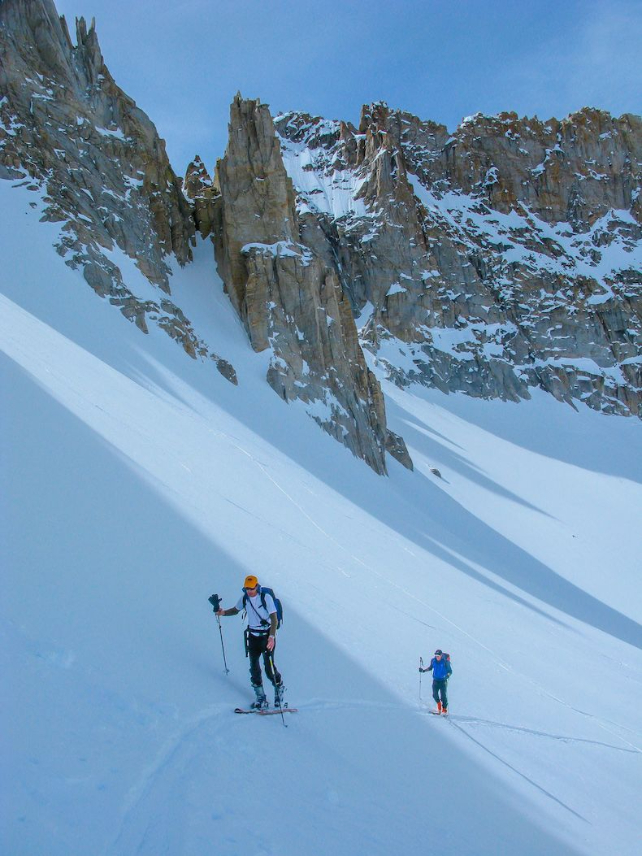 High Sierra Backcountry Ski Tours
+$125 each additional skier
+$125 each additional skier
Surrounded by 14,000′ peaks and stunning backdrops, the backcountry touring in the High Sierra is some of the finest in the world. These tours are a "must-do" for any backcountry skier looking to break out from the local mountains and into some seriously big terrain. Please note: this trip will incur a guide travel expense in addition to the base price above.
Winter & Spring '23 – '24
Announced in July
Looking down on the desert valley below, skiers and riders standing atop any peak in the High Sierra are greeted with some of the longest descents in the United States.
Couple the incredible terrain and goose bump inducing beauty, with near total solitude and pristine weather and you've got a recipe for some of the best day's of your life. Our AMGA certified ski guides have been skiing the High Sierra for many years and will find the best terrain and snow on any given day.
Sample Day 1

Meet, Plan, Ski

Meet your guide before dawn over a steaming hot cup of coffee. Review the plan for the day and proceed to the trailhead. Climb up your planned objective. Celebrate with high fives and ski the longest run of your life.
FAQ's
The answers to our most commonly asked questions.
An amazing day of guided backcountry skiing

"Just had an amazing day of guided Palisades backcountry skiing with Dave Nettle of Alpenglow Expeditions. Everything with Alpenglow was top notch from the reservation process and advance-prep right through the last run of the day. Dave was an awesome guide/partner, and incorporated just the right amount of education and knowledge-sharing mixed with a full day of amazing skiing.
If you ever find yourself at Palisades, I would highly recommend spending a day with Dave or any of the guides at Alpenglow!"