Women's Intro To Backcountry 1.0 & 2.0 – Lake Tahoe
Women's Backcountry 1.0 & 2.0
This women's introduction to backcountry skiing and riding clinic is a two-day package consisting of our
Backcountry 1.0
and
2.0
courses, tailored just for women and led by women. In this course, you'll be introduced to the tools and techniques that you'll need to venture into the backcountry safely and efficiently. Advanced intermediate resort skiers and riders are welcome to join this clinic, but no prior backcountry experience is required. Please see the preparation section before enrolling.
Jan 6, 2024 – Jan 7, 2024
Designed and led by our female staff of AMGA trained ski and splitboard guides.
This 2-day introduction to backcountry course is for skiers and riders who love spending time in the mountains riding fresh snow. No backcountry experience is necessary to join this course.
Modeled after our popular Backcountry 1.0 and 2.0 single day courses, this course will go a bit deeper by providing back to back days of backcountry skills education with AMGA trained guides. Participants will have the unique chance to work with the same guide, giving the ability to compound skills learned on day 1 and significantly boosting the learning curve in a supportive environment. This course is a fantastic precursor to an AIARE level 1 avalanche course.
You must be an advanced intermediate skier/rider that is competent on and off-piste in a variety of conditions.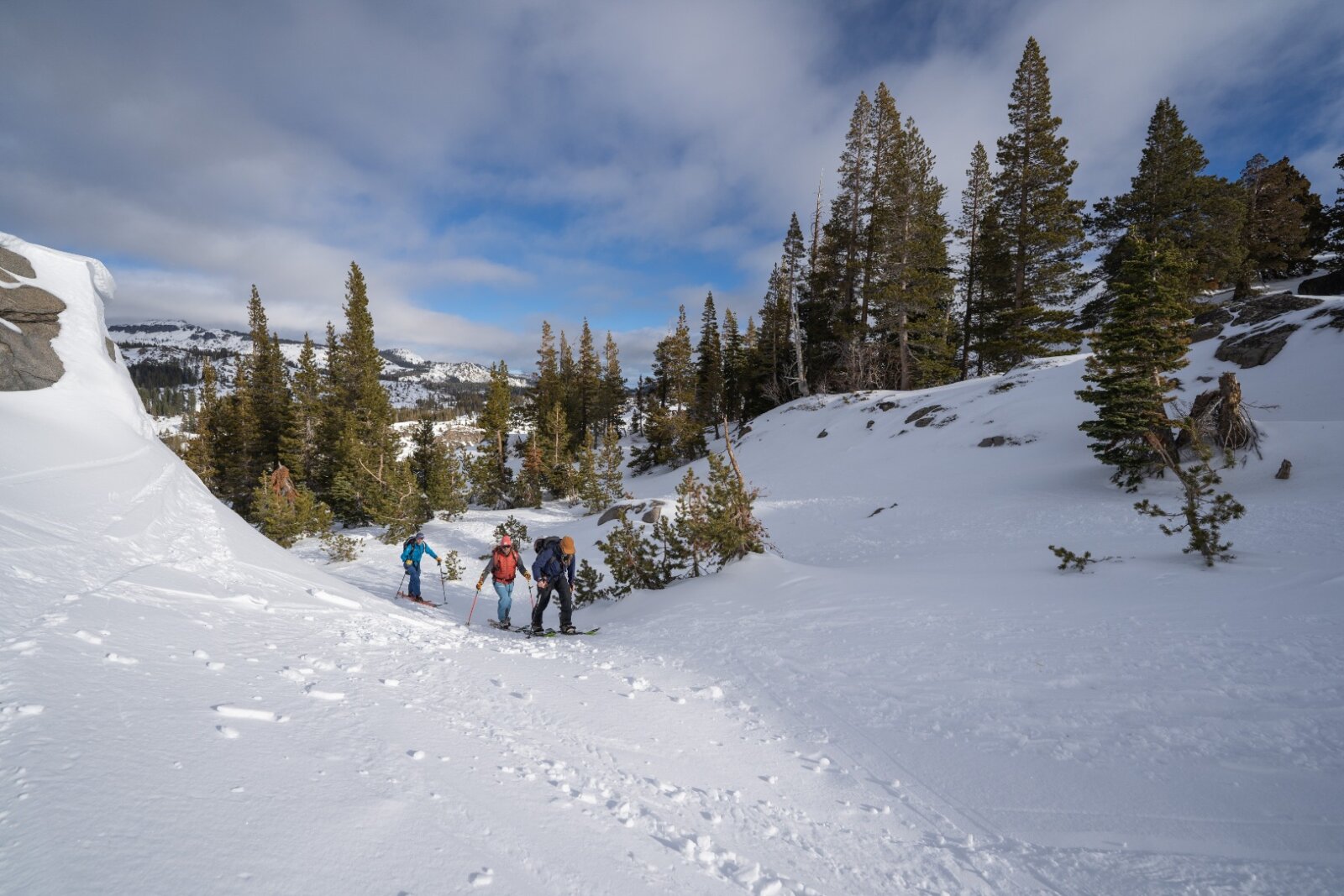 Day 1

BC 1.0 Principles

First day out. Welcome to the backcountry! Our main object for the day will be similar to our BC 1.0 outcomes – Increase familiarity and comfort with movements and equipment. The morning kicks off with a meeting between participants and your AMGA guide, in which they will go over required gear, evaluate everyone's personal gear and providing feedback and recommendations for future gear purchases. The next subject will be to explore the plan for the day, getting an insight into your guides planning system allowing you to learn a bit about how professional guides go about assessing the day before even stepping outside.

Day 1 Outcomes

Familiarity with backcountry skiing and riding equipment
Transitioning to ski or ride mode from walk mode
Various techniques for efficient uphill travel
How to use avalanche safety equipment: beacon, shovel and probe
What to bring in your pack
How to pack your bag
Managing gear in the elements
Layering clothes

Day 2

BC 2.0 Principles

Day 2 will pick up where Day 1 left off, further expanding on basic movement and terrain assessment fundamentals, while pushing into more complex subjects such as leadership, tour planning and rescue scenarious. This day's itinerary and goals are ultimately up to the team gathered and the guide. Operating in small groups means we can be dynamic if the group wants to spend more time learning a particular subject, while skipping over another.

Day 2 Outcomes

Leadership in the backcountry setting
Tour planning
Avalanche hazard management
Touring movement skills
Our Guides
Alpenglow's Women's Backcountry Guides
Meet some of the guide who might be instructing your course.
FAQ's
The answers to our most commonly asked questions.
The most memorable experiences on skis

"My Backcountry 1.0 ski trip with Alpenglow was the best decision I made before attempting to ski in the backcountry. My guide, instructor Ben W, not only gave me the most memorable experiences on skis but he also educated me on the importance of safety and the fundamentals of skiing in the backcountry. His professional certifications, avalanche training, and personalized instruction assured me that I was learning from a qualified and professional instructor. I learned new skills, hiked on my skis, had some awesome descents and enjoyed the beautiful views of Lake Tahoe. Although trying new skills can feel challenging and overwhelming, Ben was always patient and happy to answer any questions and guide me throughout the day. He always reinforced the importance of having fun and returning back safely to enjoy another day of skiing. I am excited to go to the next level with Alpenglow's Backcountry 2.0 class and a basic avalanche safety class.
Thank you Ben and the staff of Alpenglow!"