Cordillera Huayhuash Trek
Cordillera Huayhuash Trek
Peru's Cordillera Huayhuash is a captivating  trek at sustained high altitude.  Enjoy incredible views of pristine mountain lakes and snow-covered peaks while immersed in traditional Andean culture. Trekking with Alpenglow Expeditions in Peru means you are led by our professional guides while taking advantage of our longtime relationship with our local logistics team to create a seamless experience.
Cordillera Huayhuash Trek Overview
One of the most beautiful treks on the planet.
The Cordillera Huayhuash is a spectacular mountain range, with sharp, towering peaks looming high above the trekking trails. This 11 day trek is lead by a certified mountain guide, and is complete with porters so that you can focus on taking in the views rather than carrying a heavy pack.
Cordillera Huayhuash Itinerary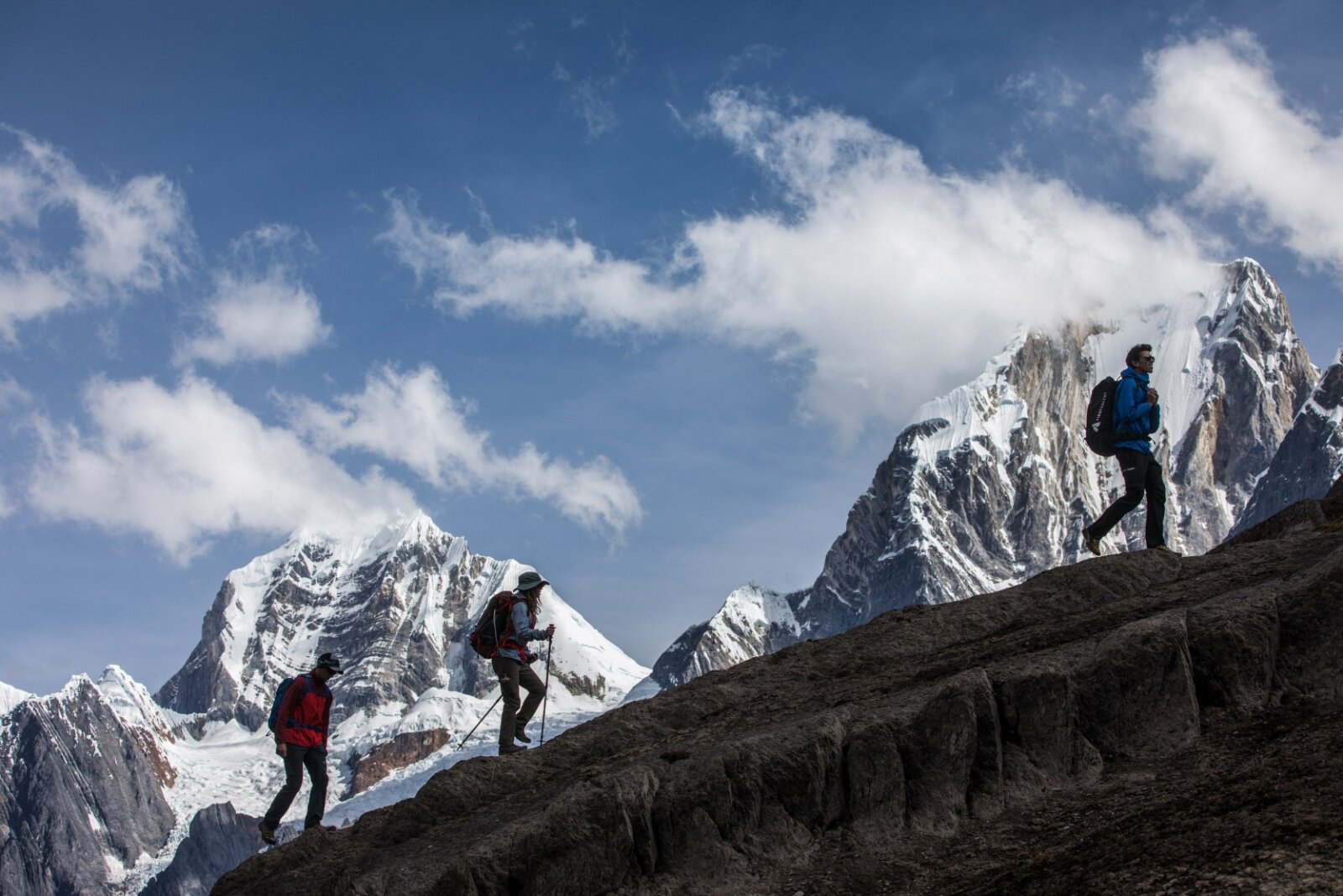 Day 1

Arrival

Arrive in Lima in the afternoon or evening. We'll stay one night in Lima in case of delayed flights, etc.

Day 2

Head to Huaraz

Drive to Huaraz (8 hours) where we base out of Olaza's Guest House, a small but beautiful hotel (10,000' / 3,050m).

Day 3

Acclimatize in Huaraz

Organize and acclimatize in Huaraz. Generally speaking, we can spend this day exploring the beautiful city of Huaraz. This not only gets our legs moving, but really gets our acclimatization process jumpstarted.

Day 4

Acclimatize in Huaraz

A second day in Huaraz is spent mountain biking on local trails to continue acclimatization. At the end of two full days in Huaraz, we should be ready to make our drive to the village of Llamac.

Day 5

Drive to Llamac and Begin Trek

Drive (4-5 hours) to Llamac (11,152'/3,400m) before beginning our trek. In Llamac, we'll meet the backbone of our guide(s) and burro team. From here, we'll cast off towards Cuartelhuain (13,615'/4,150m) following the Quero River. Our total trekking time today will be 5-6 hours.

Day 6

Trek to Lake Mitucocha

Today, we tackle our first challenging pass, the Cacananpunta Pass (15,419'/4,700m). We ascend over a 4-5 hour period to the pass which lies on the Andean Continental Divide. Throughout the day, we'll have views of Ninashanca (18,395'/5,607m) and Rondoy (19,258'/5,870m). From the pass, we'll descend for 1-2 hours to our campsite on the shores of Lake Mitucocha (14,107'/4,300m).

Day 7

Trek to Carhuacocha

Our biggest day of trekking yet – we climb over a second pass called Carhuac Pass (15,255'/4,650m) before dropping into another beautiful valley. Our camp for the night lies on the shores of Laguna Carhuacocha (13,615'/4,150m). Today's total trekking time should be about 6-7 hours.

Day 8

Rest Day

Rest Day in Laguna Carhuacocha. We take this day to enjoy our location deep in the wilderness. For those feeling energized, we can go on an exploration hike in the area.

Day 9

Trek to Huayhuash Village

We leave Laguna Carhuacocha and hit our third pass before ending our day in the beautiful village of Huayhuash (14,107''/4,300m). The Carnicero Pass will be challenging at 15,583'/4,750m, and will once again provide impressive views of the mountains surrounding it. Total walking time today is 6-7 hours.

Day 10

Trek to Laguna Viconga

An early start has us leaving the tranquil village and heading towards Lake Viconga (14,419'/4,395m). Our fourth pass of the trek is Portachuelco Pass (15,583'/4,750m) and provides more great views to remote peaks in the Cordillera Raura. We end the day by soaking in the hot springs of Laguna Viconga. Total trekking time today is 5-6 hours.

Day 11

Trek to Rinconada

Today we cross our highest pass as we move towards camp in Rinconada. The Cuyoc Pass (16,404'/5,000m) will be difficult, but rewarding. We continue our trek by descending from the pass towards Rinconada where we set up camp for the night. Total trekking time today is 4-5 hours.

Day 12

Walk to Huayllay

Today is a much needed easy day of walking through the valley towards the village of Huayllay. From there we ascend a gradual slope up a narrow valley to reach Huatiac (14,107'/4,300m). Total trekking time is 4-5 hours.

Day 13

Trek to Gashgapampa

Another day, another pass. We leave Huatian in the morning to move towards Tapush Pass (15,748'/4,800m). From there we descend to Gashgapampa (14,763'/4,500m) where we set up camp. Trekking time is 3-4 hours.

Day 14

Trek to Laguna Jahuacocha

From Gashgapampa we head toward Laguna Jahuacocha (13,615'/4,150m) and climb one of our last passes of the trip, Yahucha Pass (15,584'/4,750m). From this pass we will have spectacular views of high peaks, including Yerupaja (the second highest peak in Peru). Trekking time is 4-5 hours.

Day 15

Trek to Llamac, Drive to Huaraz

Waking up on the shores of Laguna Jahuacocha, we are now on our last day of trekking. One final pass stands between us and the finish: Pampa Llamac Pass (14,108'/4,300m). After enjoying our last views of the Cordillera Huayhuash, it is time to bring our trek to a close. A couple more hours will bring us out of the mountains, to the small village of Llamac. From here, we will travel by vehicle back to Huaraz.

Day 16

Leave for Lima

We depart from Huaraz back to Lima to catch our flights (after 11pm). Say goodbye to your team and head home!
Alpenglow's Peru Guides
Our Guides
Get to know who you might be trekking with.
FAQ's
Cordillera Huayhuash Trek FAQ's
Below are some answers to commonly asked questions
Hat

Bring your favorite baseball hat for shelter from the sun. No white under the brim – the reflection off of it from the sun is blinding.

Recommended: Alpenglow Hat

Beanie

A comfortable, warm well-fitting hat that covers your ears. Make sure that one of your hats fits under a helmet.

Recommended: Black Diamond Levels Beanie 

Neck Gaiter (Buff)

A multi-purpose neck gator that can also be worn under your hat. Make sure that it covers as much skin as possible and yet is still comfy.

Recommended: Alpenglow Buff

Balaclava

We recommend a tight-fitting balaclava that is worn under your hat. Make sure that it covers as much skin as possible, but is comfortable enough to wear for hours.

Recommended: Black Diamond Coefficient LT Balaclava

Sunglasses

Must have dark lenses. Minimal light should come in below, above, or around the sides of the lenses."Wrap" style is best. Ventilation is important and a retainer strap is very useful (Chums or Croakies).

Recommended: Vaurnet Ice Rounds

Lightweight Gloves

All-around gloves for mountaineering, backcountry skiing, and hiking. These gloves (and similar options) are warm, wind-resistant, durable and have a sure grip. You will rarely take these gloves off. They should be snug-fitting, and have some sort of reinforced palm.

Recommended: Black Diamond Tour Gloves

Liner Socks

A super-thin wicking sock that repels moisture. Liner socks help to reduce the likelihood of blisters. The socks should be thin wool, nylon, or Capilene®. NO COTTON

Recommended: Ice Breaker Merino Liner

Hiking Socks

Your everyday sock, good for day hikes, trekking, and in-town. It's good to bring several pairs of these socks. NO COTTON.

Recommended: Darn Tough Hiking Sock

Warm Socks

A wool synthetic blend. Pure rag wool socks are not nearly as effective in wicking moisture or retaining their shape and reducing blisters. Bring a few pairs of these socks. NO COTTON.

Recommended: Darn Tough Mountaineering Sock

Hiking Shoes

These light to mid-weight shoes are for everyday use. The ideal shoe is comfortable to wear for multiple days and scrambles decently on rock. A Gore-tex lined shoe stays drier when hiking in rain or snow.

Recommended: La Sportiva TX Guide

Duffle Bags

2 Duffle Bags – At least one bag should be extremely durable, waterproof, and big – between 90L and 120L. You should feel comfortable leaving it in a puddle for several hours. Remember dry clothes are hot commodities in the mountains! Large enough to fit everything you own, plus what you anticipate buying. Two duffel bags are necessary to fit all your equipment for travel (we don't recommend checking your backpack, best is to put all gear and backpack into your duffle). Once in country, you can consolidate your gear into one duffel and your backpack. It's common to leave the second duffel with city clothes and other non-necessary items behind in a locked and secure location that your guide will arrange for you.

Recommended: Black Diamond Stonehauler 90L

Climbing Pack: 50-60L

Internal frame pack that is between 50 and 60 liters. Either purchase a matching pack cover, or use garbage bags as liners. Make sure the pack is fitted to YOUR body.

Recommended: Black Diamond Speed 50L Pack

Sleeping Bag (0°F)

Rated to 0º F. Make certain that the sleeping bag is the right length. DON'T FORGET A COMPRESSION SACK FOR THE SLEEPING BAG. Many climbers also like a silk liner. For the Ecuador Climbing School: If you're on our 9-Day  (non-extension) trip, then a 20º F rated bag is ok.

Recommended: Mountain Hardwear Phantom 0°F 

Inflatable Sleeping Pad

72-inch long inflatable pad required. Make sure you also purchase and bring a repair kit + bag for the sleeping pad.

Recommended: NeoAir Xtherm

Compressible 1-1.5L Bottle

Plastic Bowl, Mug, and Spoon

A lightweight and compact cookware setup. You'll want a plastic bowl, mug and spoon.

Recommended Kit: MSR 2-Person Mess Kit

Headlamp

L.E.D. headlamps are required. Make sure they have 3+ bulbs. Bring extra batteries. We highly recommend a tilting lamp.

Recommended: Black Diamond Storm 450

Coffee

While Alpenglow provides hot drink options every morning, it can be nice to have your own on hand any time you need a boost. With hot water always readily available, having instant coffee packets can give you the energy you need after a long day in the mountains!

Recommended: Alpine Start Original Blend Instant Coffee

Miscellaneous Items

Passport (with visa, if necessary)
2 luggage locks (TSA compliant)
Non-cotton underwear
Wag bags, 1 per night camping as to leave no trace
Stuffsacks: assorted sizes, for organizing your clothes and gear
Sunscreen: SPF 30 (or higher)
Lip balm with SPF 15 (or higher)
Personal first-aid kit (Band-aids, Ibuprofen, Cough Drops, Moleskin, Pepto-bismol, Imodium, Personal Medications)
Toiletries
3-4lbs of Snack food (a variety of snack food, some whole food, some bars, some gels)
Hand Warmers
Face Mask
Hand Sanitizer
Knife
Steripen
Headphones
Alpenglow is the best

"I've been climbing with Alpenglow for over ten years. After my first expedition, I knew I'd found the best team. I feel like I'm a member of the Alpenglow family, and have come to know and love many of their guides, office staff, and programs. Alpenglow is truly the best!"