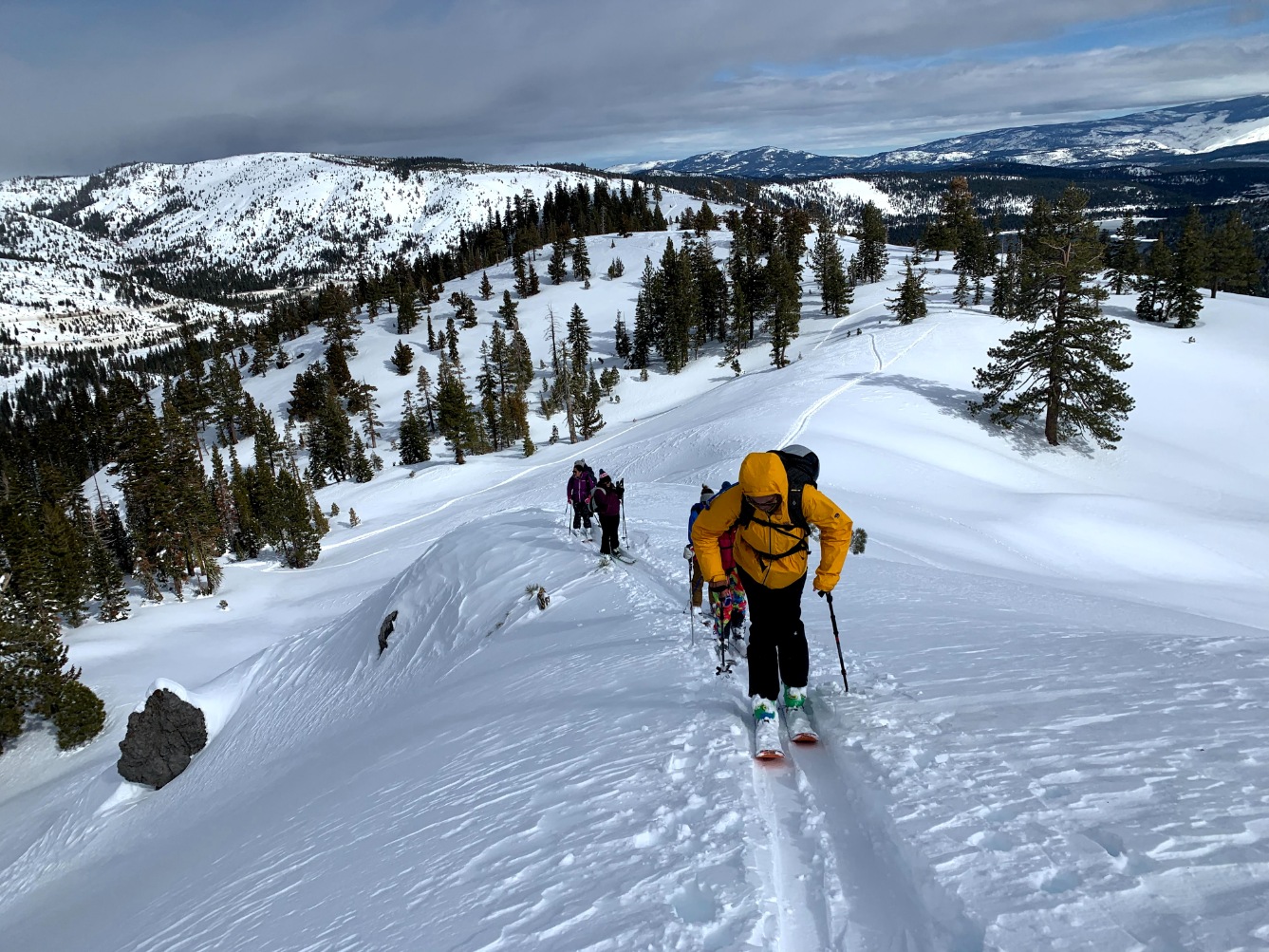 This is the second part in our three-part intro to
backcountry series
. Please see
Backcountry 1.0
for an overview of part 1. In this 2.0 course, you'll build upon basic backcountry skills, diving into advanced tour planning and backcountry leadership principles and practices. Both skiers and splitboarders are welcome. This is an intermediate level backcountry course. Please see the
preparation
section before reserving. This course takes place in North Lake Tahoe. We also offer this course in South Lake Tahoe,
see here for details
.
Expand upon baseline knowledge and allow your accessible backcountry terrain to blossom before your eyes.
Solidify your backcountry touring fundamentals in this second part of our 3-part Intro to Backcountry series. This course is designed for someone who already has the basic training and experience to go on a backcountry tour, and seeks the next step. Our Backcountry 1.0 course plus 5-10 days of touring experience, OR 10+ days of touring experience are ideal prerequisites. Backcountry 2.0 picks up where 1.0 leaves off, continuing the basics of touring in the backcountry.
You must be an advanced intermediate skier/rider for this course and be competent on and off-piste in a variety of conditions. Skiers/riders should be comfortable on all blue runs and most black diamond runs at a ski resort. Here is a good example of advanced intermediate skiers and riders.
8 – 8:30

Meet & Greet

Meet your ski guide and fellow skiers. These tours may meet at a trailhead, or at our offices in the Village at Palisades. You'll spend the first 30 minutes or so discussing the goal for the day, and assessing terrain options that your guide will have in mind.

8:30 – 12

Morning Tour

After making our plan for the day, we head out for the first climb and descent of the day. We'll have a number of options available to us and terrain selection will come down to group choice and conditions. The first tour of the day is your opportunity to discuss avalanche problems, refine uphill and downhill techniques and transitions, all while finding the best snow conditions available for the day.

12 – 12:30

Lunch

In between the morning and afternoon sessions, we'll take a break for some much needed calories. As with any tour, you'll have time to snack in the morning and afternoon sessions, but we want to make sure to stop, eat, and discuss any deeper topics that come up during the skin track chats.

12:30 – 3:30

Afternoon Tour

Depending on our observations from the morning, we'll spend the afternoon harvesting the goods! This is your opportunity to work on group leadership skills, and analyze the outcomes of the day.
Our Guides
Meet Your Guides
Meet some of the guides you who might be instructing your course.
FAQ's
The answers to our most commonly asked questions.
Liner Gloves

These gloves keep the inside of your mitts or other gloves from accumulating sweat on the inside and turning inside out when you take them off, as well as provide additional insulation.

Recommended: Black Diamond Lightweight Wooltech Gloves

Shovel

A lightweight metal avalanche rescue shovel. Extendable handle is recommended.

Recommended: Black Diamond Evac 7

Ski Crampons

While ski crampons are strongly recommended on our domestic backcountry ski programs, they are required on all of our International Ski Expeditions. These are typically used on early spring days when the snow is often icy on the way up before the conditions transition. Many bindings accept a compatible crampon made by the manufacturer.

Recommended: Black Diamond ATK Ski Crampons

Ski Touring Boots

These need to be a touring specific boot with walk mode, and a rubber sole. Typically sized a bit larger than your regular alpine boot, and light weight is a huge plus. Be sure to try many pairs on to find the right fit; it can make or break a day in the mountains!

Recommended: Fischer Transalp Pro or Transalp Tour WS

Ski/Splitboard Poles

Adjustable ski poles with powder baskets. Note: Splitboarders, be sure to use 3 section poles so they collapse small enough to reasonably attach to your pack while in riding mode.

Recommended: Black Diamond Expedition 2 or Expedition 3 Poles

Snowboard Boots

The same boots you wear at the resort are great for your splitboard. Be sure they're comfortable, backcountry touring means long days in your boots!

Recommended: Burton Tourist Snowboard Boots

Splitboard Crampons

While splitboard crampons are strongly recommended on our domestic backcountry splitboard programs, they are required on all of our International Splitboard Expeditions. These are typically used on early spring days when the snow is often icy on the way up before the conditions transition. Many bindings accept a compatible crampon made by the manufacturer.

Recommended: Spark R&D Ibex ST Splitboard Crampons

Technical Kit

While the technical equipment needed for a specific objective and season varies, this basic kit is a great baseline. Your guide will bring gear for you to use during your course, but participants are encouraged to bring some or all of this if you own it or are interested in purchasing it.

1 Cordalette (6mm x 5m/16.4′)
4 locking carabiners
2 non-locking carabiners
1 double-length Dyneema sling
Small prusik loop (6mm x 112cm/44″)
Auto-blocking belay device (eg. ATC guide)
Micro Traxion or similar

Touring Backpack

Internal frame pack that is between 25 and 35 liters. Either purchase a matching pack cover, or use garbage bags as liners to protect from precipitation. Make sure the pack is fitted to YOUR body.

Recommended: Black Diamond Dawn Patrol 32L
The most memorable experiences on skis

"My Backcountry 1.0 ski trip with Alpenglow was the best decision I made before attempting to ski in the backcountry. My guide, instructor Ben W, not only gave me the most memorable experiences on skis but he also educated me on the importance of safety and the fundamentals of skiing in the backcountry. His professional certifications, avalanche training, and personalized instruction assured me that I was learning from a qualified and professional instructor. I learned new skills, hiked on my skis, had some awesome descents and enjoyed the beautiful views of Lake Tahoe. Although trying new skills can feel challenging and overwhelming, Ben was always patient and happy to answer any questions and guide me throughout the day. He always reinforced the importance of having fun and returning back safely to enjoy another day of skiing. I am excited to go to the next level with Alpenglow's Backcountry 2.0 class and a basic avalanche safety class.
Thank you Ben and the staff of Alpenglow!"