Private Frog Lake Hut Ski Trip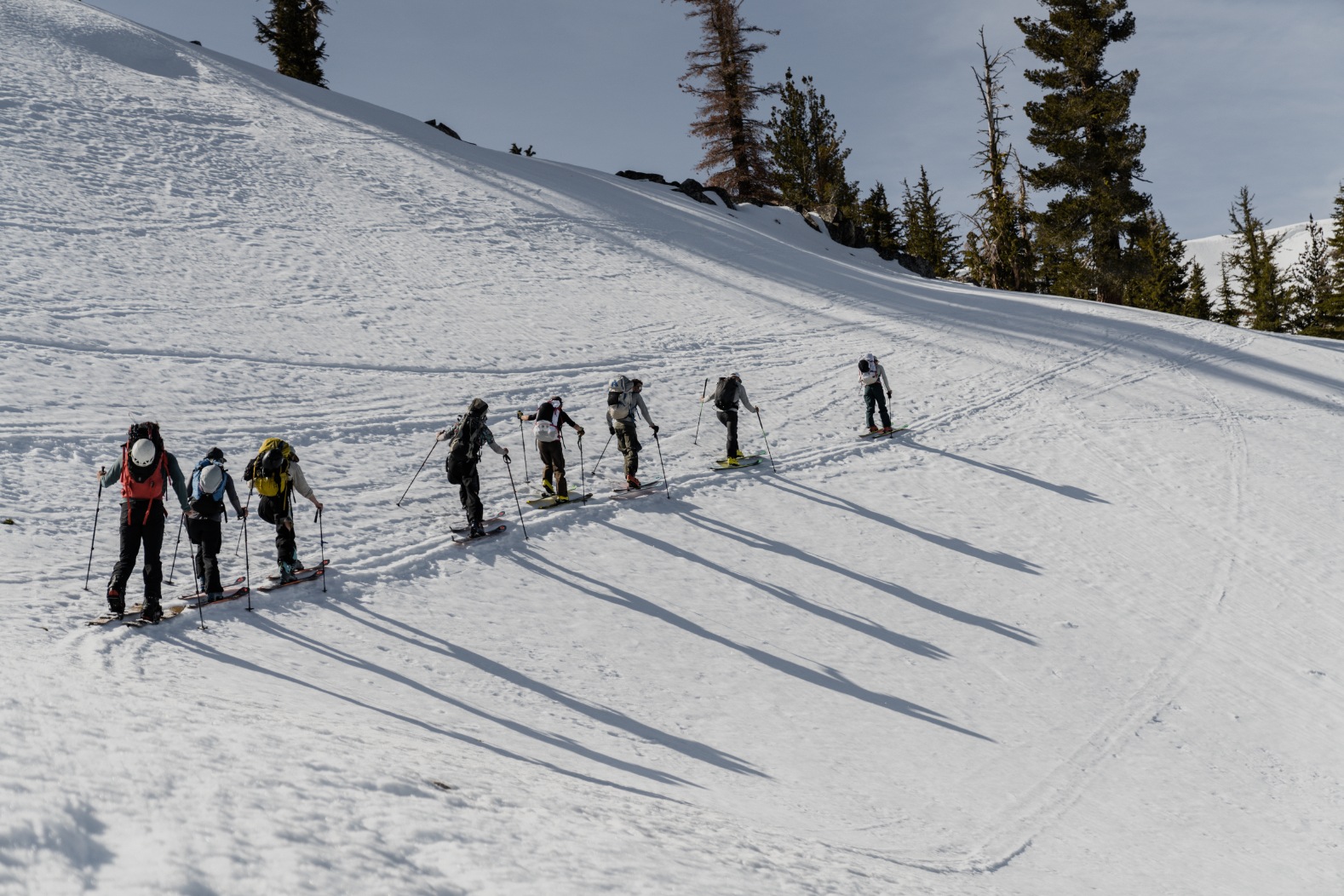 Private Frog Lake Hut Ski Trip
$6,400
Group of 4 skiers/riders
Come ski incredible and seldom accessed terrain with us on this epic 3-day, 2-night backcountry trip based at Frog Lake. Your will stay at brand new ski huts with next-level amenities and awesome views, and with a private trip, the days are customizable to the fitness and technical ability of your group. Due to the nature of the Frog Lake terrain and itinerary, there are some movement and touring experience requirements. Please review the preparation section before booking.
Privately guided days consist of just you, your hand picked group, and your guide.
With this arrangement, you're able to call the shots helping to shape your trip with your guide as you see fit. We can mold the trip to accomplish your goals:
Want to rip as many laps as you can? We can put the learning aside and get right to it.
Want to find the rarely skied nooks and crannies with the best cold pow? Our guides know the area better than anyone
Want to build your backcountry skills? Our guides love to teach, and can focus your day on uphill skills, avalanche safety skills and more, all while skiing and riding in the backcountry.
Frog Lakes Itinerary
CUSTOM

What do you want to achieve?

When you book your private Frog Lake tour, you can either leave the planning up to us, or work directly with your guide to point out goals and objectives for your time in the backcountry with us. This allows you to fully tailor the trip – from skills based sessions, to pure powder hound status, and everything in between. You're only limited by conditions and time, the rest is up to you.
FAQ's
The answers to our most commonly asked questions.
Ski Socks

Ski socks will keep your feet warm and dry during long tours in the mountains.

Recommended: Smartwool

Touring Backpack

Internal frame pack that is between 25 and 35 liters. Either purchase a matching pack cover, or use garbage bags as liners to protect from precipitation. Make sure the pack is fitted to YOUR body.

Recommended: Black Diamond Dawn Patrol 32L

Shovel

A lightweight metal avalanche rescue shovel. Extendable handle is recommended.

Recommended: Black Diamond Evac 7

Goggles

These will be worn on stormy or windy days. Make sure you are getting a snug fit with lenses for bright sun. Ventilation and anti-fog features are desired.

Recommended: Vuarnet Everest Goggles

Neck Gaiter (Buff)

A multi-purpose neck gator that can also be worn under your hat. Make sure that it covers as much skin as possible and yet is still comfy.

Recommended: Alpenglow Buff

Sunglasses

Must have dark lenses. Minimal light should come in below, above, or around the sides of the lenses."Wrap" style is best. Ventilation is important and a retainer strap is very useful (Chums or Croakies).

Recommended: Vaurnet Ice Rounds

Hat

Bring your favorite baseball hat for shelter from the sun. No white under the brim – the reflection off of it from the sun is blinding.

Recommended: Alpenglow Hat

Balaclava

We recommend a tight-fitting balaclava that is worn under your hat. Make sure that it covers as much skin as possible, but is comfortable enough to wear for hours.

Recommended: Black Diamond Coefficient LT Balaclava

Beanie

A comfortable, warm well-fitting hat that covers your ears. Make sure that one of your hats fits under a helmet.

Recommended: Black Diamond Levels Beanie 

Warm Socks

A wool synthetic blend. Pure rag wool socks are not nearly as effective in wicking moisture or retaining their shape and reducing blisters. Bring a few pairs of these socks. NO COTTON.

Recommended: Darn Tough Mountaineering Sock

Lightweight Gloves

All-around gloves for mountaineering, backcountry skiing, and hiking. These gloves (and similar options) are warm, wind-resistant, durable and have a sure grip. You will rarely take these gloves off. They should be snug-fitting, and have some sort of reinforced palm.

Recommended: Black Diamond Tour Gloves

Heavyweight Gloves

These gloves should be full GORE-TEX®, with a removable fleece liner (so you can take the liner out and dry it at night). These gloves are used at higher altitudes and are needed to keep your hands dry, and warm. Over the cuff style is desired.

Recommended: Black Diamond Guide Gloves

Liner Gloves

These gloves keep the inside of your mitts or other gloves from accumulating sweat on the inside and turning inside out when you take them off, as well as provide additional insulation.

Recommended: Black Diamond Lightweight Wooltech Gloves

Ski Crampons

While ski crampons are strongly recommended on our domestic backcountry ski programs, they are required on all of our International Ski Expeditions. These are typically used on early spring days when the snow is often icy on the way up before the conditions transition. Many bindings accept a compatible crampon made by the manufacturer.

Recommended: Black Diamond ATK Ski Crampons

Splitboard Crampons

While splitboard crampons are strongly recommended on our domestic backcountry splitboard programs, they are required on all of our International Splitboard Expeditions. These are typically used on early spring days when the snow is often icy on the way up before the conditions transition. Many bindings accept a compatible crampon made by the manufacturer.

Recommended: Spark R&D Ibex ST Splitboard Crampons

Ski/Splitboard Poles

Adjustable ski poles with powder baskets. Note: Splitboarders, be sure to use 3 section poles so they collapse small enough to reasonably attach to your pack while in riding mode.

Recommended: Black Diamond Expedition 2 or Expedition 3 Poles

Ski Touring Boots

These need to be a touring specific boot with walk mode, and a rubber sole. Typically sized a bit larger than your regular alpine boot, and light weight is a huge plus. Be sure to try many pairs on to find the right fit; it can make or break a day in the mountains!

Recommended: Fischer Transalp Pro or Transalp Tour WS

Snowboard Boots

The same boots you wear at the resort are great for your splitboard. Be sure they're comfortable, backcountry touring means long days in your boots!

Recommended: Burton Tourist Snowboard Boots
I highly recommend Alpenglow Expeditions for professionalism, safety and accommodations.

"My 24 year old son and I did the three-day frog lake hut trip.  From Sara in the front office to our fantastic guides, Tim and Ally, everything went smoothly and professionally.

The trip was an amazing experience as we learned so much and everyone was so friendly.

They even brought our garbage and extra gear out for us!

I highly recommend Alpenglow Expeditions for professionalism, safety and accommodations."