Half-Day Palisades Backcountry Ski Tour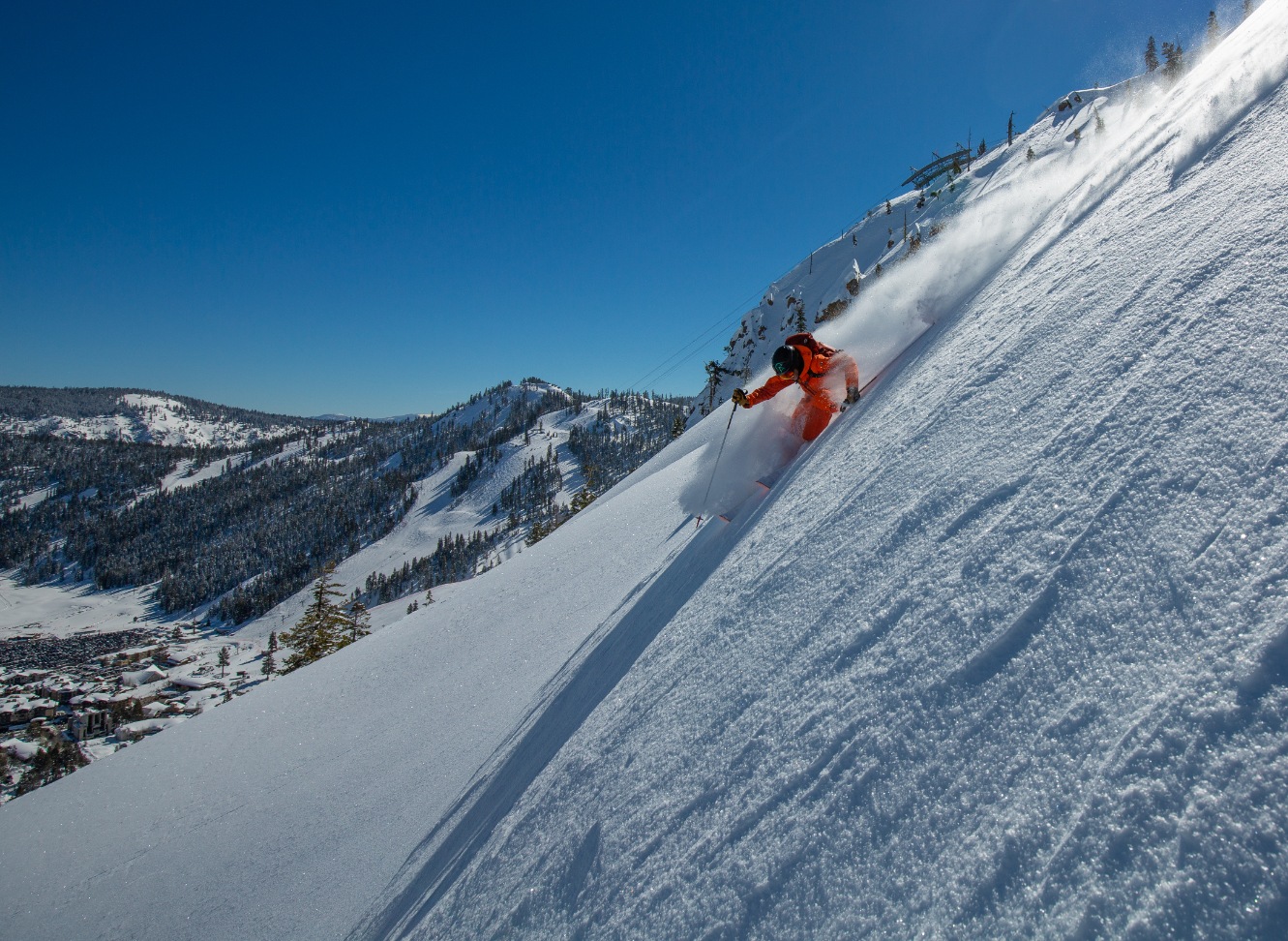 Half-Day Palisades Backcountry Ski Tour
+$75 for each additional skier
+$75 for each additional skier
Half-day option accessing the Tram Ridge zone outside of the Broken Arrow terrain of Palisades Tahoe Ski Resort. Ski and ride outside the ski area boundaries of Lake Tahoe's premier resort with Alpenglow's certified guides. Half day option allows you to use your regular resort skis and boots, no touring skis or splitboards necessary.
Winter '23 – '24
Announced in July
Expanding on the success of our partnership with Palisades Tahoe, we are now offering a HALF DAY backcountry ski experience.
Our half-day groups will access the Tram Ridge Zone as it allows us to avoid using backcountry skis and boots. You can get a taste for backcountry skiing using your everyday resort setup.
9:00am

Ride the Lifts to the Boundary

After our morning meeting at the Alpenglow office, we leave the base area and begin the day.

9:30am

Depart Ski Area Boundary

After a final safety briefing, we depart from the ski area boundary.

12:30pm

Finish Day

After a lap or two, we're ready to have some lunch before finishing a day inside the boundaries.
FAQ's
The answers to our most commonly asked questions.
Liner Gloves

These gloves keep the inside of your mitts or other gloves from accumulating sweat on the inside and turning inside out when you take them off, as well as provide additional insulation.

Recommended: Black Diamond Lightweight Wooltech Gloves

Shovel

A lightweight metal avalanche rescue shovel. Extendable handle is recommended.

Recommended: Black Diamond Evac 7

Ski/Splitboard Poles

Adjustable ski poles with powder baskets. Note: Splitboarders, be sure to use 3 section poles so they collapse small enough to reasonably attach to your pack while in riding mode.

Recommended: Black Diamond Expedition 2 or Expedition 3 Poles

Snowboard Boots

The same boots you wear at the resort are great for your splitboard. Be sure they're comfortable, backcountry touring means long days in your boots!

Recommended: Burton Tourist Snowboard Boots

Touring Backpack

Internal frame pack that is between 25 and 35 liters. Either purchase a matching pack cover, or use garbage bags as liners to protect from precipitation. Make sure the pack is fitted to YOUR body.

Recommended: Black Diamond Dawn Patrol 32L

Ski Socks

Ski socks will keep your feet warm and dry during long tours in the mountains.

Recommended: Smartwool

Goggles

These will be worn on stormy or windy days. Make sure you are getting a snug fit with lenses for bright sun. Ventilation and anti-fog features are desired.

Recommended: Vuarnet Everest Goggles

Neck Gaiter (Buff)

A multi-purpose neck gator that can also be worn under your hat. Make sure that it covers as much skin as possible and yet is still comfy.

Recommended: Alpenglow Buff

Sunglasses

Must have dark lenses. Minimal light should come in below, above, or around the sides of the lenses."Wrap" style is best. Ventilation is important and a retainer strap is very useful (Chums or Croakies).

Recommended: Vaurnet Ice Rounds

Hat

Bring your favorite baseball hat for shelter from the sun. No white under the brim – the reflection off of it from the sun is blinding.

Recommended: Alpenglow Hat

Balaclava

We recommend a tight-fitting balaclava that is worn under your hat. Make sure that it covers as much skin as possible, but is comfortable enough to wear for hours.

Recommended: Black Diamond Coefficient LT Balaclava

Beanie

A comfortable, warm well-fitting hat that covers your ears. Make sure that one of your hats fits under a helmet.

Recommended: Black Diamond Levels Beanie 

Lightweight Gloves

All-around gloves for mountaineering, backcountry skiing, and hiking. These gloves (and similar options) are warm, wind-resistant, durable and have a sure grip. You will rarely take these gloves off. They should be snug-fitting, and have some sort of reinforced palm.

Recommended: Black Diamond Tour Gloves

Heavyweight Gloves

These gloves should be full GORE-TEX®, with a removable fleece liner (so you can take the liner out and dry it at night). These gloves are used at higher altitudes and are needed to keep your hands dry, and warm. Over the cuff style is desired.

Recommended: Black Diamond Guide Gloves

Ski Touring Boots

These need to be a touring specific boot with walk mode, and a rubber sole. Typically sized a bit larger than your regular alpine boot, and light weight is a huge plus. Be sure to try many pairs on to find the right fit; it can make or break a day in the mountains!

Recommended: Fischer Transalp Pro or Transalp Tour WS
An amazing day of guided backcountry skiing

"Just had an amazing day of guided Palisades backcountry skiing with Dave Nettle of Alpenglow Expeditions. Everything with Alpenglow was top notch from the reservation process and advance-prep right through the last run of the day. Dave was an awesome guide/partner, and incorporated just the right amount of education and knowledge-sharing mixed with a full day of amazing skiing.
If you ever find yourself at Palisades, I would highly recommend spending a day with Dave or any of the guides at Alpenglow!"