Himex Newsletter 5, Manaslu 2010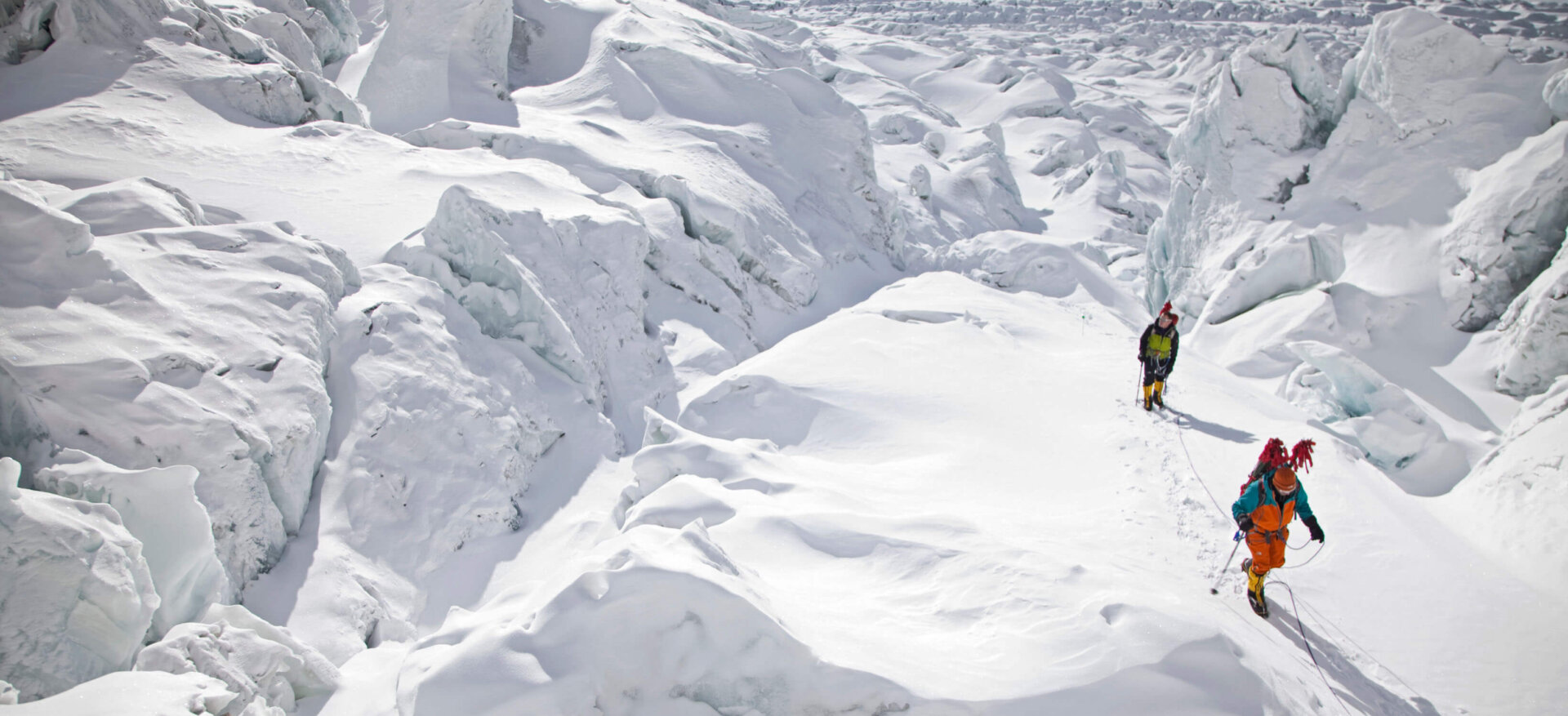 The following blog is courtesy of Billi Bierling, Himalayan Experience:
Old school climbing gear and an outing to Camp I
On Friday, we had the opportunity to put to practice what we had learned during our fixed rope training session the previous day. After everyone had recovered from our little party on Wednesday night, we went to the slabs near our camp to practice abseiling, or rappelling as the Americans call it, moving on a fixed rope with a jumar (the device used to move uphill on a fixed rope) and arm wrapping – a very efficient way to move down the mountain, also on a fixed rope.
It was a fun morning and fortunately we had the opportunity to get rid of three more salted plums as Matt (I apologise for having misspelt his name in previous newsletters) showed up to the practice run in his Crox, which were certainly not the right footwear even though we were only on a practice run. But as we were not far away from our camp he was able to nip back quickly and put on his mountaineering boots. "I thought it was only a lecture," he said to his apology.
After having rested only one afternoon after their odyssey from the Khumbu to the Manaslu region, our Sherpa crew went to Camp I at 5,450m on Thursday to take the first load up and fix some rope across the crevassed glacier. "The conditions are very good and there is not a lot of snow on the glacier, which makes identifying the crevasses a lot easier," Phurba Tashi said when they returned.
As the weather forecast looked good for another day, the guides decided that the whole team should tag Camp 1 the following day, so everyone was busy getting their gear ready on Thursday afternoon. "I am not sure I am allowed to come as Adrian seems to be embarrassed by my old-fashioned crampons," a joking Russell said but he is certainly not the only one with 'old school gear' on this trip. "Everyone is laughing at my old Koflach plastic boots, but I have certainly made the best use of them, I have had them for fifteen years," Ellen Miller said proudly about her boots – and I have to say they looked great!
Bionic woman
The amazing thing about Ellen from Vale is that she has not only summitted Mount Everest twice – once from the North side in Tibet and once from the South side in Nepal – Cho Oyu and Lhotse, she is actually here to climb Manaslu with two artificial hips. "I am so glad, my hips are feeling great and I have no pain whatsoever," our bionic woman told me on the way up to Camp 1. She summitted Lhotse, the forth highest peak in the world, last year with one titanium hip and now she is back to climb another 8,000m peak with two of those artificial joints. "I am so glad I have had this done as these new hips enable me to do the things I love doing," she said excitedly.
Everybody was doing extremely well on their ascent to Camp I and almost everyone reached our first camp in good time. "We have a very strong team here and I am excited to be climbing the mountain with them," Adrian said.
Our Sherpas, who were carrying more loads to Camp I this morning, made it in about two hours whereas it took us about three-and-a-half hours, which makes our achievement sound very slow, however, according to our guides we were making pretty good time.
Rene, our second Dutch member, was steaming up the hill, however he could be faced with having to munch five salted plums later this evening as he kept on 'keying' the microphone of his radio (on Himex's expedition everybody has a radio and it sometimes happens that someone accidentally keeps the switch of the radio down, which means that nobody else can use the radio). 'It must have been someone near Billi as I could hear her talk', said Woody over lunch. "You can hear Billi all over the mountain even without a radio,' Monica called out jokingly while I was trying to hide in my chair out of embarrassment J.
During our ascent to Camp I, we had amazing weather and the heat on the glacier was almost stifling. 'Is this the Himex sauna,' said British mountain guide Kenton Cool when he passed our team sitting at Camp I.
Most members had taken some climbing gear, such as high altitude boots, down suits, thermal underwear, sleeping mats etc to Camp I to leave there for the next outing, which will probably involve an overnight stay. While we are carrying our personal gear and food, which we need at the higher camps, the Himex Sherpas are facilitating our ascent immensely by carrying our tents, sleeping bags, gas and cooking gear up the mountain.
A little fatigued
When we returned to base camp in the early afternoon, most members were in good spirits even though a bit fatigued. "I am certainly feeling tired but I have neither pain nor blisters, so that's good," said Alan from the UK before he crawled back in his tent for an afternoon siesta.
While we were having fun on the glacier, our little village called base camp had expanded significantly. A Swiss team of about ten people is now camped on the top of the hill, the Spanish team consisting of four members is camped right next to us and we are expecting a Mexican couple, a few Italians, a couple of American skiers, some Canadians and French and an international group to arrive in the next few days.
Slowly but surely Manaslu base camp is increasingly looking like an explosion of orange, red and yellow and it is certainly not only the brightly coloured tents that bring some diversity to this place but the different nationalities that will be camped side by side for the next months.
Tomorrow is Saturday and the Himex team will probably enjoy a well-deserved rest after its first outing to 5,450m, which was the record height for some of our members. If the weather continues to be kind to us, we will probably do another training session for crevasse and avalanche rescue, which will certainly provide more interesting material to write about.