Shirley Canyon Snowshoe Tour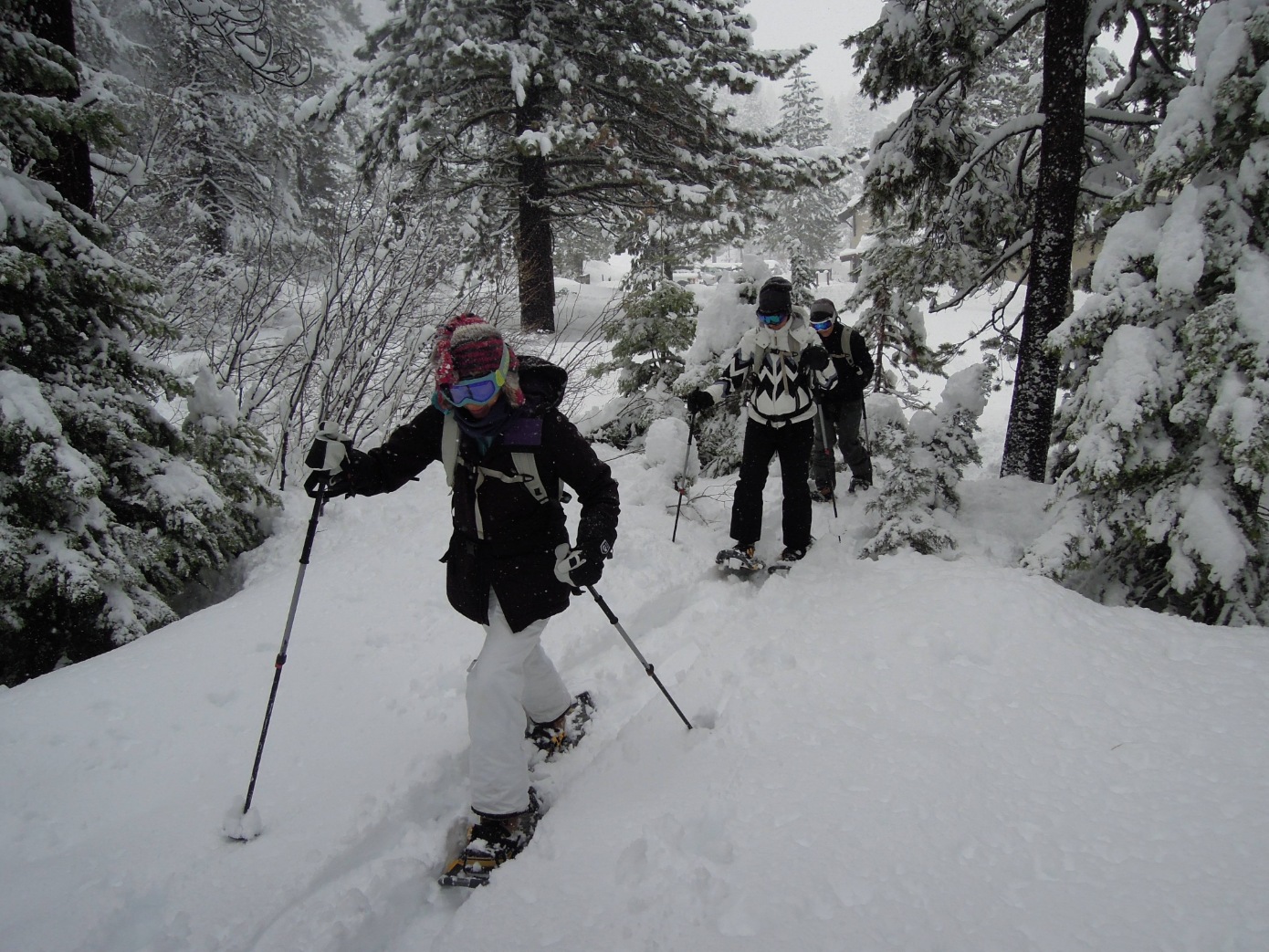 Shirley Canyon Snowshoe Tour
Join a group snowshoe tour on Sunday mornings at 10:30am! In this 4-hour tour, a professional guide will lead you up the beautiful Shirley Canyon. Tours are suitable for ages 7 and older and all ability levels. Minimum group size of 3 snowshoers. Private snowshoe tours are also available.
Winter 2023-24
Announced in July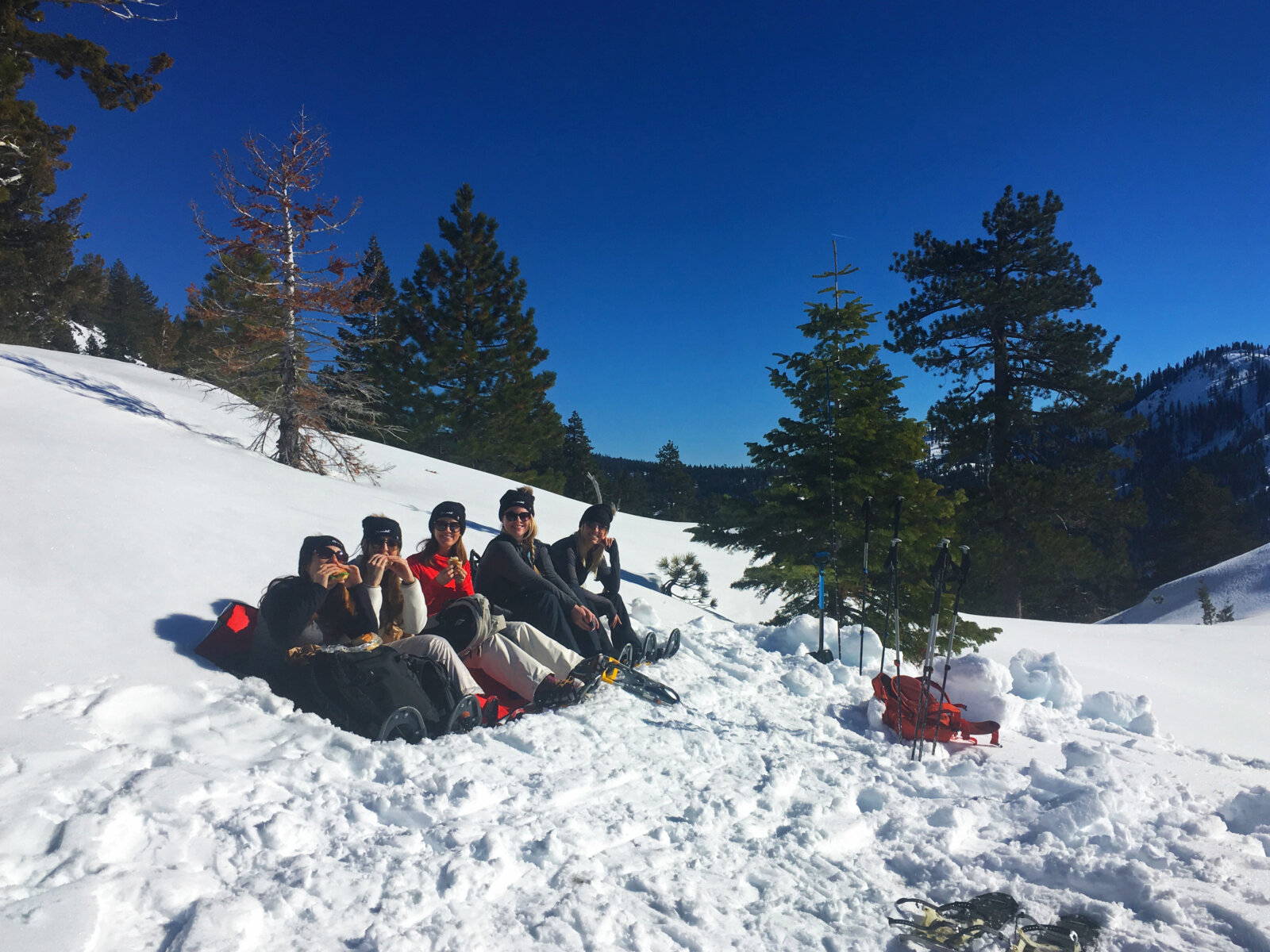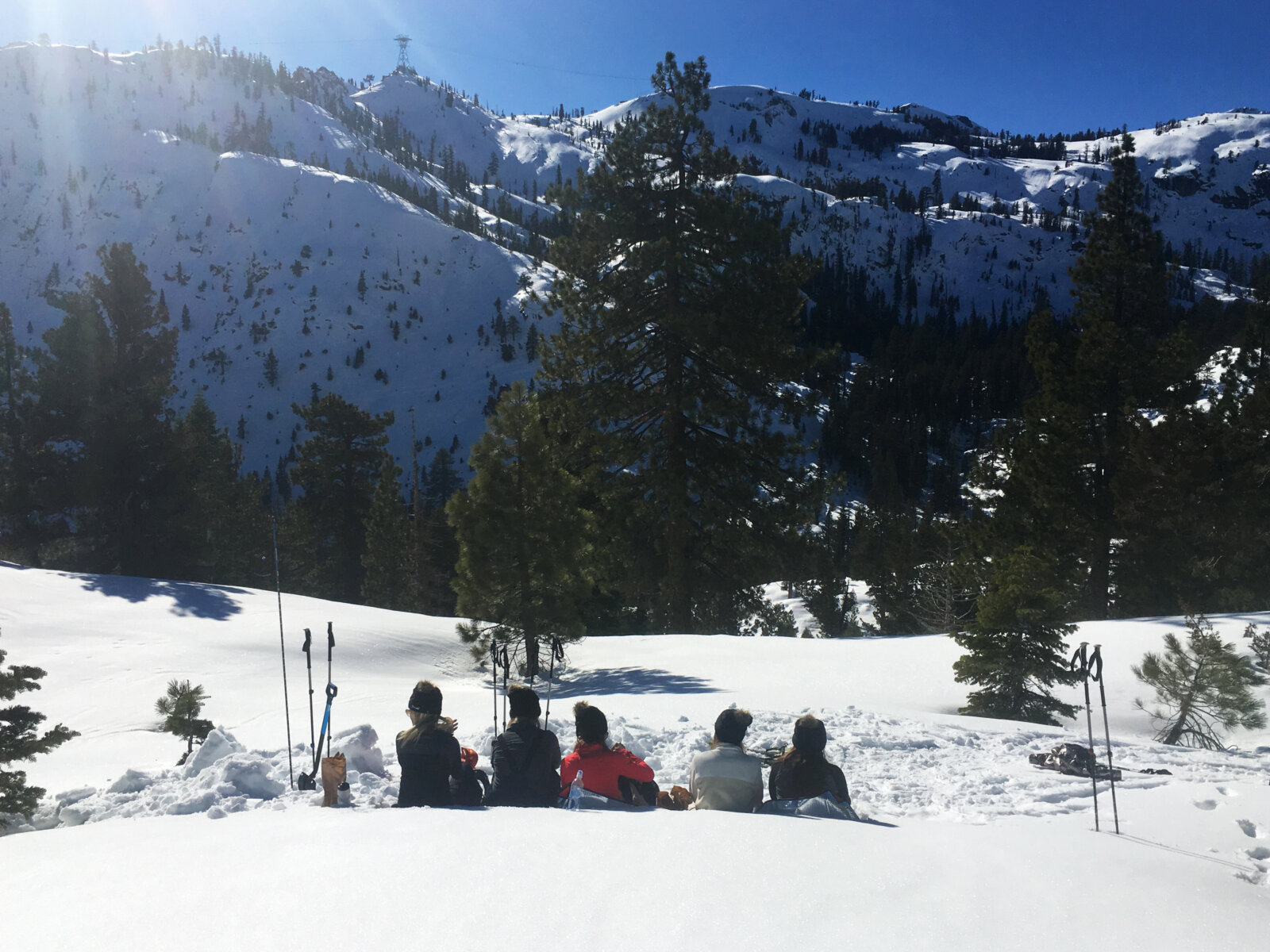 Known as a summer hiking trail, snowshoers can now explore this magical winter wonderland. Traveling past a rushing creek and icy waterfalls, Shirley Canyon is an incredible snowshoe hike not to be missed.
This beautiful canyon forms the head of Squaw Valley and the views it provides are stunning. Four-hour guided tours will leave The Village at Squaw Valley each Saturday and Sunday at 10:30am. The route leads up 2 miles to the Tram Ridge viewpoint, a comfortable plateau that makes for a fantastic lunch venue. Your group will stop for a 20-30 minute break at this highpoint, to enjoy a simple winter picnic and hot drink. Packed sack lunches are available from Wildflour Bakery for $20/person. If you would like Alpenglow to arrange a sack lunch for you or your group, please contact the office with your request (and any dietary concerns) by the Friday before your tour at 10am. After a quick break, you'll make your way down the canyon and back to the office.
10:30am

Meet & Greet + Gear Up

In the morning you'll meet your guide at the Alpenglow Expeditions offices. Here you'll go over the plan for the tour and get fitted with gear. Once in the field, you'll be treated with phenomenal views and the serene beauty of snow covered trails.
FAQ's
The answers to our most commonly asked questions.
Balaclava

We recommend a tight-fitting balaclava that is worn under your hat. Make sure that it covers as much skin as possible, but is comfortable enough to wear for hours.

Recommended: Black Diamond Coefficient LT Balaclava

Beanie

A comfortable, warm well-fitting hat that covers your ears. Make sure that one of your hats fits under a helmet.

Recommended: Black Diamond Levels Beanie 

Goggles

These will be worn on stormy or windy days. Make sure you are getting a snug fit with lenses for bright sun. Ventilation and anti-fog features are desired.

Recommended: Vuarnet Everest Goggles

Hiking Socks

Your everyday sock, good for day hikes, trekking, and in-town. It's good to bring several pairs of these socks. NO COTTON.

Recommended: Darn Tough Hiking Sock

Lightweight Gloves

All-around gloves for mountaineering, backcountry skiing, and hiking. These gloves (and similar options) are warm, wind-resistant, durable and have a sure grip. You will rarely take these gloves off. They should be snug-fitting, and have some sort of reinforced palm.

Recommended: Black Diamond Tour Gloves

Sunglasses

Must have dark lenses. Minimal light should come in below, above, or around the sides of the lenses."Wrap" style is best. Ventilation is important and a retainer strap is very useful (Chums or Croakies).

Recommended: Vaurnet Ice Rounds

Ski Socks

Ski socks will keep your feet warm and dry during long tours in the mountains.

Recommended: Smartwool

Hiking Boots

Light to mid- weight boots for everyday use. The ideal boot is comfortable enough to wear for days and scrambles decently on rock. A Gore-tex lined boot often stays drier when hiking in rain or snow.

Recommended: La Sportiva Trango TRK GTX

Base Camp Boots

These snow boots are good for wearing around camp and should be comfortable when you slip into them after spending significant time in your mountain boots.

Recommended Men's: Sorel Caribou Boot

Recommended Women's: Sorel Caribou Boot

Mountaineering Boots (6,000m – 7,000m)

Should be double boots that have a stiff sole and accept a step-in crampon. The boots should be comfortable, have adequate wiggle room for your toes, and your heel should not lift more than 1/8th of an inch when walking.

Recommended: La Sportiva G2 Evo

Neck Gaiter (Buff)

A multi-purpose neck gator that can also be worn under your hat. Make sure that it covers as much skin as possible and yet is still comfy.

Recommended: Alpenglow Buff

Hat

Bring your favorite baseball hat for shelter from the sun. No white under the brim – the reflection off of it from the sun is blinding.

Recommended: Alpenglow Hat

Warm Socks

A wool synthetic blend. Pure rag wool socks are not nearly as effective in wicking moisture or retaining their shape and reducing blisters. Bring a few pairs of these socks. NO COTTON.

Recommended: Darn Tough Mountaineering Sock
Alpenglow is the best

"I've been climbing with Alpenglow for over ten years. After my first expedition, I knew I'd found the best team. I feel like I'm a member of the Alpenglow family, and have come to know and love many of their guides, office staff, and programs. Alpenglow is truly the best!"