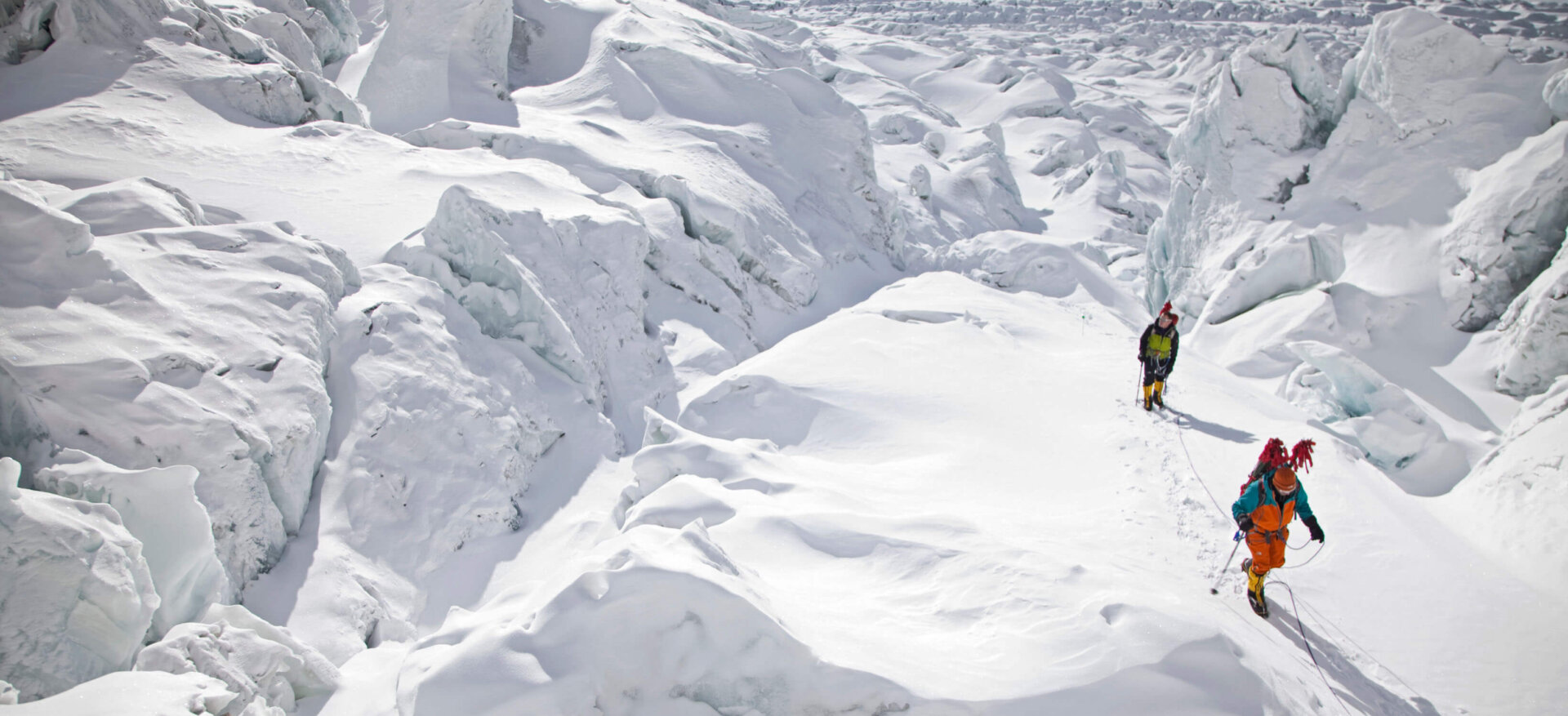 The Alpenglow Ama Dablam team is well on its way up the Khumbu valley towards base camp. Yesterday and today, we were treated to our first spectacular views of the mountain, shrouded in a snowy layer that looks promising as far as climbing conditions go. A light layer of snow covering the hard glacier ice at the top of the peak will make summit day just marginally easier for everyone. Of course, we are in the early days and still far away…it could all change many times before it is our time!
So far, our group is doing incredibly well. We have a fantastic crew of people who are in great shape….it's been a while since we have had such a strong group, shaving an hour or more off all of our estimated walking times. It's a pleasure to see, and of course it fills me with optimism and confidence for the climb ahead. Chad Peele and two of our Makalu climbers broke off from the main group today to make their more speedy ascent to base camp. They will arrive there this evening and begin making their preparations to get started on the mountain as soon as they can.
The rest of us have arrived at the village of Phortse. This picturesque village which is the home of our Sherpa team is set into terraces on a high plateau. To get here, we left the main trail (and most of the other Western trekkers in the valley) and wound our way up "The Sneak" (Brian's nick name for the path leading away from the regular trek), which is a spectacular path of steep steps cut into the rocky hillside.
A relaxed tea break in the sun at the Mong La (3975m) enjoying stunning views of Tengboche, Khan Tega, Tamserku and Ama Dablam energised us for the descent down to the river, and the subsequent ascent up the other side. Once in Phortse, we were welcomed to the The Phortse Guest House by our friend and hostess Pasang. She is a wonderful Sherpani who is more than accustomed to hosting climbers from all over the world to her comfortable lodge.
The afternoon is being whiled away with cups of coffee, chocolate and eclectic conversation, and…the odd intrepid member of the group has wandered out to visit the local monastery and get a feel for the village.
Tonight, we will be enjoying a small celebration as we have just heard that Alpenglow's guide, Brian Warren, has just become an AMGA certified Alpine guide. Although Brian has been one of our main guides for many years he just sat his Alpine guide exam before meeting us in Kathmandu for this trip…and today, he sheepishly let us know that the results are out and he has passed. Congratulations Brian!
The next couple of days will see us in Dingboche, where we will spend two nights and do an acclimatisation hike up Chukung Ri. After that….it's base camp and "home" at last!!