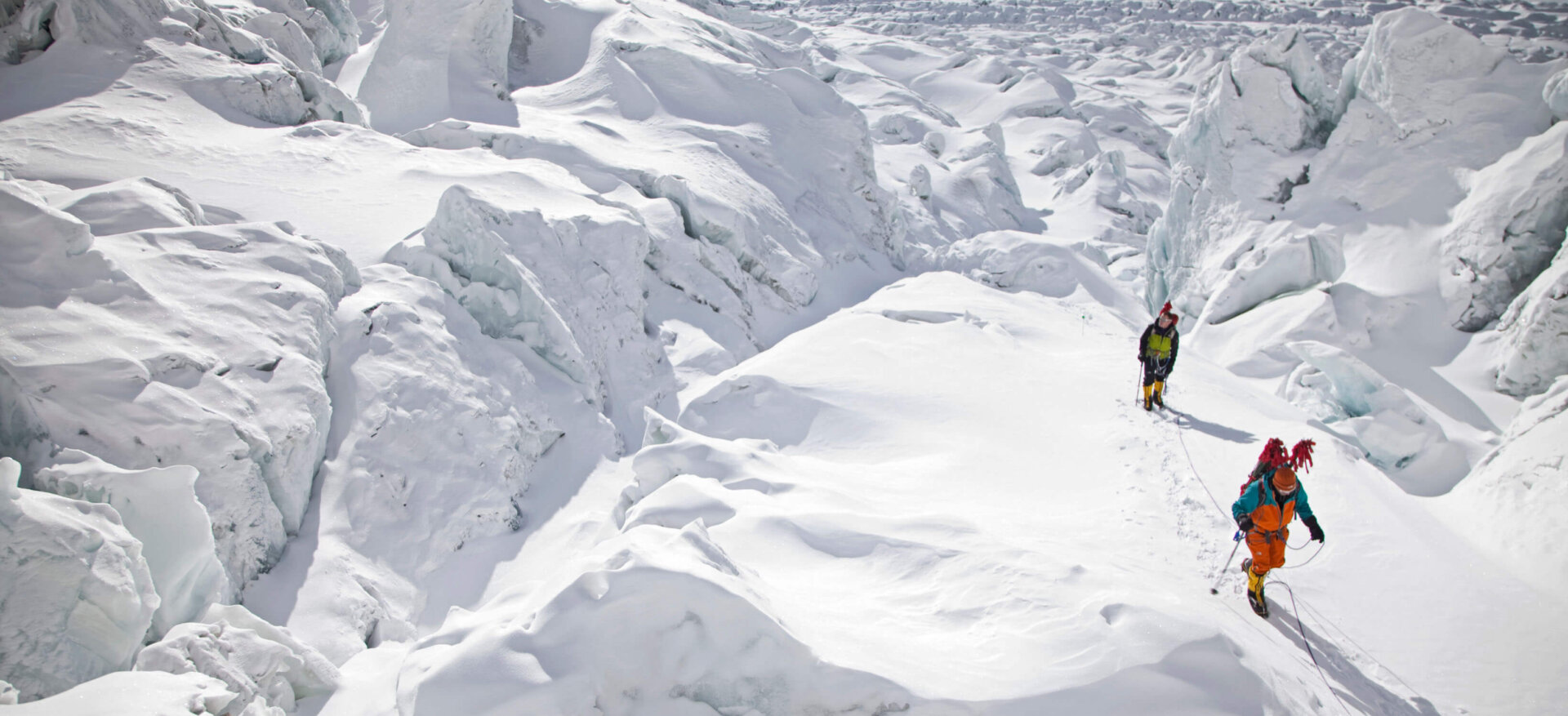 The Alpenglow Makalu team would like to say a huge HELLO from Base Camp. We are truly ecstatic…to be here. I know that that may seem like an overstatement or an exaggeration, but I promise it is true. The monsoon weather had a few surprises for us and repeatedly managed to sabotage our smooth plan to get to base camp from Kathmandu in just one morning.
We left Kathmandu on the morning of the 12th on a remarkably on-time flight toTumlingtar, where it was HOT HOT HOT and our great cook Tashi was waiting to meet us with more of our bags that had been sent up in advance. Thankfully, the first transition to helicopters was fairly smooth…we hopped onto two flights to a town called Tashigoan at 2200m where there were LEECHES, LEECHES, MILLIONS OF LEECHES! That's where the weather started playing nasty with us. It was early afternoon, and as is normal at this time of year, the clouds came in and made it impossible for us to go any further.
Soooo, we settled down and prepared ourselves to spend the night in a basic little lodge in a basic little town on a Nepali hillside…where there were MILLIONS of leeches! Now, to most people this wouldn't be a big deal, but I have to admit to a deep, deep dislike of invertebrates and so for me this meant getting inside and staying inside for the rest of the afternoon and evening. Luckily, the rest of our team is braver than I am!
The next morning we were up at 5.30 am to catch what would almost certainly be the only break in the clouds of the day in the hope that we would be able to make it to base camp. Flying helicopters at any altitude seems like a pretty mean feat to me, but flying them at high altitude is a whole different story. Not only must the pilot pay fastidious attention to the weather, but he must make very careful decisions about how much weight to carry. In our case with several helicopter loads to be accounted for, this meant deciding to make several small shuttles back and forth in order to ensure that our group and our gear didn't end up spread out all over the valley. The weather only allowed us to shift all of the group and all of the gear to…another basic little town.
Yangle Kharka, at 3600m was much more to my liking as it is nicely above the altitude at which leeches can survive! There is not much there, only 5 or 6 houses in a flat area next to a raging glacial torrent. Once again we got ready to spend the night in a basic little tea house. This is where we are lucky to have such a solid, experienced climbing team. All of our expedition members have been to Nepal before. They all know what to expect in the mountains. They realise that even the best laid out plans are at the whim of the weather, and, they all know what to expect from lodges in underdeveloped areas of Nepal. It's a pleasure to share the trip with such an understanding group of people.
It rained solidly all night long in Yangle Kharka. At 5 in the morning we were embedded in a thick layer of cloud. At 6 it was lifting a little, but not much. By 7, we were all up and moping around with gloomy faces at the prospect of spending another whole day waiting for the clouds to break. However, despite our despondency, the clouds began to break and Ashish our pilot gave us the word to get ready to fly. This time we sent the first heli with just three people and their bags, plus the pilot…and they made it to base camp. The second heli, which I was a passenger in, made it ten minutes out of Yangle before being shut down by a thick bank of cloud that would not let us through. We turned around and went back to Yangle….with a sinking feeling. When we got there Ashish asked us to stay in the heli but to drop a couple of duffel bags to lighten the load. Chad and I pulled our sleeping bags out of our respective duffels and dumped the bags. We were then treated to some spectacular flying by Ashish as he inched forward, hugging the mountainside with the limited visibility offered by clouds coming in and out. We popped through a hole and flew up and over a beautiful glacial lake by which Ashish landed and allowed us to get out.
So, this is how almost our whole team came to be at base camp by mid morning. We have had to leave Tashi behind and he will walk up with the rest of our bags. Ashish managed one more flight with equipment before he was forced to desist.
Our base camp will be our home only for two or three days and then we will move to our more permanent advanced base camp…but despite the fact that this means that not all of our creature comforts will be unpacked, we are all very happy to be here.
Makalu base camp is in an incredibly beautiful place with the south face towering above us. The "Black Mountain" is not looking very black right now as she is covered in a blanket of monsoon snow that makes her even more stately and imposing. It's always a pleasure to have a view of the mountain, and this base camp has a spectacular position from which to stand and take in the beauty of the himalaya.
The team is doing really well and enjoying being in the comfortable and familiar surroundings of our base camp. Alpenglow's Sirdar, Dorjee Sonam and his team of Sherpa are excited to have us here and really keen to get going higher on the mountain. Our ABC is established and ready for us to arrive at so for the next couple of days we will be resting, acclimatising and getting ready to make the move up.
Thanks for following, and we will be back in touch over the next few days with more news.
-Monica