Alpenglow Climber Heather Geluk Writes from Alpamayo, a Guest Blog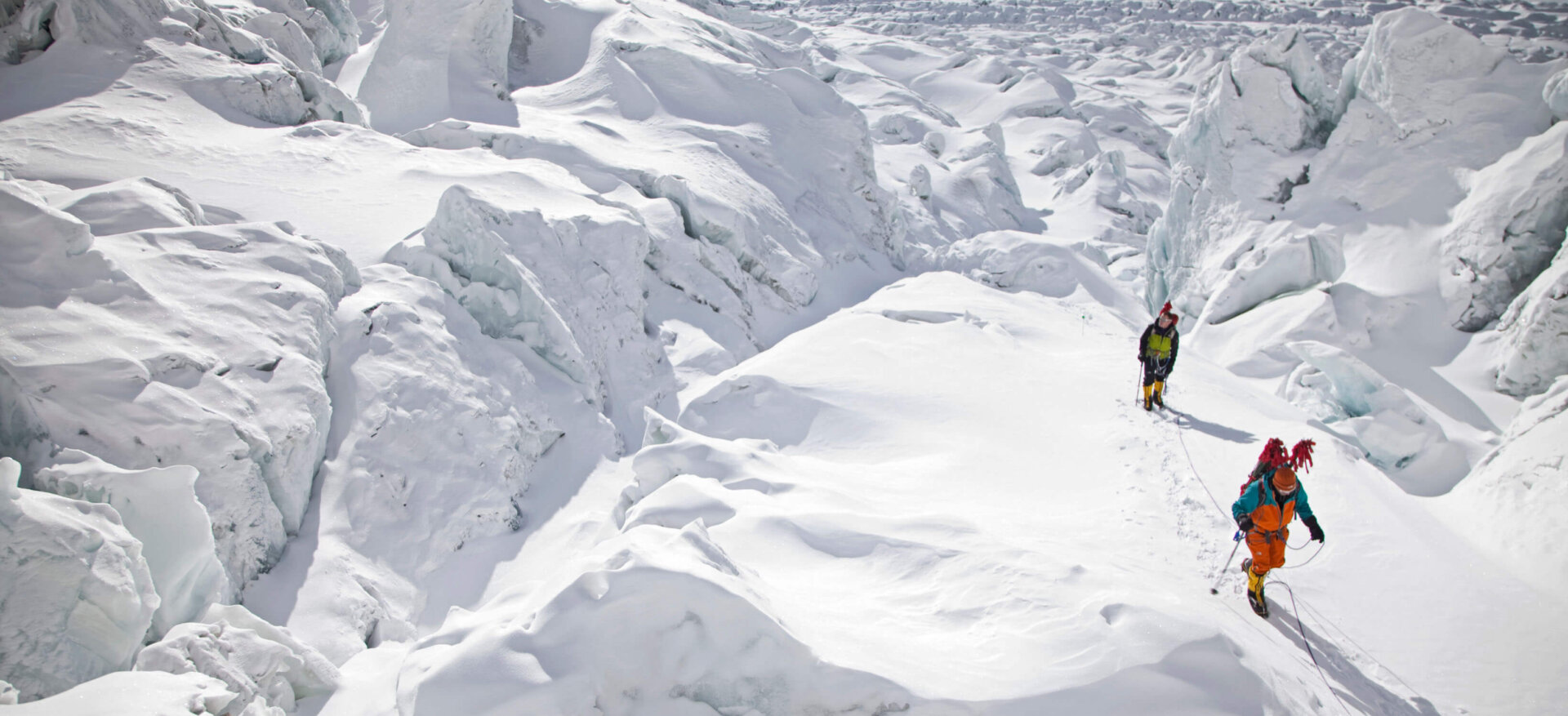 Yesterday I found myself hurtling, knuckles white with fear and exhilaration, down a narrow dirt track in the shadow of some of the most stunning scenery that I've seen in a while… snow capped mountains stretching far into the valleys below, paths lined with pre-Incan ruins on a radiant blue-bird day. I was in Huaraz – a village that I'd long heard about for its friendly mountain feel and its reputation as the gateway to the Cordillera Blanca and all that it has to offer. And I was on a full-suspension mountain bike… not quite the traditional acclimatisation process but effective none the less.
We had arrived in Huaraz on Sunday evening after a long 8-hour bus journey out of Lima. The early hours of the bus journey were monotonous (a term I don't use lightly) as the brown-grey colour of the shanty-towns and rural villages blended with the dull grey sky. It wasn't pretty but I knew that Peru was simply holding back, waiting to deliver. And deliver it did.
As we approached the foothills the sky suddenly began to break and the rays of sunlight began to add colour the ground below, bringing out vibrant greens, highlighting the pinks and illuminating the mountain streams trickling out of the rock which lined the road. Switchback after switchback led us to an altitude of 3800m where we crossed a mountain pass and another valley opened up below.
We were pressed to the windows of our comfortable van, taking pictures and getting increasingly excited about the adventure ahead. We'd only met that morning – a small team of 6 including 2 guides from Ecuador, US, Canada and the UK and yet our shared excitement and anticipation about working together in the coming weeks had already created a bond.
Huaraz is the restless capital of this Andean adventure kingdom and, as yesterdays morning breakfast revealed, its rooftops command exhaustive panoramas of the city's dominion: one of the most impressive mountain ranges in the world. It certainly lived up to its reputation as a trekking metropolis (think of a cross between Mendoza, Kathmandu and Chamonix) – dozens of adventure tour operators line the streets to help plan trips, rent equipment and organise a list of adventure sports as long as your arm. Adding to this (perhaps the icing on the cake) are dozens of fantastic restaurants which offer a global range of cuisine with Peruvian charm.
Our guest house is absolutely stunning. A small, spotlessly clean bed and breakfast called Olazas – friendly, cozy, beautifully decorated with a spectacular roof-top terrace. My heaven. And to make the guest house even more perfect, it offers mountain bike tours of the Cordillera Blanca… Even if I wasn't here to climb a mountain I'd certainly consider coming back just to relax, explore and soak in the spectacular panorama over one of their delicious breakfasts.
Being a team made up of 5 men (and me!), we couldn't help but let our adventurous side get the better of us yesterday as we loaded up a van with bikes and prepared to acclimatise by heading up into the higher altitudes. We cycled breathlessly through the amazing terrain and held on for our lives… a few of the boys went off to a slightly more 'hardcore' track but me, feeling particularly comfortable with the amount of risk I was already taking in advance of a significant climb, decided to take things easy and stay on the 'straight forward' terrain – which did have its share of single track sections, mud, and rock-laden downhills. It's been ages since I was last on a mountain bike – 6 years in fact – and this brief taster certainly reminded me of why I love the sport.
And here we are today – gorgeously sunny Tuesday morning. As the subject-line indicates, the mountains are calling. Our bags of kit are currently being loaded into two vans and in about an hours time we will head to Cashapampa (9000 feet / 2743m). The three hour drive will take us through beautiful farming communities as we head between the spines of the Cordillera Negra and the Cordillera Blanca. Here we'll organise our burros (mules) and hike to Llama Corral (11,500 feet / 3,505 metres).
We are super psyched and really looking forward to the adventure ahead. This will be my last blog post for a while until our return from the mountain in just under 2 weeks time. Breakfast is now being served on the stunning terrace and once again we can't help but be mesmerised by the views. And so, the mountains are calling…. and we must go.