Ama Dablam Rewind – Blog from Ted Mahon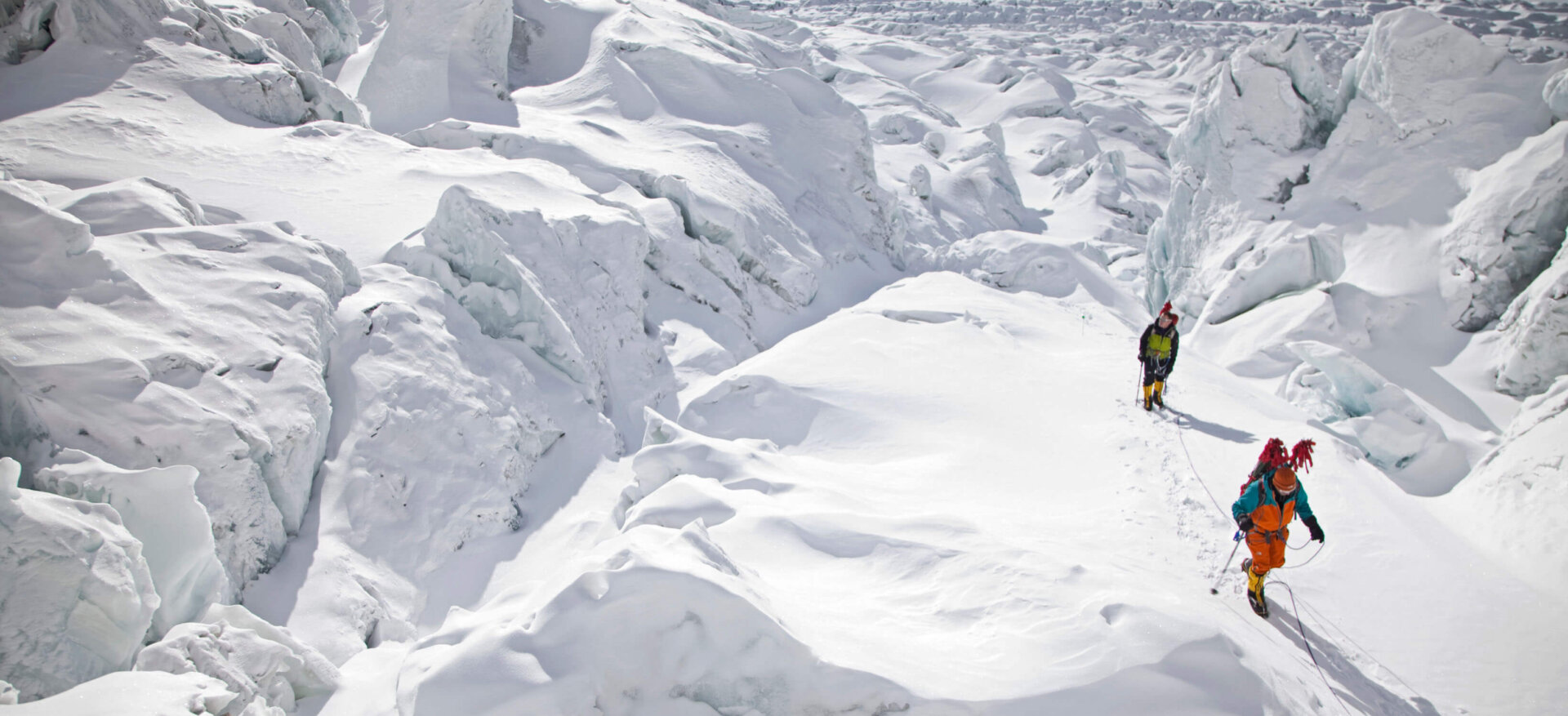 Thanks to Alpenglow team member Ted Mahon and www.stuckintherockies.com for this great blog and pictures of the Dablam.
"It was October 18th, nine days after arriving to Nepal, that we finished our trek and made it to basecamp. What a spot. The looming west face of the mountain frames the backdrop for the camp and the huge hanging snowfield just below the summit, known as the 'dablam' (loosely translated- pendant or charm box), accents it further.
As we made our way to our tents, passing through other expeditions camps, there was a noticeable energy about. We had just arrived, but many others have been there for some time already, acclimatizing, moving up the mountain, hoping to set up for a summit bid. After grabbing our duffels and claiming our tents we gathered in the group tent, psyched for our new digs. This would be home or the next 2-3 weeks.
Moments later, while Adrian was reviewing some of the more basic, boring basecamp 'rules', a faint rumble in the distance became a thunderous roar and we all evacuated the tent and looked up with disbelief.
Because the route goes right near, if not below the the dablam, opinions varied as to what it meant. To some it was a bad omen, reminiscent of the serac collapse recently witnessed on K2 that resulted in a huge tragedy, to others it was a potential blessing in disguise. A sizeable collapse might clear this objective hazard from the route, much like a skier can try to 'cut' a ski slope to trigger an avalanche preemptively, removing the hazard before anyone can get caught. In other words, if the dablam broke off in a big way today, there might not be much left to fall when we were hoping to be up close and personal with it, in a couple of weeks. Whatever the opinion, it was a spectacular natural event to witness.
So in hindsight what did it mean? Well, much like a major earthquake is followed by some aftershocks, some more shedding of the dablam occured over the next few days, though on a much smaller scale. By the time Adrian and the sherpas were finishing the fixing of the rope to the summit, it had been totally quiet for almost a week. Thankfully we had the time to wait for this natural cycle to end. And as a precaution, the route just below the dablam was put in as far right as possible. You never know.
From a route perspective, fixing the ropes more to the right was a negligible change. More significant, the usually straightforward steep snow from high camp to above the dablam had been wiped clear, and what remained was several pitches of 50+ degree, bulletproof ice. Front pointing got you through the estimated 300 meter pitch, adding a bit more spice to the morning. Once past, the route returned to its normal path to the summit.
Big thanks again to Phurba Tashi, Nema and Dorje for fixing the route the last bit of the route ahead of us that day, incredible work!"
-Ted Mahon
www.stuckintherockies.com