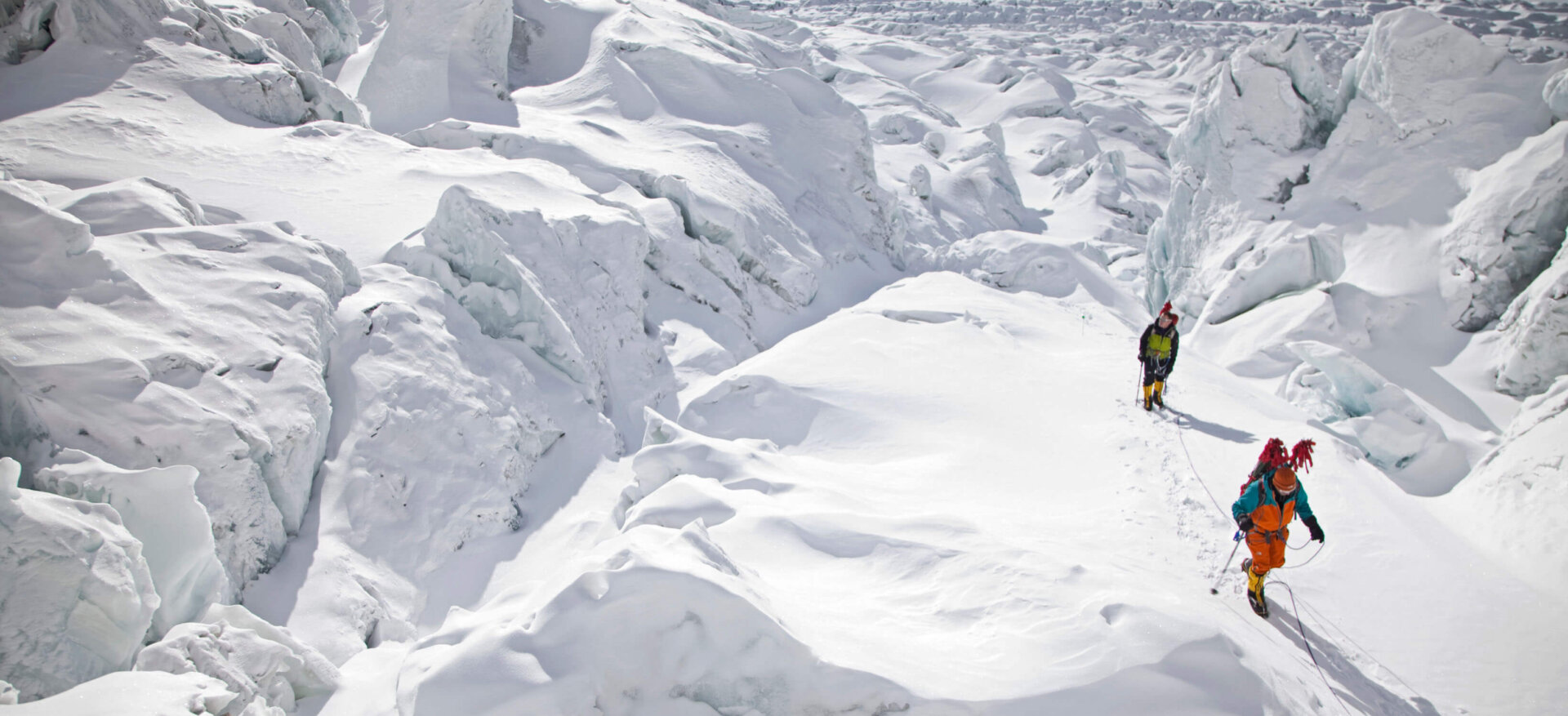 As promised…a bit more news from the team before it's all HISTORY!
First, let me update that Jenny and Scott decided to head on down to warmer latitudes..and altitudes! Their time was limited, and they quite rightly doubted that the route would be ready in time for Jenny to have a crack at it before she was due to leave…SO, they made an executive decision to cut their losses and go and have some Type 1 fun somewhere warm for a few days before heading home. I completely agree with their decision … and now I'm just sort of envious! It was great having them along on the trip and we miss them!
Right now, I'm snuggled up next to the heater in our Slingfin Dome listening to (really bad…!) music, rehydrating after my hike up to yak camp and eating Dahl Bhat, which I love but which I only get when I'm on my own at base camp!So, things aren't so bad….for me that is!
For the rest of the team however….ooooooooo! They are all up at camp 1. Greg, Neal, Jim, Adrian, Emily, Dorji, Tenzing and Pasang are all up there, trying to stay warm in wonky tents at 5900m. Eeeeeek! BUT, I just spoke to Adrian on the radio, and actually they are all in really good form. They watched a spectacular sunset and are all in good health and good spirits.
The Sherpa spent the day at base camp and only arrived at C1 at sundown. Emily and I hiked to yak camp in the morning whereupon we said our goodbyes and she continued up to C1 and I came back down to base camp.
The Boys probably had the best day of all. They went from camp 1 to camp 2…..in fantastic weather and in solitude! There were no other teams on the ropes so they truly got to enjoy the terrain, the views and the feeling of climbing a big (ish!) mountain. I also have to say that they did so in incredibly good time. I mean, I'd like to be able to say that the Girls were better than the Boys…but actually…the Boys did pretty darn well today and moved with style (I think!) and speed (I know!). A slightly tardy start was made up for by their slickness! It's a pleasure to work with such a competent and strong team…and it bodes well for what lies ahead.
As far as what lies ahead goes…tomorrow is in effect our D-day. Tomorrow Jim and Greg will make their way down to base camp, fully acclimatised and ready for a summit push if Ama will let us. Adrian and Neal and the Sherpa are going back up to camp 2 and beyond to take a serious look at conditions and to ascertain whether the mountain has indeed closed her doors this year, or …maybe not. Emily is going to climb behind the "reconnaissance team" to keep her appetite for this peak whetted and her acclimatisation up to scratch.
Many teams have been up and deemed the snow conditions on the mountain too dangerous to proceed. Alpenglow's trip to take a look tomorrow is in no way a challenge to those opinions. Nonetheless, we know that conditions change, and that it's better to see for oneself: seeing is believing. Adrian has summitted Ama Dablam 12 times: he will be the first to say "No" if he feels that the conditions are indeed not safe, but he also has had the advantage of a later arrival, more time than other teams, a wealth of snow safety experience and the utmost confidence in his team of Sherpa with whom he has fixed ropes on many Himalayan peaks including this one. We are not ready to give up just yet. We won't be reckless, we will be thorough. Patience is a virtue and time is a privilege…we've been lucky this year to arrive a little later and perhaps get a chance that other teams weren't profferred.
I sincerely hope that tomorrow's exploration will come back with positive reports, but if not, it is not all bad either. There will of course be disappointment in all of us, but Ama Dablam herself will get a rest and the ever growing arrogance of climbers will be kept in check.
A successful summit is never a given…it is a gift.
Monica Piris
Expedition Doctor
Alpenglow Expeditions Ama Dablam 2013