Another Everest Season Has Begun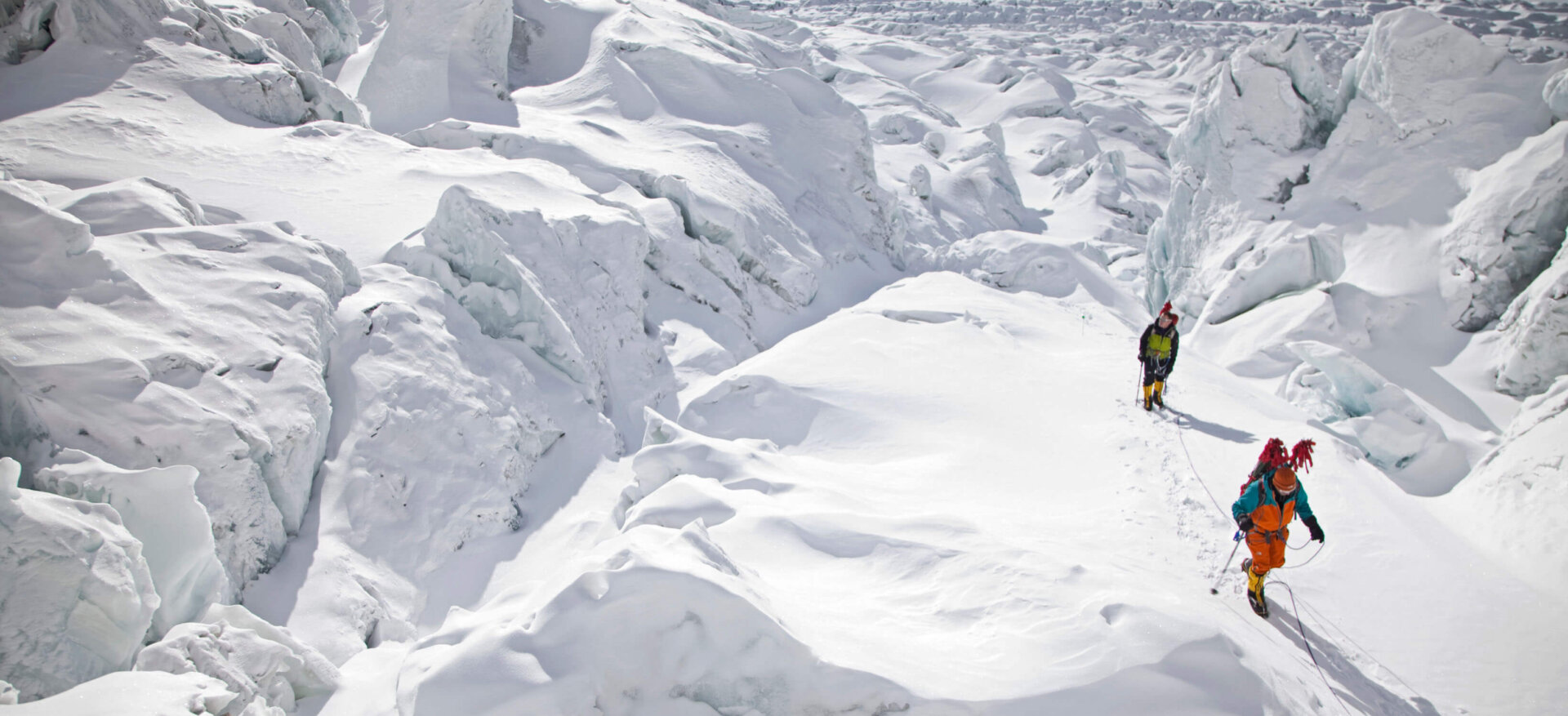 The following blog is courtesy of Billi Bierling, Himalayan Experience:
Another Everest season has begun
The time of year has come, when hotel lobbies in Kathmandu are filling up with blue mountaineering barrels, gear shops are teeming with climbers doing their last-minute shopping and the Himalayan archivist Miss Hawley and her team are running through the streets of Thamel hunting down mountaineering expeditions to find out about their plans.
While trekking agencies are busy preparing their teams for their expeditions, the Kathmandu authorities are trying to come to grips with the ever-increasing traffic by widening the roads all over the city. This should improve the dire situation in the long run, however, with all the construction work going, the streets of Kathmandu seem more congested than ever. But most teams had only spent a couple of days in the city before they headed out into the beautiful surroundings of the majestic Himalaya.
Of course, a climbing season would not be the same without Himalayan Experience, which has been operating Everest expeditions for 18 years, with its fourth time on the south side in Nepal. For 2012, Russel Brice and his team have three mountains on their climbing agenda – Everest, Lhotse (the fourth highest peak in the world) and Nuptse, which is a new addition and stands at 7,861m (25,790ft) right opposite Mount Everest. By attempting to climb all these three peaks, Himalayan Experience will be present on all significant mountains forming the Horseshoe that begins with the West Shoulder, runs over the summit of Everest down to the South Col, then over Lhotse and continues over the ridge and various summits of Nuptse.
New challenges
Russell Brice and his team of nine mountain guides, 31 climbing Sherpas, 10 cooks, a doctor and a blogger will be looking after 24 Everest climbers, seven Lhotse aspirants, four Nuptse contenders and two dozens of trekkers over the coming two months. These vast numbers are almost dizzying, however, after having organised commercial expeditions for 18 years and climbed extensively in the Himalaya for 38 years himself, this is just another trip for Russell Brice. "Every expedition is different and I am really looking forward to this season as we have several new challenges – including expeditions to Lhotse and, for the first time, Nuptse," he said. Nuptse was first climbed in 1961 by British mountaineering legend Chris Bonnington and has only been successfully scaled 18 times since then.
Like every season, Russell will be supported by his Sirdar, Phurba Tashi, who has already stood on top of Mount Everest 19 times, and weather and climbing conditions permitting will be edging closer to the record of 52-year-old Apa Sherpa, who has reached the summit 21 times.
Once again, the team is a very international one with climbers from the UK, USA, Germany, France, the Netherlands, Ecuador, New Zealand, Russia, Australia, Latvia, Norway, Mexico, South Africa, Japan, China and, of course, Nepal. Another highlight is that part of the Himalayan Experience expedition is made up of five British soldiers, who were wounded in the wars in Afghanistan and Iraq and belong to a British charity called 'Walking with the Wounded'. The WWTW will run their own blog with regular updates, which you can also follow on http://walkingwiththewounded.org.uk.
Short stint in Kathmandu
The members of this year's expedition arrived in Kathmandu on 29th March and stayed in the comfortable Hyatt Hotel on the outskirts of the city. After two days of briefings, packing, shopping, sorting out SIM cards, having their hair cut, going for massages, pedicures or a last proper shave before the big trip, the team flew to Lukla – the gate to the Everest region at 2,700m (8,860ft) – on Saturday, 31st March. Due to the crowds that were embarking on the same journey, the Himalayan Experience team used several B2 and B3 helicopters, which made the trip to the Khumbu very smooth.
I have just spoken to our team up there and after their second day of trekking all 55 trekkers, climbers and staff as well as their luggage have arrived safely in Namche Bazaar. "The weather was magnificent and everyone is feeling good. We got a great view of Mount Everest while we were walking up the notorious Namche Hill," our expedition doctor Monica told me over the phone. With this, she was referring to the steep incline that leads from their last stop in Monjo to the Sherpa capital, which lies at an altitude of 3,700m (12,200ft) and is situated inside the Sagarmatha National Park. The park – a UNESCO World Heritage Site – was created in 1976 and encompasses an area of 1,148 km2 (443 sq mi) and ranges in elevation from 2,845 m (9,334 ft) to 8,848 m (29,029 ft) at the summit of Mount Everest.
On Monday, the group will just go on a very short walk over to Khumjung (3,780m/ 12,470ft) – the Sherpa village where Sir Edmund Hillary, who together with Sherpa Tenzing Norgay was the first person to reach the top of the world, built his first school in 1961. Since then a total of 26 schools have been set up under the Himalayan Trust, which was created by Sir Edmund and his first wife Louise in 1964. They will stay in Khumjung for two nights, which will help them acclimatise their bodies to the higher elevation.
Over the next couple of months we will keep you updated with news from our expedition and will provide you with a short introduction of each climber and, time and space permitting, the Sherpas and guides. We will also give you some background and history as well as write about the lives and work of the Sherpas and the Khumbu Region. If you are interested, you can click here to find a complete list of all our members, including trekkers and Lobuje East climbers.
Should you wish to receive an email once a new update has been posted, please subscribe to our newsletter here: http://www.himalayanexperience.com/newsletters_page.
I am very much looking forward to providing you with the latest news from the Spring 2012 Everest season.
Billi Bierling in Kathmandu
www.himex.com