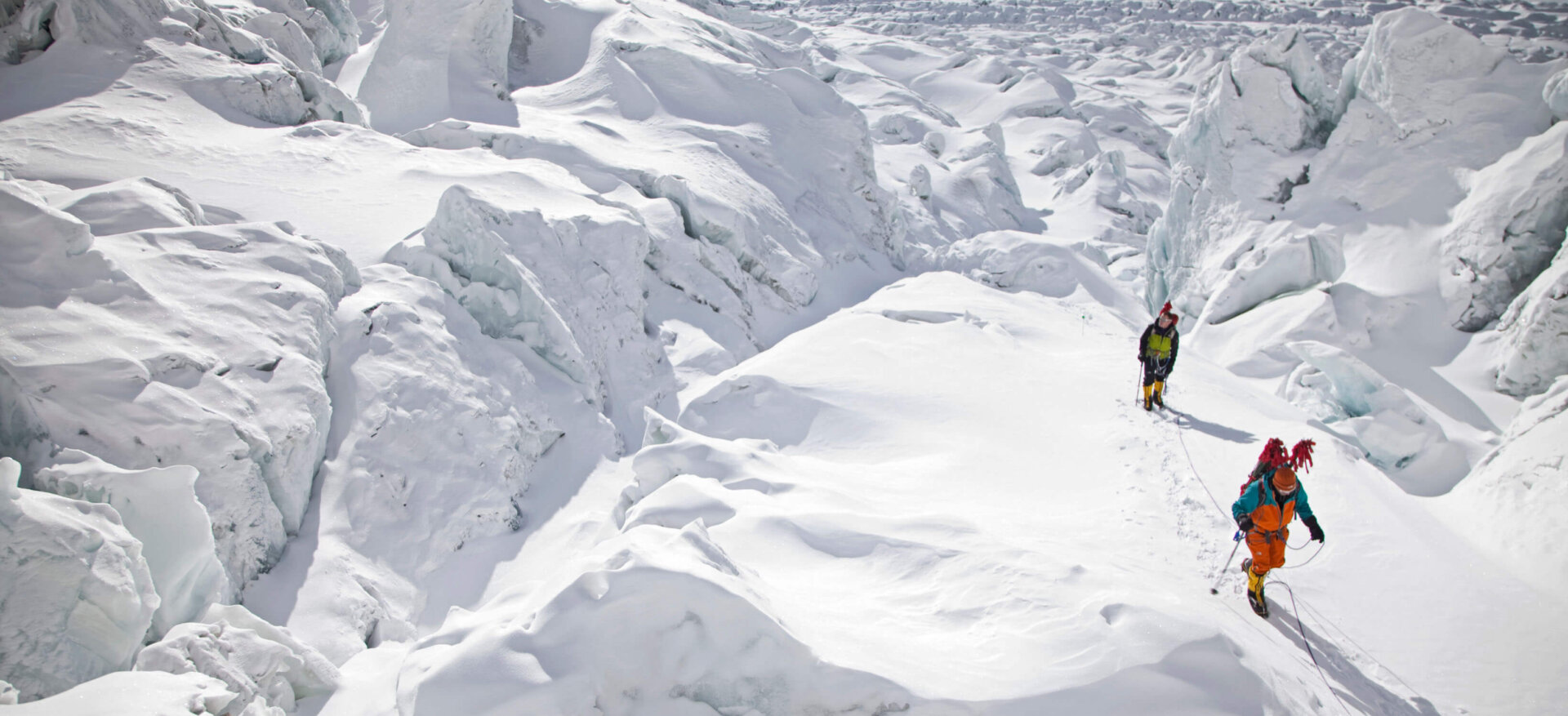 The following blog is courtesy of Billi Bierling, Himalayan Experience:
Home sweet home
The group has finally set foot into their temporary home at 5,350m that has been diligently set up by Himalayan Experience's Sherpa team over the past three weeks. Like every year, the legendary 'White Pod' is dominating the camp. The big round structure serves as the relaxation spot for members, guides and Sherpas where they play cards, read, watch DVDs on flatscreen television, play Scalextrics, surf the web or just chat and relax. "The great thing about the 'White Pod' is that our members usually do not have the urge to go down to the lodges after our acclimatisation period. Here we have a warm space, where people can just sit and relax," Russell said.
The Sherpas have done an amazing job in making the camp comfortable, ensuring that all the tents are pitched on flat surfaces, which requires a lot of work considering that the camp is on an ever-moving moraine. The kitchen tent is up and running and Lacchu and his crew are working tirelessly to provide the climbers with their culinary "Base Camp Specials". This year, there are separate toilets for men and women and all the mess tents are laid out with carpets and are decorated with flowers to make it more homey. "It's great to be back at base and all is good," Adrian reported.
What's also new this year is that the approximately 35 big and small expeditions at base camp can, for the first time, enjoy 3G mobile phone connection. However, it remains to be seen how well it will be working with everyone trying to log on at the same time. "My mobile phone has worked pretty well all the way up the valley but sometimes I had to walk up a high ridge to get reception," Monica said.
If all fails, Himalayan Experience has a fully equipped communications tent with satellite phones and satellite Internet connection. "I can't rely on the new mobile phone and internet connection, especially when it comes to receiving our weather forecast, which is imperative to our summit success," Russell said.
While everyone is settling in getting their new homes ready for the next seven weeks, I will continue introducing the team to you.
David Tait
David from the UK is probably one of the better-known names of this year's Himalayan Experience Everest expedition. The 48-year-old has climbed Everest three times and this year he is trying to reach the top of the world without supplementary oxygen. David is married with four children, lives in Cobham and earns his living as an investment banker.
How did you first come across Everest and who inspired you to climb it?
For me the urge to climb Everest has a lot to do with my experience as an abused child. In 2003, I was sitting in my office watching the live broadcast of the 50th anniversary of the Chinese climbing Everest and I felt tremendously inspired and knew I wanted to climb it myself. In July of the same year, I climbed Mont Blanc and the following year I went to Everest for the first time. I did not reach the summit that year, but I summited in 2005, 2007 (I traversed from North to South) and 2009 –always with Himalayan Experience.
What has been your biggest achievement so far?
I guess all my Everest expeditions – not only the summits, but the whole experience. I do it for myself and for the charity, which makes me feel good. If I just climbed Everest for myself without the charity, it would not be the same. I need to do it to achieve something bigger. I like the effect and the change it has on people's lives. I am doing it for a reason. Of course, I also get a lot of personal satisfaction. I like the feeling knowing that I have done it, however, I prefer the feeling to know what it is actually doing. The first time I climbed Everest it was a lot more about me but it has changed since then.
What is your biggest challenge on this Everest expedition?
Maintaining my focus of why I am here, which is to summit without supplementary oxygen.
How has Everest changed your life?
Everest has changed my life in every way. I am a totally different person – a better one. I think of those around me more and it is great what I have managed to achieve through the charity. Climbing Everest has changed my attitude towards almost everything and everyone and as a consequence I have inspired many abused children. The mountain has changed thousands of lives through me.
How mentally prepared are you for the possibility of not getting to the top?
I am totally prepared. After the experiences I have had on the mountain, I am prepared for all scenarios. I have never been in a better place than now to achieve my goal. I have never trained harder and I have never been in such a solid mental state – so all I need is good weather.
What will you carry to the summit?
Flags of the charity and other flags of organisations that have made donations.
If you want to follow David on his website, click here: http://www.davidtait.com/home.html
Naoki Ishikawa
Naoki is a photographer from Tokyo. The 33-year-old has already stood on top of the world. On 23 May, 2001, he reached the summit of Mount Everest from the North side in Tibet with Himalayan Experience.
How did you first come across Everest and who inspired you to climb it?
In 2001 when I was 23 years old, I became the youngest person to finish the Seven Summits. I had already started travelling with 16 and one of my first trips took me to Nepal and Tibet. I continued to travel and in 2000 I went from the North to the South Pole, which took about one year. The Seven Summits were a major achievement but I also like climbing and kayaking. I am going back to Everest to take pictures and I would like to write about the expedition. Being on the Nepal side of the mountain will be a new experience for me and I will write an article about it for a Japanese travel magazine.
What has been your biggest achievement so far?
I am not particularly proud of having done the Seven Summits or having been to the Arctic. People live there all the time and me going there once is really not such a big deal. I want to continue travelling and get to know the indigenous cultures, like the Sherpas and Indians, and I want to learn from them.
What is your biggest challenge on this Everest expedition?
Acclimatising properly.
How has Everest changed your life?
Everest has not really changed my life but of course it will always be in my memory and it was a great experience for me. But whether I go to India or Nepal or the Arctic – it is all the same for me. I get the same pleasure out of it.
How mentally prepared are you for the possibility of not getting to the top?
Not getting to the top would be hard, however, it is not my main goal. My goal is to learn many things from the mountain and take good photographs. I like climbing but I am also really into getting to know the culture of a country. I am here to experience this and of course, it will be better if I get to the summit but if not then it is also ok. Whatever happens, I will want to come back anyway.
What will you carry to the summit?
My camera.
If you want to have a look at Naoki's photographs, click here: www.straightree.com