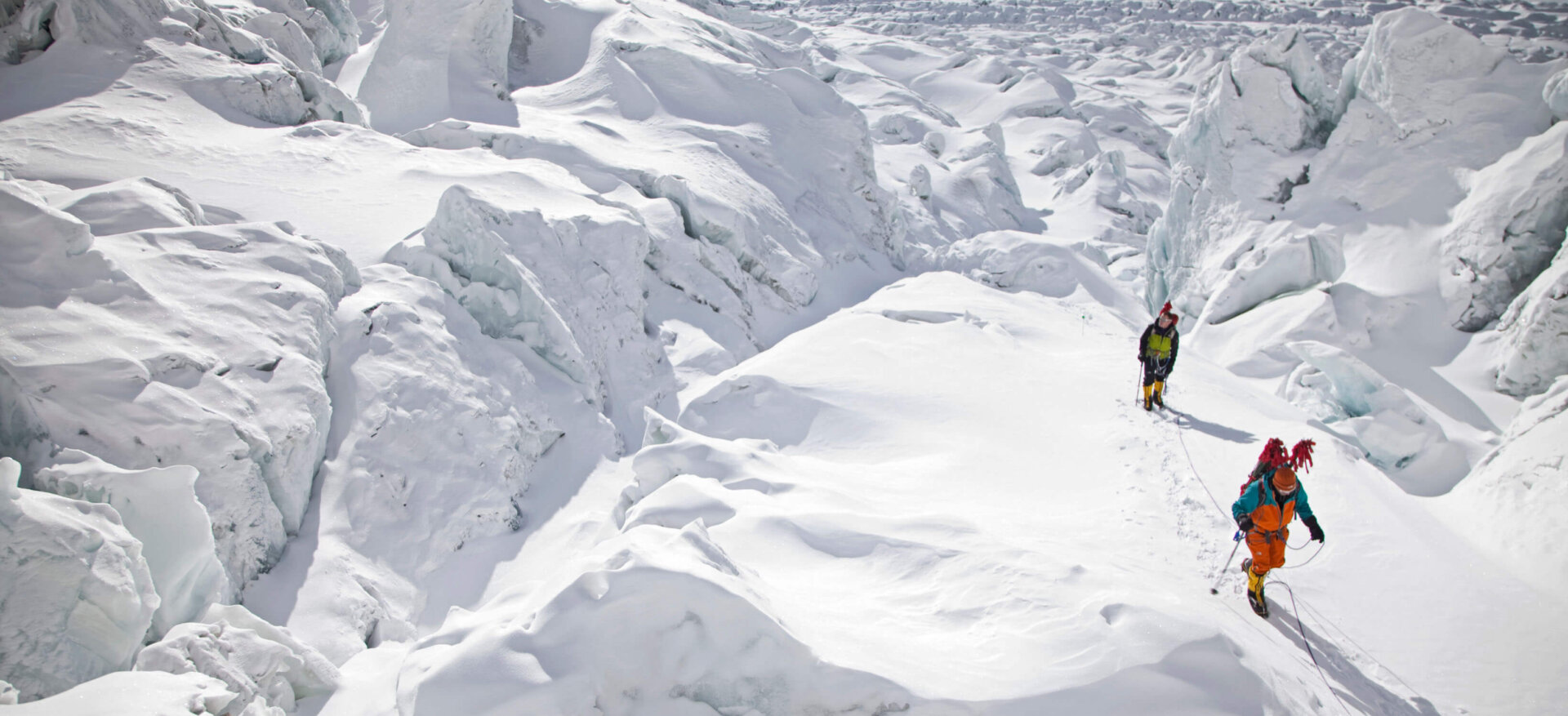 The following blog is courtesy of Billi Bierling, Himalayan Experience:
Arriving 'home' on Easter Monday
After 10 days of trekking through the beautiful Khumbu region, the Himalayan Experience team has finally arrived at their temporary home, a village called 'Everest Base Camp' lying at an altitude of 5,267m (17,380ft). Our Sherpa crew and cooks, who have been setting up our little hamlet for the past three weeks, welcomed the trekkers and climbers with a big smile and a hearty lunch. "It is good to finally be here. Everyone is doing really well and we have spent the afternoon settling in and making our tents as cozy as possible," Adrian reported.
During the walk to Base Camp, which led them through the settlement of Gorak Shep and past some of the Everest memorials, the crew had brilliant sunshine and blue skies. "The weather has been perfect today, however, we had some snow overnight," Adrian continued. Over the past few days, several big storms have also hit Kathmandu and the surrounding hills, which is rather unusual for this time of year, triggering fears of an early monsoon. "It could be like last year when the monsoon started in mid April," a Kathmandu resident told me.
The good news is that the 'Icefall Doctors' (a group of Sherpas, who fix the ropes and ladders across the heavily crevassed glacier every year) have opened the Khumbu Icefall and some of the Sherpas have already been able to reach Camp II (6,400m/21,120ft). "I have heard that the icefall is in very good condition this year," Adrian said excitedly.
The team will stay at Base Camp for five days, which will mostly be filled with relaxation, and maybe with a few short walks. "People should really rest up here as their bodies are working hard to create red blood cells to adjust to the altitude," Doctor Monica said. "The best way to acclimatise is to relax and let your body do all the work."
While lots of rest and relaxation is being done at Base Camp, I am pleased to introduce you to two more members of our expedition.
Jeff Brown
Jeff Brown from Tampa, Florida is a barrister, who runs his own law firm, teaches at the local law school and commentates on major American TV stations, such as FOX and CNN as a law expert. JB, as some call him, has a huge affiliation to the mountains. He has already climbed Aconcagua, Denali, Elbrus as well as Kilimanjaro and has recently flown off Mont Blanc with his paraglide. His plan is to fly off Everest, assuming he summits.
How did you first come across Everest and who inspired you to climb it?
I've known of Everest since I was a child but never desired to climb it until several years ago when on Denali I was inspired by my climbing partner, an ultra fit Norwegian, who had already summitted Everest from the North and was completing her Seven Summits. She climbed Everest with Russell Brice and she inspired me.
What has been your biggest achievement so far?
I have no idea what my biggest achievement was. I guess, others should decide this.
What is your biggest challenge on this Everest expedition?
I am sure there will be many challenges on Everest. I just hope I will meet them with perseverance and courage.
How do you think, Everest will change your life?
I am not sure whether it will, but if it does, then that is fine. I guess, I will have to wait and see what transpires first.
How mentally prepared are you for the possibility of not getting to the top?
I will deal with not getting to the top, if there is a need to deal with it, but not till then. The goal is the top and I will stay focused on that.
What will you be carrying to the top?
I am still trying to figure it out.
If you want to check out Jeff's website, have a look at www.brownanddoherty.com.
Joe Martinet
Joe has had his heart set on the mountains for more than 15 years. The 37-year-old from Chicago, Illinois first read several books about Everest, including the account of the tragic events that happened in 1996. After having absorbed all these stories, he decided to stay with electrical engineering as a profession and keep mountaineering and other outdoor activities as his 'habits'. 'The Joe' has been married to 'The Bunny', otherwise known as Annette, since November 2010 and works in the cellular and satellite device development industry.
How did you first come across Everest and who inspired you to climb it?
During a college party in the mid 90s, three friends and I decided we would climb Denali five years after our graduation – and so we did in summer 2001. While on that expedition, we set our eyes on Aconcagua and climbed it successfully six years later. Our last big goal was to climb in the Himalaya before we all turned 40. Well, over time, life, children and other priorities took over for the rest of my team, until it was down to only me. Luckily, I found that Russell had a spot in this year's Everest team – so, I accelerated my plans with the blessing of my team, work, friends, family and, of course, my wife.
What has been your biggest achievement so far?
I have been lucky enough to have the chance to travel and experience much of the US and many other parts of the world with my friends and family. The most electrifying time of my life was driving on the limitless parts of the Autobahn in the Alps. The most amazing thing in my life was proposing to my wife in Venice, where we were with our family.
What is your biggest challenge on this Everest expedition?
The shift from climbing with a small unguided group of good friends to a huge commercial expedition. I am used to being the team's logistics and planning coordinator, ensuring everyone arrives safely at BC with all the right gear and in good health. I am also used to being part of the decision-making process. This time, I am mostly unfamiliar with those I am climbing with, which is a completely different world to me.
How do you think Everest will change your life?
I hope putting it on my resume when I get home will help open up conversations and potentially land me get a job in Denver as my wife and I hope to move there after this climb!
How mentally prepared are you for the possibility of not getting to the top?
This is not an item on my mind. I instead choose to focus on my preparations, planning, equipment, and the people and environment around me. I find that in doing this, everything else works out as best it can. My past experiences in climbing and my other habits in my life have taught me to focus on the positive things instead. For example, in snowboarding you do not focus on the trees or else you'll head directly towards them and crash. The trick is to focus on the white snow near the trees where you plan to turn and find a way through them. This is not easy as we humans have a tendency to focus on the bad things.
So, while I on expedition, I will focus on the little positive things, just as my climbing partner Kev once said: "We are one step closer than we were before." This can only be achieved by taking care of the little things like tying your boots properly. As an Eagle Scout, I would say "Be Prepared".
What will you carry to the summit?
Figuratively, I will carry the support of my beautiful wife and my family and friends. Next to them I will carry the hopes and dreams of my climbing team, who could not join me on this journey but helped me get here by climbing together for those 15 years.
Literally, I am carrying summit flags for Ms. Moschetto's class at St. Theresa School in Ashburn, VA, a flag for my local climbing club and snowboard shop, as well as a flag from a friend who owns a small business in Chicago. I'm also bringing the ashes of a good climbing friend of mine who did not come back one day, as well as a lock of hair from my brother's little one who has persevered through some tough times. Lastly, I hope I will bring all the right gear and don't forget something stupid like a charged battery for the camera.
If you want to follow Joe's blog, go to http://thejoemartinet.tumblr.com/
Billi Bierling in Kathmandu
www.himex.com