Back to BC for Rest and Summit Window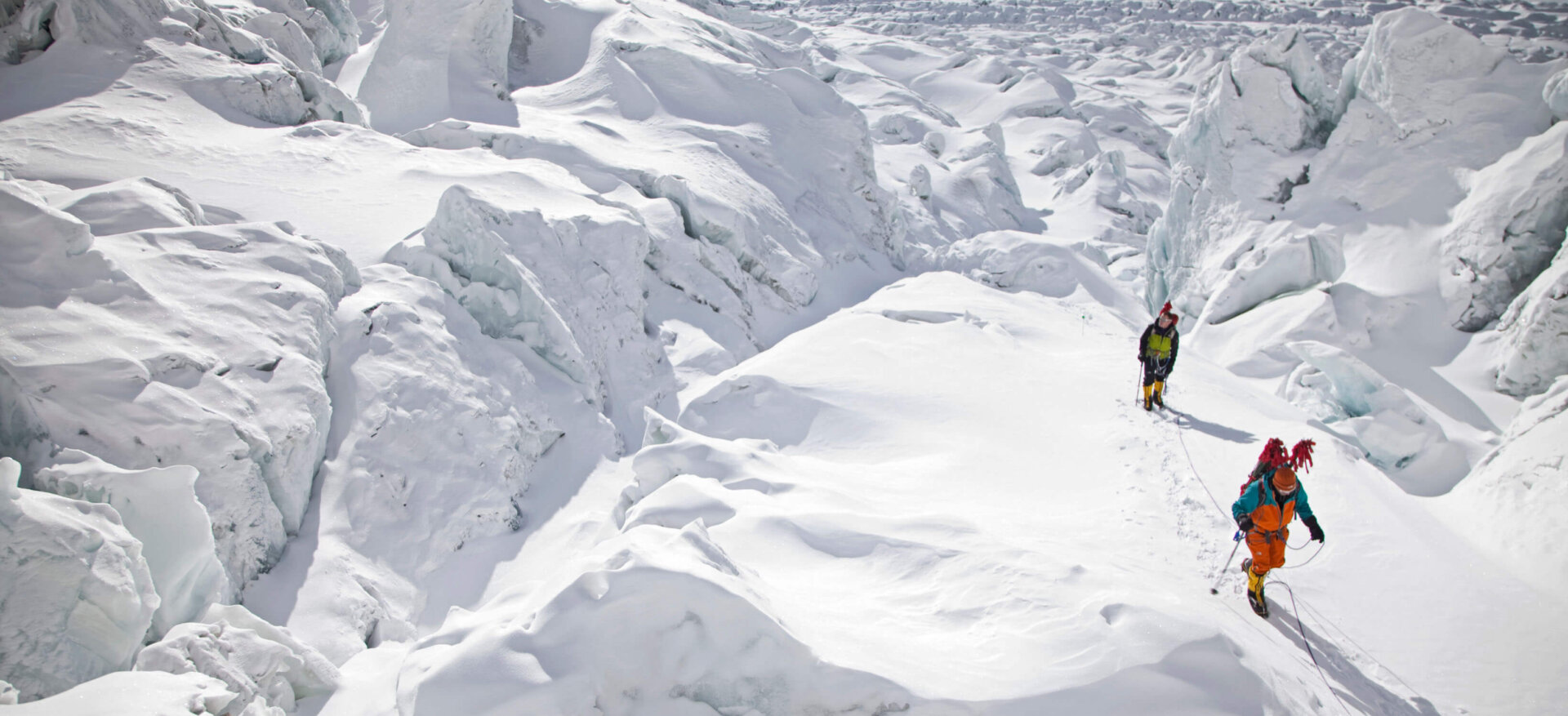 Feeling the Earth Move at High Camps
Many of you might have read about the earthquake that hit Nepal on Monday at 6.30pm local time. The epicentre of the 6.9 quake was in the east of the country near the border to Sikkim, however, our team, who was up on the mountain at the time, definitely felt it. "We were just having a chat and all of a sudden we felt a big thump. First I thought it was a crevasse opening up, but one of our Sherpas immediately called out 'it's an earthquake!'," said our guide Narly, who was at Camp 3 at 6,650m (22,000ft) at the time of the shake. It took another five seconds and an avalanche, which was triggered by the quake, came down at the right side of our camp. "The fact that all our camps were well clear of the line where the avalanche came down, shows, once again, our Sherpas' expertise and their knowledge of where to put a camp safely," Russell said. According to reports from Kathmandu, the Nepalese capital was not hit very hard by the tremble. "People are more scared than anything else as a big earthquake has been looming to hit Kathmandu for a while. Let's hope that this was it," Richard Bull, a Kathmandu resident reported over the phone.
As far as the climbing is concerned, the earthquake has had very little impact on the itinerary of our expedition. All the guides and members have just come down from their second acclimatisation rotation, during which they spent one night at Camp I and three nights at Camp II. It was the team's first visit to the new altitude of 6,250m (20,625ft) and getting from Camp I to Camp II was certainly one of the most challenging climbing days. "I think I will need about three days to recover from this tough ascent," Francis of Walking with the Wounded (WWTW) said. The good thing about acclimatising is that the body needs to rest at the new altitude and the fact that the following day was spent with lying around, boiling water and looking at the stunning scenery certainly suited everyone after the exhausting climb. "I don't think I have ever had so much down time in my life but I have to say I really enjoy it," Wisey, Francis' tent mate observed.
Stunning views
Despite the fact that it has been raining relentlessly at base camp, the team enjoyed stunning weather up at the higher camps. On Sunday, the whole group ascended another 400m (1,300ft) to 'tag' Camp III, which had already been set up by the Sherpas. "The platforms look good and the Sherpas have done an amazing job again," Adrian told Russell over the radio. Most of our team took between two and three hours to get to Camp III, where they spent about an hour to give their bodies the chance to acclimatise a little more. "I have had one of my best days today," said Herbert, who suddenly revealed his German racing qualities during this climb. Most of the team went back to Camp II to stay another night, apart from our guide Narly, your blogger, and Pierre from France, who will be attempting to climb Manaslu without the use of supplementary oxygen. "I want to test my limits and I know that I might compromise my summit success," the Frenchman, who lives in the UK, said. Pierre had been thinking about the 'No Os' option and when he talked to Russell about it he was pleasantly surprised about his reaction. "Russell was great and I am very happy that he is giving me the option to at least try. If I need to use oxygen to get to the summit and it is not too late, I will use it," he continued.
While we were struggling to build more platforms for our tents at Camp 3, four of our Sherpas arrived, carrying their usual heavy loads. "We have come from base camp in seven hours, and after we have helped you set up a few more tents we will probably fix another 400m of rope towards Camp 4," said Nigma, one of our lead Sherpas. "They always put me to shame with their amazing energy and strength. And they always do it with a smile," said Narly.
Everyone spent another good night at their respective camps and while most of us were still tucked up in our sleeping bags on Monday morning, 21 Sherpas left Camp I at 3am to fix the missing rope to Camp 4 at 7,400m (24,420ft). "We are making slow progress but the mountain is in very good condition this year," our Sirdar Phurba Tashi reported over the radio. Well, if 10 hours from Camp I to Camp IV carrying around 25kg and fixing the rope above 6,800m (22,440ft) can be called 'slow' then it may be. However, the fact that most of our members took between five and eight hours to get from Camp I to Camp II may make you realise that the Sherpas' achievement is incredibly fast.
After four tough days on the mountain, everyone will now stay at base camp and recover from the high elevations, eat good food and get ready for the summit attempt, which will happen whenever the weather permits. We will keep you posted and let you know as soon as a more concrete plan has been made.
Billi Bierling at Manaslu base camp