Blessings, Briefings, and Base Camp Life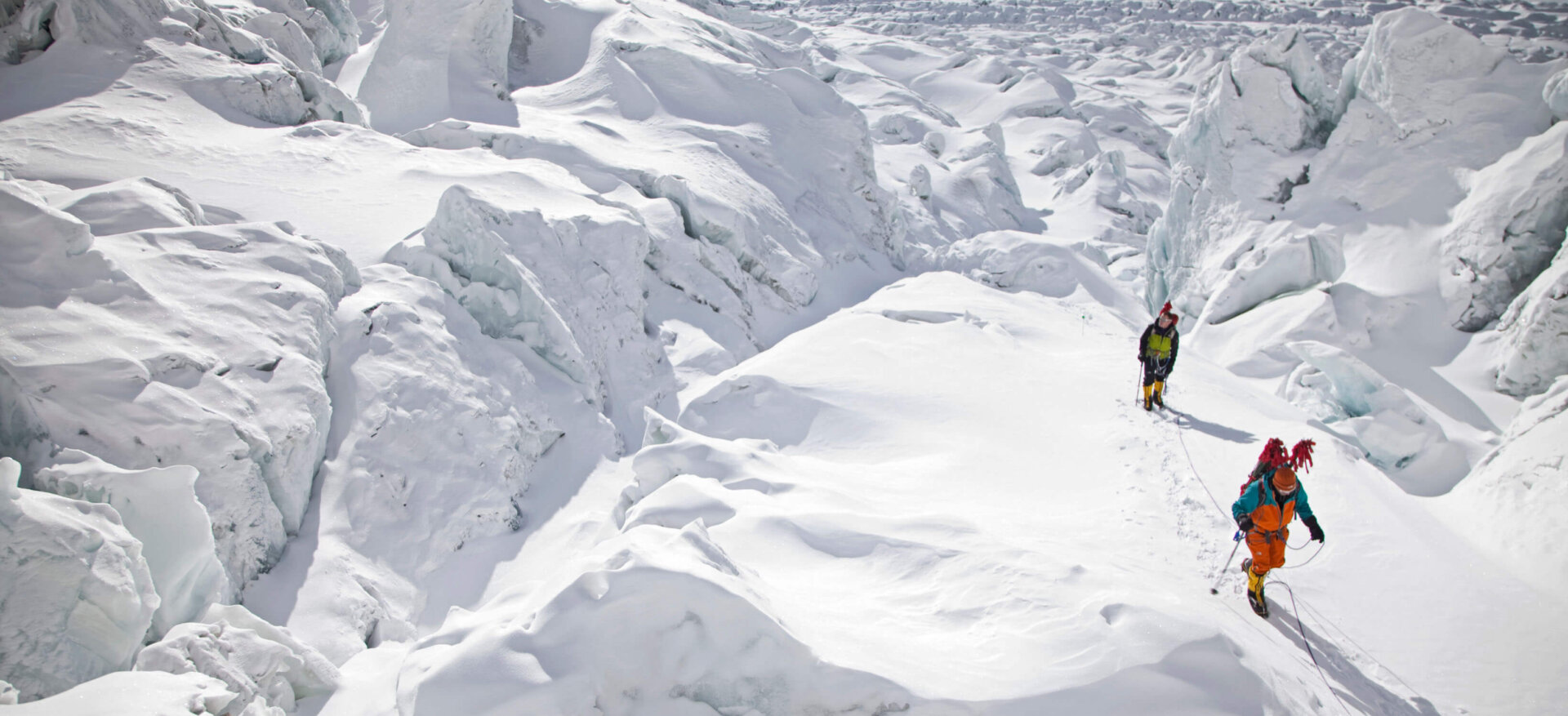 The following blog is courtesy of Billi Bierling, Himalayan Experience:
Over the past two days, the whole team has been united at Base Camp and even though everyone was supposed to be resting after having used up lots of energy on Lobuje East, things have been happening here at 5,350 (17,600ft) above sea level. On Tuesday, the Everest crew received their radios as well as avalanche beacons, which they will use for the trip through the icefall. As mentioned in a previous newsletter, it is not yet common practice to use these detection devices on the mountain but with the icefall being as dangerous as it is, it is an imperative devise for Himalayan Experience.
"The Khumbu Icefall has potential avalanche danger and if we are unfortunate enough to be caught in one, the beacons will most certainly save lives," Russell explained. After having had many discussions about the current state of the icefall, Russell got the Everest team together on Wednesday morning to talk about the plans for the coming days. "We are all very aware of the fact that the route is very close to the avalanche-prone West Shoulder this season. It was a decision by the 'Icefall Doctors', some of which have worked in the icefall for more than 35 years, and we have to trust that at this very moment, this is the best route through the heavily crevassed glacier," he explained.
Looking at the icefall from here, it seems very broken further to the right and the doctors are worried that this section could collapse at any time. "If it does collapse in the next few days, we will be able to put in a new and probably safer route," Russell continued. "So it is still early to make a judgment." The Everest climbers all looked very stern during the briefing but it was obvious how much they trusted the Himalayan Experience leadership and guides.
"It is what it is and I really trust Russell's judgment. He is obviously doing his best to make it as safe as possible," said Amanda from Australia. "I am not worried – the Khumbu Icefall has been known as the most dangerous part of the mountain and if we want to get to the top, we will have to go through it," Amanda's good friend Annie added. There will be further discussions with other teams and the icefall doctors on how to proceed but a lot can happen over the next few days, which can potentially change the situation.
Puja
On Tuesday, the sherpas of the Himalayan Experience team were praying to the Gods to make moving through the icefall as well as climbing the mountain as safe as possible by performing a Buddhist ceremony, called 'Puja'. "The Puja is very important for climbing the mountain as we believe that the Gods will look after us once we have prayed to them and asked them for a blessing," our Sirdar (head sherpa) and former lama (Buddhist monk) Phurba Tashi told me.
The ceremony started at 10am and lasted for more than two hours during which all the sherpas, guides and members were gathered around our little Buddhist altar, called the 'Chorten', which is sitting at the edge of our camp. Phurba Tashi and another lama were leading the chanting during which every climber had an item blessed that was important to them. Most people brought an ice axe, a harnesses or crampons but in the midst of all of the traditional climbing gear an iPad was peaking out.
"Who put this here," Doctor Monica was shocked. After a bit of research, we found that Greg from the States was planning on taking this modern gizmo up to the summit. "I promised my son, who runs a business for iPad cases, to carry the new iPad 3 to the top of the world," he explained. "If I get too tired I might have to ask my fellow climber Xavier from Mexico to carry it up and to be safe, I also had my helmet blessed" he said tongue-in-cheek looking over to Xavier. "Well, as long as I can keep it, I will definitely take it," Xavier responded.
After the chanting was over there was some rice and flour throwing followed by the traditional Sherpa dance, which the sherpas performed with all their passion. "We could actually hear the singing of your sherpas this morning," said Deano, who is a guide for Adventure Consultants, who camps about 20 minutes farther up the hill! At the end of the ceremony every climber received a piece of red string, which had been blessed prior to our Puja. "The red string, which we normally tie around our necks, is very important to me and I feel very strongly about it. I would hate to climb the mountain without it," said Woody, one of our guides.
Leaving the team
On a sad note, Chimu McGrain from Austin, Texas left our expedition on Wednesday morning. It was a hard and painful decision for him but his heart was just not in it. "I had been contemplating abandoning the expedition for quite some time and I am being brutally honest about it. I just lack the passion to climb this mountain and I miss my family," he told me during the Puja. "I really care about the people and I want to carry on helping the disadvantaged populations of Peru as this is my passion. I have learnt a lot during this expedition and I have certainly made some amazing new friends, who I will stay in touch with – but for the moment I just want to go back to my family."
Other activities during our down time at Base Camp was a little party in the White Pod on Monday night, a walk through the upper quarters of Base Camp all the way to crampon point (the entry to the Khumbu Icefall), washing laundry, showering and generally getting ready for the mountain.
Over the next few days, the population of our little town will slowly decrease again, with some of the trekkers and Lobuje East climbers leaving for our Lobuje camp this afternoon and the first group of Everest climbers departing for Camp 2 on 27th April. "This first rotation will take a total of six days. The climbers will spend four nights at Camp 2 at 6,400m (21,120ft), then one night at Camp 3 at 7,350m (24,250m) and then another night back at Camp 2 before they will all return to Base Camp," Russell explained.
While the Everest climbers will finally touch Sagarmatha (the Nepali name for Everest meaning "Mother Goddess of the Earth"), our Lhotse and Nuptse team will go back to Lobuje East for their first acclimatisation rotation. If all goes to plan everyone should be back at Base Camp on or around the 3rd of 4th of May.
I will try and send you one more newsletter before we all head off to our respective mountains but as I will be on Lobuje East it will be a bit tricky to send updates from there. So please bear with me until we are all back.
Warm Regards from a sunny Everest Base Camp!
www.himalayanexperience.com