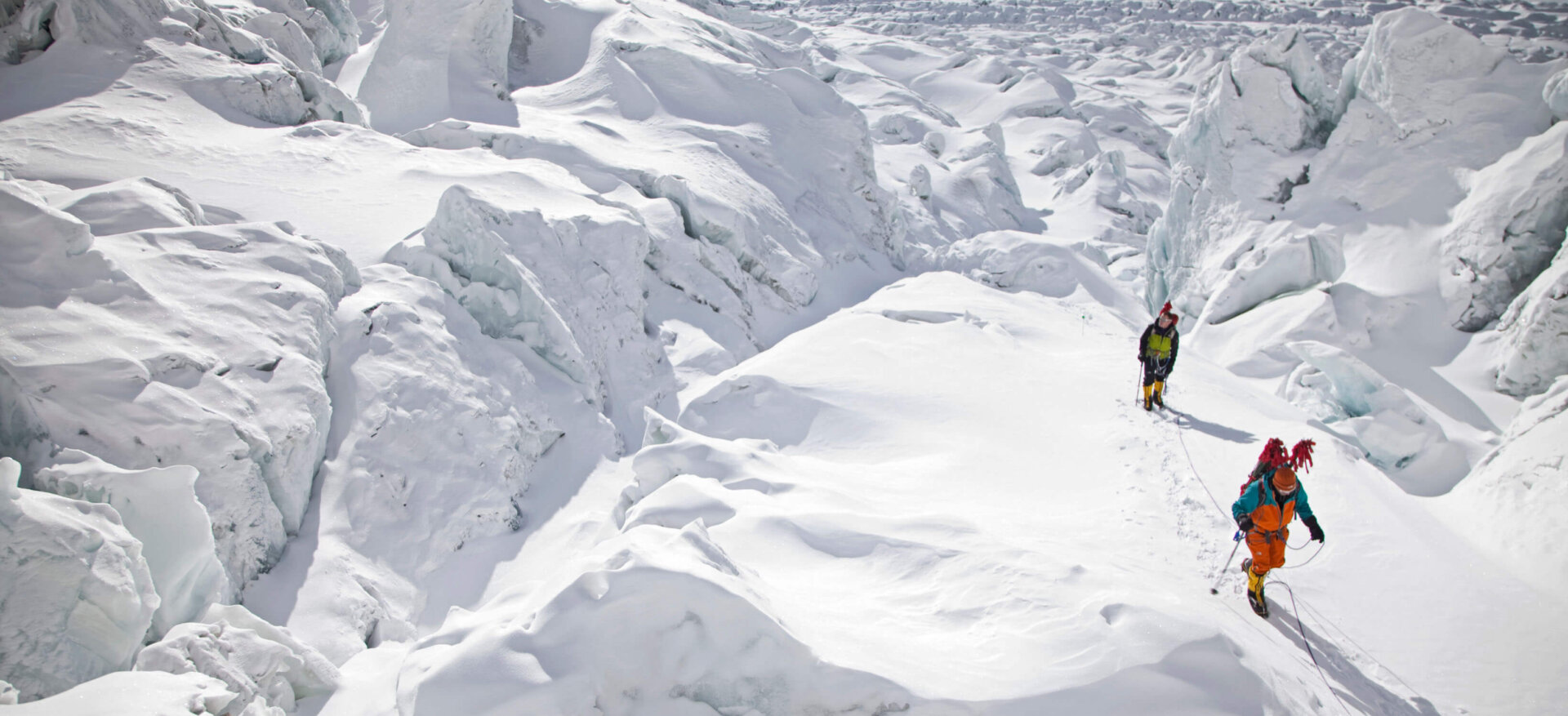 Since leaving Dingboche three days ago, we've been non-stop and having a great time. The group was really excited to finish the trekking portion of our expedition and get into the climbing so our walk from Dingboche, which normally takes 5 hours, took only 3 1/2. I think that might be this season's trend. This team is fast, strong, and really motivated. We arrived into basecamp for lunch, and after that spent the afternoon moving into our tents, getting to know baseamp and its surroundings, and packing the equipment we want brought up to Interim Camp by yaks (a nice bonus that saves us from carrying all our equipment from BC).
Yesterday we woke up to a very cold but perfectly clear morning. Once the sun hit, it warmed up quickly, and by the time we began our puja ceremony, the weather was warm, windless, and perfect. The puja is a buddhist blessing ceremony, and very important for our sherpa and the climbers to perform before we begin climbing on the mountain. The ceremony was about an hour long, and was followed with some mandatory shots of blessed whiskey, and then a morning of hanging out together as a complete team before we all begin working separately on the mountain.In the afternoon, it was training time. Dan Protz, Brian, and I set up a fixed rope training course with lots of challenging elements. We spent 3 hours going through the course, practicing rappelling, jumaring, arm-wrapping, and other fixed-rope techniques to prepare us for the technical climbing we have coming up on Ama Dablam's Southwest Ridge. The group has come in with excellent training and time on technical terrain, so the practice session went smoothly and we were all back with plenty of time to prepare for our head cook's dinner feast Chicken Sizzlers (think fajitas) and then Deep Fried Snickers Bars (a first for me, and only to be enjoyed when burning lots of calories in the high mountains)!
Today we made our first real move on the mountain. While the yaks carried our heavy equipment, we made the 800 meter (2500 foot) climb to Interim Camp with light packs. The trail is non-technical, but steep and sometimes loose and sandy. The group moved well, and were all in camp by noon. Dan Protz and I decided to continue on to Camp 1, 400 meters more and a bit more technical, and when we arrived we spent a couple of hours helping our sherpa building new tent sites. Since no one has yet summited the peak this season, the camps are all quite busy with people waiting for the ropes to be fixed to the summit. Over the next few days we will continue our acclimatization, and also start putting energy towards getting the route fixed to the summit and beginning to clean the old fixed lines and other trash off the mountain. More updates to come from our acclimatization push!
-Adrian Ballinger, Alpenglow Expeditions