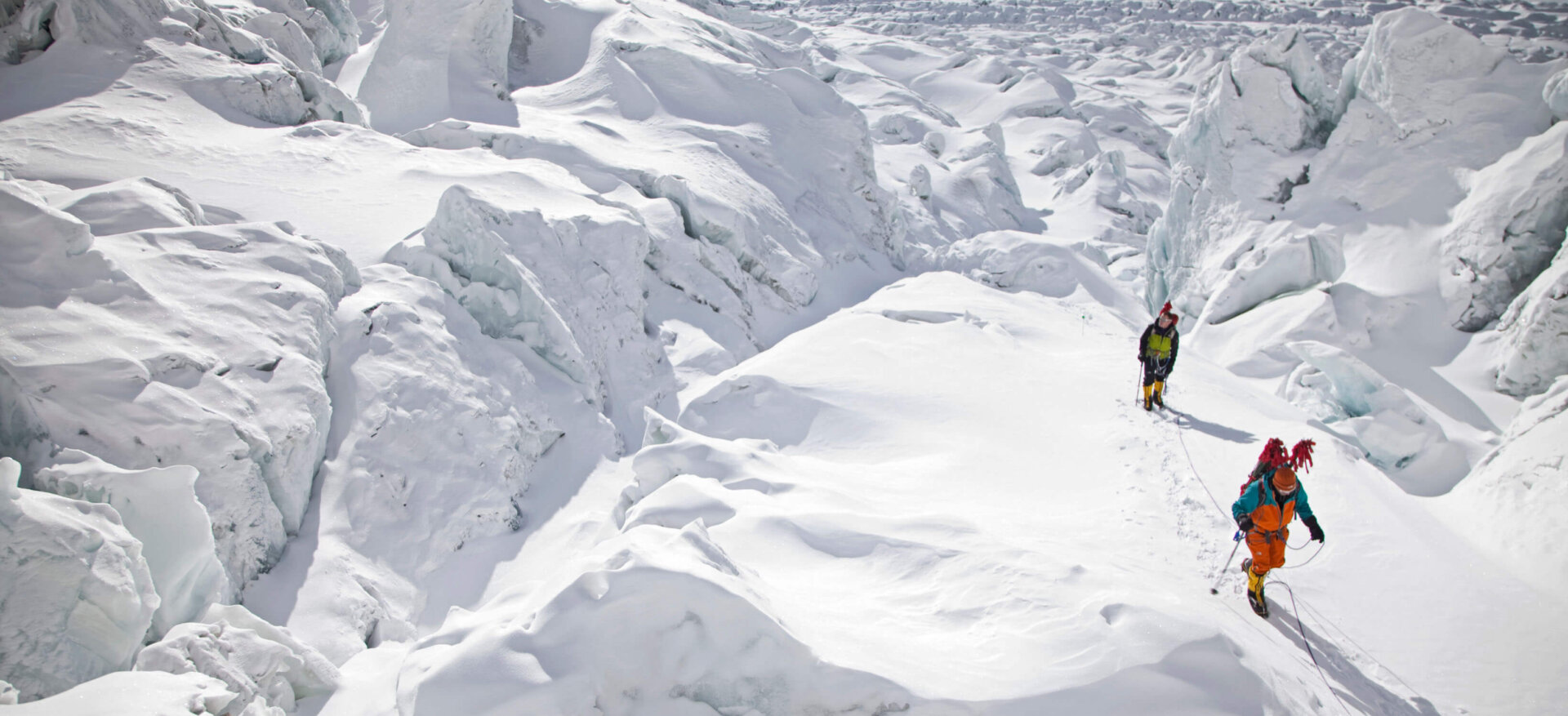 At Everest Base Camp, it's easy to sometimes forget exactly where we are and the challenge we have set out for ourselves. I know this is often what the "purist" mountaineer set abuses Everest climbers for. One of the downsides of having unlimited satellite wifi at both Base Camp and Camp 2 is that we have lots time and bandwidth to read the negative press.
While these creature comforts are certainly not essential, I and other expedition leaders have clearly seen how much better we climb up high if we take care of ourselves really well down low. Flying in fresh meats, fruits and vegetables each week is a big part of that. So are heaters and super-comfortable tents where our bodies can relax and rejuvenate between climbing rotations up high. And so, occasionally, are distractions like wine with dinner, small parties with friends, and internet and movies. To me, while these comforts are certainly different than what i have chosen to bring on countless light and fast expeditions to peaks around the world, they in no way ruin the core experience of climbing a big mountain.
Even with these amenities, climbing Everest is still hard. I will still lose 10% of my body mass over the season (and I think most will agree I'm not an overweight guy to begin with). A lot of that weight loss will be muscle, the body's preferred form of energy up high, and that loss makes every day of climbing a struggle.
When I think of the debate raging in the media, I think of the effort and struggle every climber engages in up here. Regardless of with O's or without, new route or trade route, sherps carrying loads or clients carrying the bare minimum – what I see is each person here giving everything they have to the attempt. While guides and sherpa may do far more trips between camps, and carry heavier loads, it is often the clients who I see having to struggle more deeply existentially to survive and achieve each day's climb. And it is in this struggle, for each of us, that I think we bring home learning and inspire ourselves and others.
As long as each person reaches this place of struggle and subsequent insight, who cares how much they carried or how much oxygen they used or whether they needed fixed ropes. Climbing Everest is still about a combination of personal struggle and teamwork, and I am fortunate enough to see it every day, and to live it.
As long as each climber acknowledges the help they had (sherpa, fixed ropes, oxygen, etc) and those that assist others are appropriately compensated, I believe there are many styles to climb Everest which each offer huge challenges to different types of climbers (elite, recreational, guides, sherpa).
On that note, I encourage Simone Moro, Ueli Steck, and Jonathon Griffith, elite climbers I respect immensely who were unfortunately involved in the fight on Everest last week, to acknowledge the fixed ropes, ladders, and sherpa tracks that they used in going from Base Camp to Camp 2 each time they climbed on the peak. While their goal higher on the mountain may have been free of fixed ropes and supplemental oxygen (and therefore more pure to many at home), they, like all the other climbers here, certainly hugely benefited from fixed ropes and sherpa work in the icefall, and most likely could not have achieved their light-and-fast style of climbing without this huge amount of sherpa work and rope fixing. From talking to sherpa here who are still on the edge about last week's incident, acknowledgement of this assistance by the professional climbers would go a long way to mending the feelings of sherpa that some western climbers take advantage of their effort without acknowledgement or reward. It will not change the unacceptable behavior of last week, but it may help the future collaboration of sherpa and foreign climbers.
Well, what precipitated this post was the hard work we are currently undergoing just surviving and acclimatizing in Camp 2. Winds have been high the past 48 hours and clouds have kept things really cold. I've seen a few tents blown away, and lots of sherpa and climbers turned back from trips to Camp 3. So, regardless of our role in our teams, we are working hard to stay warm, acclimatize, and get equipment up the hill. Life on Everest is not always beers and cards in Base Camp!
– Adrian Ballinger, Alpenglow Expeditions