Everest and Lhotse Teams to Meet at BC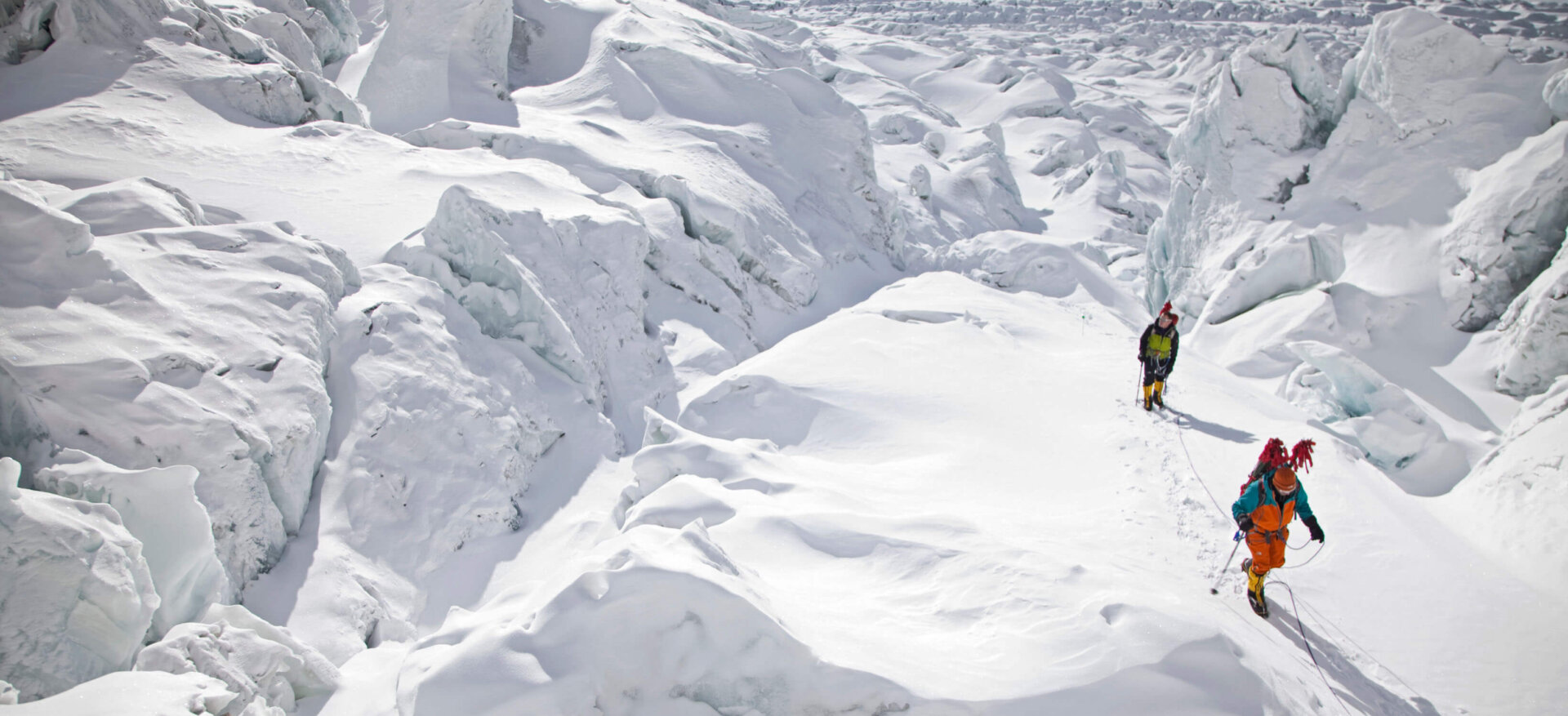 The following blog is courtesy of Billi Bierling, Himalayan Experience:
Everest and Lhotse teams meet again at Base Camp
Apologies for not updating the newsletter for a few days, however, the Lhotse team was staying on the summit of Lobuche East for two nights and finding an internet connection up there was rather difficult. Sissel, Chris, Liang, Jing, Mike, Jonny, Narly, Brian and I climbed the 6,119m (20,180ft) for the second time on Monday and spent two nights on the top in the tents that were carefully pitched on nice platforms by the Sherpas. "This is the best thing I have done in my life," Mike said very enthusiastically on his way up. This was the first time that Mike and Jonny from Colorado climbed above the 6,000m (20,000ft) mark and they were obviously having a lot of fun.
During our rest day on top, six of us climbed to the real summit of Lobuche East, which took only about one hour but broke up the rest of the day, which all of us spent horizontally in the tent as the afternoon precipitation continued into the evening. "It can get a bit boring and sometimes acclimatisation is overrated," Sissel said looking out of her tent. And that's what most of us did – look out of our tent, read, sleep, boil water, cook dinner or just stare through holes into the tent walls.
On Wednesday morning, we had a quick brew, packed our stuff, squeezed as much into our rucksacks as possible and started heading down the mountain at about 7am. There was a new layer of fresh powder snow and all of us were dreaming of skiing down the mountain in these perfect conditions – or rather most of us. "I don't think I would want to ski this," said Chris. On our way down we bumped into Lobsang, Ang Karma and Nuru, who were on their way up (the sixth time this season) to strip the summit camp and collect the fixed rope to bring back to base camp. At this point I would like to quote our guide Brian, who was very impressed with the Sherpas' work. "These anchors are truly bullet-proof."
Summit attempt aborted
While the Lhotse team was lying around in their tents, the Everest team worked hard and left Base Camp for their summit attempt at 1am on Tuesday, 10 May. After having had Russell's Everest speech and a crash course in oxygen use, the team headed through the Khumbu icefall to Camp II, where they stayed for a couple of nights. "It is a hard day from base camp to Camp II and the climbers need a rest day at 6,400m (21,120ft) before they head to the summit," Doctor Monica confirmed. According to Adrian, the icefall is still in good condition and so is the Lhotse Face, which has to be climbed to get to Camp III. "The face is in good condition and we are climbing in comfortable temperatures," he called down from the face by radio.
However, while the Everest team was making their way up to Camp III on Thursday morning, Russell conferred with a few other expedition leaders and double-checked the weather forecast as the weather window seemed to be smaller than expected. "The weather forecast has changed and the winds are going to be stronger than previously predicted. As I don't think it would be safe for our team to attempt the summit in these high winds, we have aborted the summit attempt and the team, including most of our Sherpas, is on their way back down to Base Camp," Russell confirmed. The group will then rest and recuperate at Base Camp and wait for the next weather window for a new summit bid.
In the meantime, the Lhotse team (including your 'blogger') will be heading up the mountain for their first acclimatisation rotation on Saturday, 14 May. We are on the same programme as the Everest team, which means spending four nights at Camp II, one night at Camp III and another night at Camp II before coming back to base camp for a rest before our summit attempt.