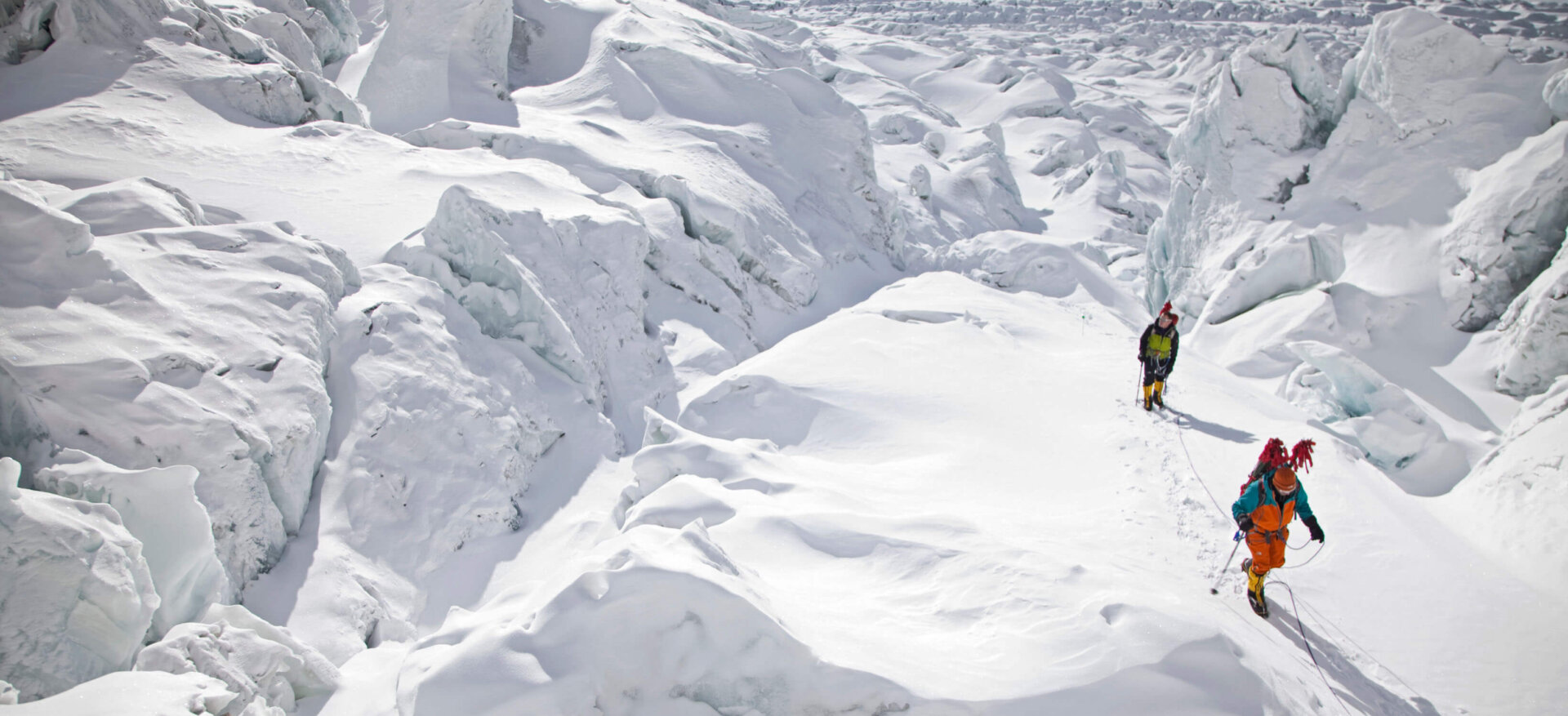 Well, we are finally here and settling in at 17, 500 feet in Everest Basecamp. We actually arrived a week ago, on April 10, so lots has been going on. By now we feel strong and healthy again as our bodies acclimatize. We can eat, drink, and move around camp normally now, a nice change from our first days here. And so, it is actually time to leave again and go higher! Like last year, we will be doing most of our early acclimatization (to 20,000 feet) on another peak in the valley, called Lobuche. We leave this afternoon for a week on Lobuche, which should include two separate climbs of the glaciated peak, as well as at least two nights camping on its summit. This plan will save us at least two dangerous trips through the icefall, and is being copied by many other teams here in basecamp after its sucessfull implementation by our team last year (we had 59 climbers summit Everest last spring, with zero accidents or injuries).
The past week of acclimatization has been fun as well as work. We spent a day practicing the unusual techniques of crossing ladders in the lower Khumbu glacier (to prepare ourselves for the icefall, which often has up to 50 ladders spanning seemingly bottomless crevasses). We climbed a local trekkers peak, Kala Patar (18,600 feet), for acclimatization as well as stunning views of Everest, including the Lhotse Face, South Col, Hillary Step and both summits. And we had our Puja, the Buddhist blessing ceremony that is essential for all members and sherpas to participate in before stepping on the upper mountain. Our puja this year was exceptionally fun. We had a beautiful day, and lots of music, dancing, and even a bit of whiskey (also important for acclimatization)!
And finally, the highlight of my week, last night I, along with two of my co-guides Hiro and Johnny, went through the icefall for the first time. Although the icefall has some of the highest hazard on the mountain, and we tend to avoid trips in it at all costs, there is also an important value to guides knowing the route and being able to describe it to our climbers, and shepard them through in the safest way possible. So last night the 3 of us woke up with the sherpa at 2:30am, downed a quick bowl of oatmeal and a coffee, and went "running". Our goal was to keep as close to our sherpa as possible, trying to keep their pace depite their 3 weeks of living at basecamp and far superior acclimatization. It was great fun, and we blasted through the icefall in 3 hours, crossing loads of ladders, dancing along knife-edge blocks, and cramponing up and down steep ice faces. The most interesting part of the line this year has to be a slightly overhanging triple ladder – 3 ladders bolted into a gently overhanging ice serac face with ice screws. Johnny says he "laid back" these ladders. I just held on as tight as I could and went fast.
The route on the whole has less avalanche hazard from above this season (the West Shoulder serace are overhanging much less above the route), however, the actual climbing terrain seems more broken and blocky, with lots of air beneath your feet throughout the central icefall. It will be interesting to see how it changes over the upcoming weeks.
So that is all for now from Base Camp! I will be sending updates over the upcoming days from our climb of Lobuche. Anywhere else in the world this peak would be a major ascent and goal of an expedition all by itself. Despite it just being our"warm-up", it should be fun and challening! Stay tuned.
-Adrian Ballinger, Alpenglow Expeditions/Himalayan Experience.