Everest Expedition Comes to an Early End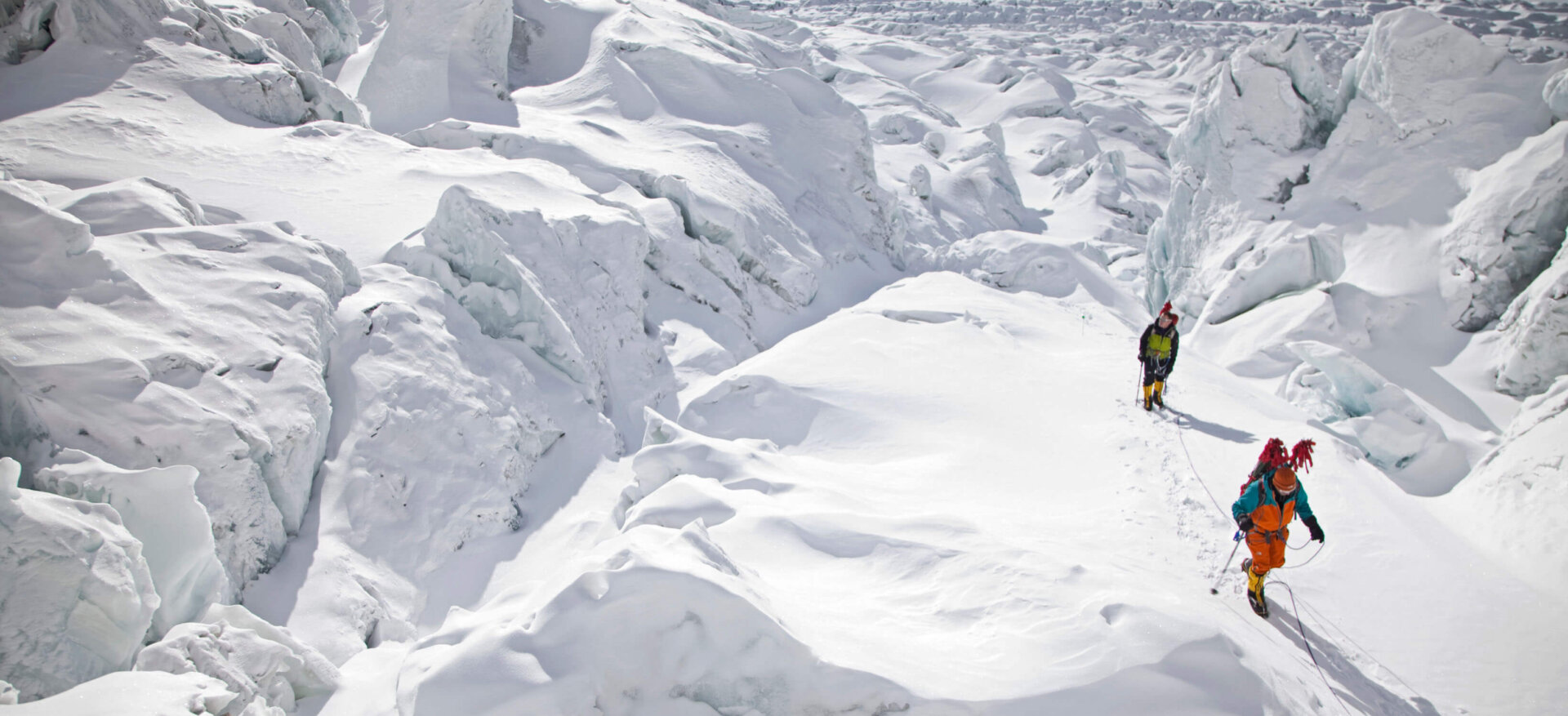 The following blog is courtesy of Billi Bierling, Himalayan Experience:
The current dangerous conditions in the Khumbu Icefall and on the Lhotse Face have forced Himalayan Experience to abandon its expeditions to Everest, Lhotse and Nuptse this season.
Saturday marked a very hard day for Russell Brice, who gathered his team in the 'White Pod' to break the difficult news. He opened the meeting stressing one more time that the conditions on the mountain were just too unsafe for Himalayan Experience to keep on climbing. "I had long and serious talks with the Sherpas, the Icefall doctors and my guides and we have made the decision to cancel the expedition. We can no longer take the responsibility of sending you, the guides and the Sherpas through the dangerous icefall and up the rockfall-ridden Lhotse Face," he explained in a very somber voice.
The atmosphere in the White Pod was very solemn with a few tears running here and there. "Is there any chance that the conditions could change and the mountain could be safer in the coming days," John Carney asked Russell. Naturally, a big dump of snow would make the Lhotse Face safer, but it would not change the dangerous situation in the Khumbu Icefall. "We have been too busy thinking about the rockfall on the Lhotse Face over the past few days, however, the huge ice blocks teetering above the route in the Khumbu icefall are still there and are just waiting to come down. I am no longer prepared to take that risk," Russell continued. "Of course, there is the possibility that many other teams will reach the summit this season but we at Himalayan Experience are very concerned that a major accident could happen if we carry on moving through the icefall."
When our Sirdar Phurba Tashi took the word, even more tears were running amongst members, guides and Sherpas. "This is just too dangerous for me and my Sherpas. I am very sorry as I know you all have spent a lot of money for this…", and then his voice cracked. I have worked and climbed with Himalayan Experience for four years and I have never seen Phurba Tashi like this – and neither has Ellen Miller, a long-term client. "I just wanted to say that I have always trusted the Sherpas and I have to thank them for getting me up to the summits of many Himalayan peaks, but I have never seen Phurba Tashi or Nima so shaken or scared. This tells me that it is just not right to climb up these peaks this year – we must respect the feelings and worries of the Sherpas, who work so hard for us."|
The guides' voice
Some of the guides also explained their concerns with Harry Taylor, who has been on Everest six times since 1986, talking to the group. "We all know that Everest is dangerous but this year the hazards are just out of proportion. When I was in the icefall looking up on the West Shoulder and seeing these huge office blocks just waiting to come down, I was wondering what we were doing there," he said with a crackling voice. "This is a poor season and I have the feeling that there is a huge potential that a lot of people will get hurt in the icefall."
By now, the atmosphere in the big white dome was even more somber and the faces looking at Russell, the guides and the Sherpas expressed sadness, concern and some of them even a slight relief. "Russell, thank you for this. It must take a lot of courage to do this and I admire you for your brave decision," Jeff from the United States said shaking Russell's hand. "We absolutely trust your judgment – thanks Russ," Alec from Alaska called out while the rest of the room was nodding in agreement.
Where do we go from here?
At the end of the meeting, the mood was very emotional with members and guides shedding the odd tear and hugging each other, however, the overall consent seemed to be that this was the right decision. "I am very sad but I respect and trust Russell's decision. That is why I pay him a lot of money," said Pierre from France. For the Himalayan Experience Sherpas though, the danger of the icefall is not over yet. "We still have 250 loads stored at Camp II and our Sherpas will have to go through the treacherous icefall several times before they can go home. I am very sorry once again," Russell said at the end.
Sherpas from other teams have approached our Sherpas and they have been swapping equipment to reduce the numbers of the trips through the icefall. "Sherpas from other operators are also very worried about the icefall and that is why they are going to use some of our gear that is already at Camp II," Russell explained. In this way, the number of loads to be carried up and down through the icefall is reduced for everyone and could possibly make it safer for other teams.
For the members, the end of the expedition means packing up their gear, organising a helicopter or getting their walking boots out to leave base camp either by air or foot in the next few days – a hard decision for everyone, who has taken two months out of work to climb the highest mountain in the world. "I just don't know whether I will be able to come back or not. I guess it is like child birth – you think that you will not do it again until you decide otherwise," Annie told me. "This year is just not the right time. I am an accountant, and it is like a numbers' game – if you push often enough, you are going to get hurt one day."
"I think the hardest thing is that it is so early in the season and I still have the feeling that the situation could change over the coming days. But it is what it is and so it is time to get out as soon as possible," said John Carney organising a helicopter back to Kathmandu while others are preparing for their treks back via Gokyo or Island Peak.
For Russell and his team the next few days will be filled with packing up, getting the gear down from Camp II and possibly making sure that the Icefall Doctors will chose a safer route for the coming year. "It is not that I am pulling out for good and I will do my best to arrange for a safer and better route through the icefall next year."
Whether or not other operators will follow suit remains to be seen, but for Himalayan Experience, this year's danger is out of its parameter and Russell is standing by his decision. "I only look inside our team and I know what is acceptable for us and what is not – and the current conditions are certainly not."
Dawa Tenzing
On Sunday morning, our base camp was hit by the sad news that Dawa Tenzing, who had suffered a stroke in the Khumbu Icefall a few days ago, had passed away. "Very sadly Dawa, who had worked for us for years and was one of our best climbing Sherpas, passed away this morning," Russell informed the team. After having collapsed just outside Camp I, Dawa was taken to a Kathmandu hospital within three hours, which was probably one of the quickest rescue operations in the Himalaya. "He was in a very serious condition right from the start but when he was put on a ventilator on the third day, it was clear to me that he would probably not survive this stroke," Doctor Monica said.
Dawa Tenzing from Phortse was married with two children. His family reached the hospital in time to say their farewells to him and his body will be cremated in Kathmandu in the next few days. "This is a very difficult time for our Sherpas, who are in mourning and still have to work on the mountain, and Dawa's family. Himalayan Experience is currently in the process of setting up a trust fund to support the family," Russell said.
On this sad note, I would like to apologise that the Himalayan Experience Newsletter will stop here for 2012 on Mount Everest. You can be assured though that we will be back in the Himalaya this autumn and will certainly return to Everest in spring 2013.
www.himalayanexperience.com