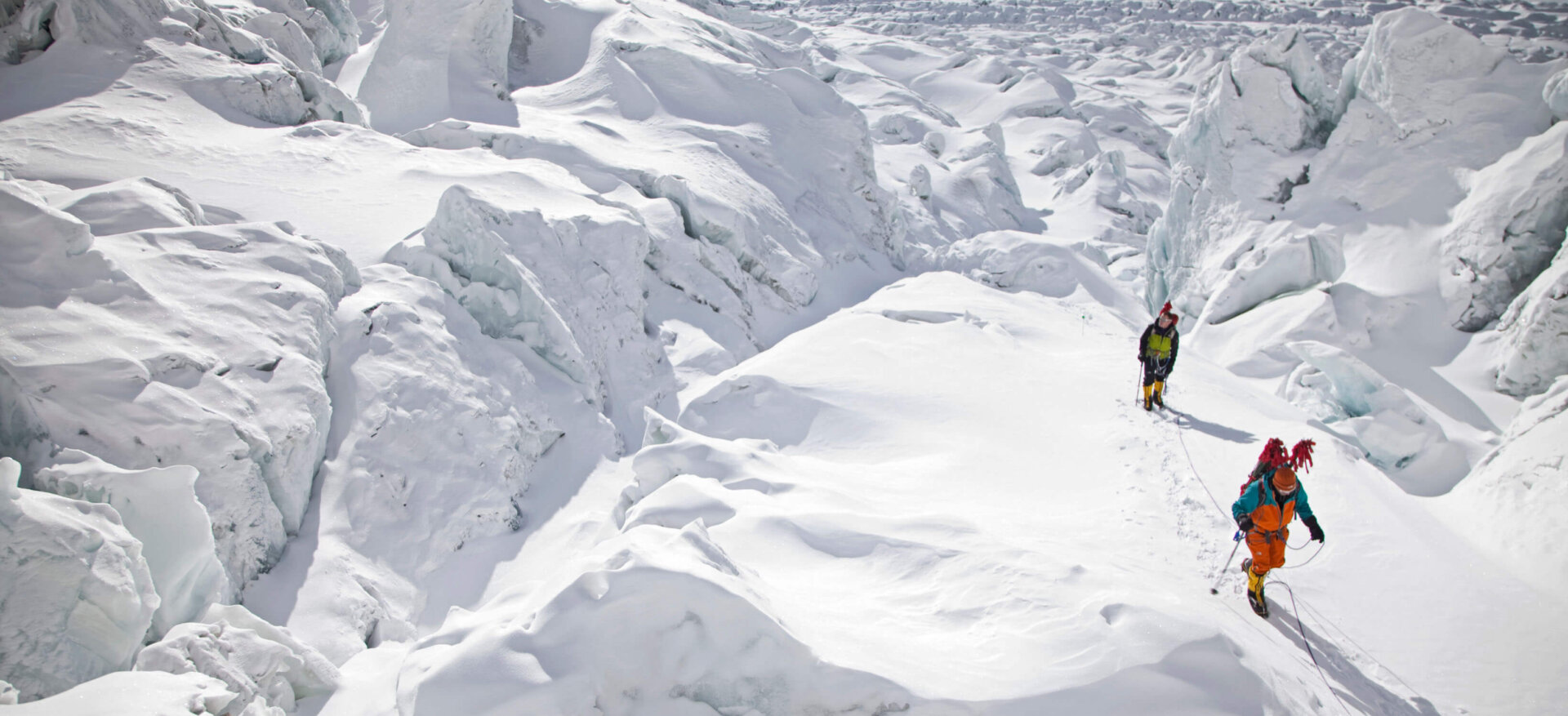 Time is moving quickly this summer, and I am already in Kathmandu preparing for the start of our expedition to Manaslu, the world's eigth tallest peak. Check back in the next day or two for updates as we travel from Kathmandu to our basecamp, first by small prop plane, then helicopter, then foot. It should be adventurous travel, especially with the monsoon still raging and flooding occurring in large areas of Nepal. We will be on full leech in the next few days!
But before it passes too far into history, a quick wrap-up of Alpenglow's last couple of weeks in the Alps. Desiree Dubon joined up with me in Chamonix, and we had lofty goals of climbing many of the Alps' most famous peaks – Matterhorn, Eiger, and Mt. Blanc among others. The weather, though, had other ideas. While the Alps were still beautiful, daily rain and snow storms meant all the classic big routes were covered in snow and ice. This meant avalanche danger and whiteouts on Mt. Blanc, and impossible mixed climbing conditions on the primarily technical rock routes of the Eiger and Matterhorn.
The good news though, is this was still one of my favorite trips of the year – the bad weather forced us to get creative, and almost everything we climbed in 3 different countries, was new to me as well as Desiree.
We began with some of the classic mixed rock and ice routes around Chamonix, including the very exposed Aiguille Entreves and the classic Cosmiques Arete. We also got a day of rock climbing in in the Aiguille Rouges. Climbing 5.8 rock moves inside a cloud with zero visibility was a lot more fun than it sounds!
From there we trained to Zermatt, and after an afternoon of clouds and rain, finally saw the Matterhorn for the first time.
While it was out of shape to climb, it was a stunning moment when we finally saw it for the first time, and a perfect weather day allowed us to climb a 10 pitch rock route on the South Face of the Rifflehorn, with perfect views of the Matterhorn the entire day.
This and an ok forecast set us up for the best climb of our trip – a traverse of the Breithorn. Since the Breithorn is a 4,000 meter peak (13,200 feet), we knew the 5.7 rock route might well have snow and ice on it.
And we were not disappointed. After a short glacier approach, we spent the next 5 hours climbing massively exposed mixed and ice terrain past countless pinnacles and towers on the way to the true summit.
The final knife-edge ridge was made additionally challenging by 50-60 mph winds and alternating whiteouts and views to the valley 4,000 feet below our feet.
The day was perhaps my greatest guiding challenge of the past year. And it was a very proud route and summit for Desiree, who for the first time combined her technical rock and ice climbing skills with her success on big mountains, to reach a really challenging summit in difficult conditions.
And we weren't done yet. Another ok forecast persuaded us to race back to Chamonix and attempt to climb the Gouter Route on Mt. Blanc.
After a fun day on rock and mixed terrain to the Gouter Hut, a 3 am start in a whiteout and raging winds began our summit push. Despite many teams turning around, we pushed on through worsening storms to within 100 vertical meters of the summit. At this point I could no longer see far enough in front of me to figure out whether each step was still on the exposed ridge, or was off the edge over the imposing North Face. After a few minutes of this and the ever-present risk of being pushed off the ridge by wind gusts, we made the difficult decision to retreat, despite being less than 15 minutes from the summit.
And we are glad we did – descending was a huge challenge as the storm and whiteout worsened. With our gps, compass, and map, we ended up not only getting ourselves down, but also leading at least 15 others who were lost on the open slopes below the summit in the storm.
And with that, we decided we deserved a couple of days of limestone rock climbing on the Mediterranean Coast of Italy. Yep, it's true. Instead of 4 more days suffering in the ongoing snowstorms, we escaped to the land of flip-flops, sunglasses, and of course impeccable white rock rising directly out of the crystal blue water.
And of course we allowed ourselves to be tempted away from the rock for just long enough to enjoy the best pizzas, gelato, and espresso that I have had in a long time!
All in all, a pretty ideal European adventure! Alpenglow Expeditions' IFMGA certified guides are available for booking in the Alps in the summer and winter, and they generally book at least 6 months in advance during the busy seasons. Call us today to discuss what peaks might be right for you!
That's all from Kathmandu, where I am dreaming of Italian affogatos!
-Adrian Ballinger