Gearing up for Acclimatization on Lobuche East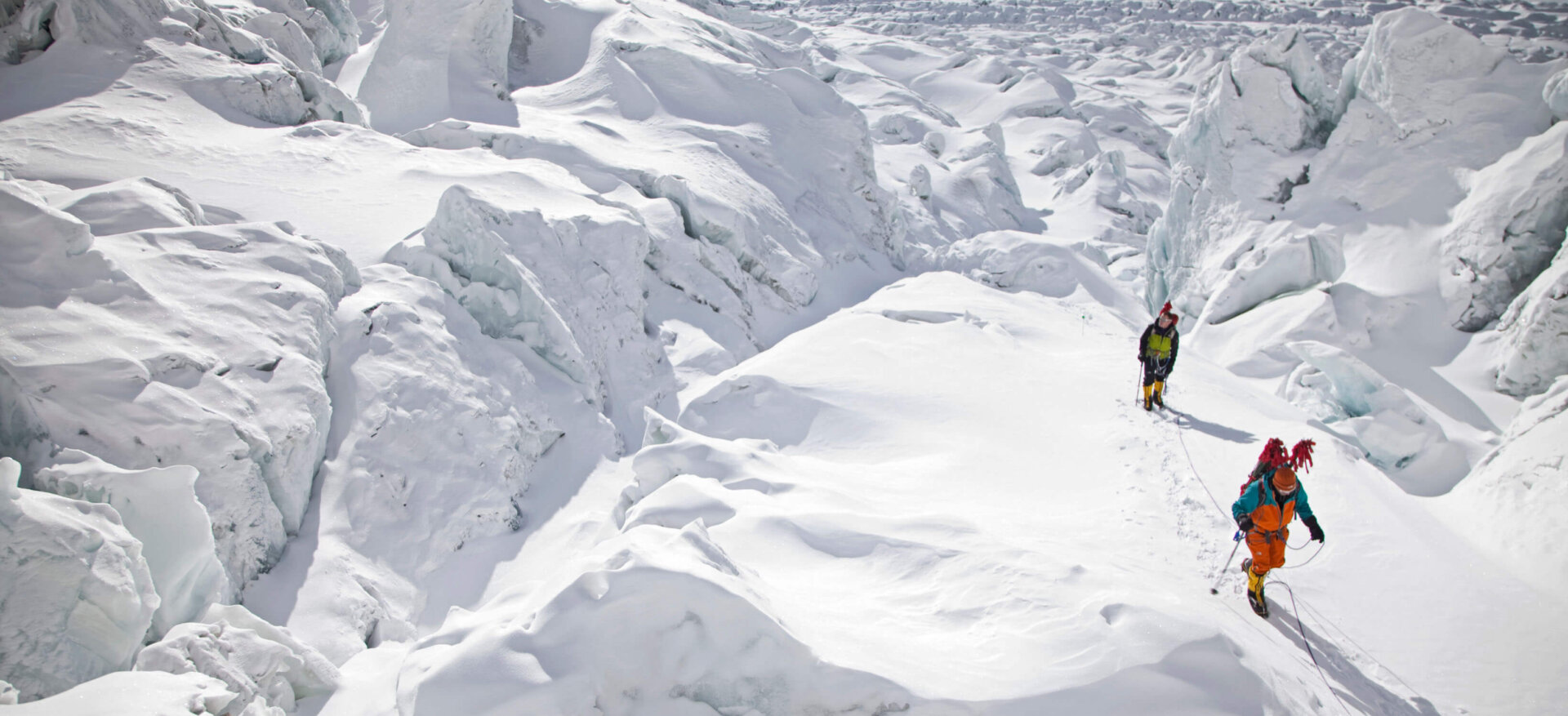 The following blog is courtesy of Billi Bierling, Himalayan Experience:
Rest, Practice and a Glimpse into the Khumbu Icefall
After having enjoyed a slightly clouded view of Everest from Kala Pattar on Wednesday, the team had a rest day on Thursday. In the afternoon, the guides took the members on a practice course just outside the camp in order to get them ready to scale Lobuche East, where they will be heading on Saturday.
Sadly, Mike Ortiz was pulled back by his business in Aspen Colorado and he and his family, who trekked to base camp with him, left by helicopter on Friday morning. During the interview I conducted with him just before the team left Kathmandu for the Everest Region, Mike said that not being called back to work would be one of the major challenges on this trip. "I am hoping that I will not be called back to work, however, if my company were in dire straits and they really needed me, I would go back," he said. Unfortunately, his admirable commitment to his business did not give him much time on the mountain. "It is a shame the Ortiz family had to go back and they will be greatly missed. We are hoping that they will all be back in 2012," Adrian said.
The kitchen team headed by Lacchu spent Thursday afternoon baking a goodbye cake for the Ortiz family. "The whole of base camp smelled of cake while it was in the oven," Monica reported from base camp.
While the helicopter came and went in perfect weather, Russell and David Tait, who is attempting Everest without supplementary oxygen this year, 'tagged' Camp 1. The pair left Base Camp at 4am in the freezing cold. "In order to take pictures, I was forced to remove my gloves to operate the camera. My fingers were wooden in 10 seconds, however I got a shot," David wrote on his website. They covered the distance from the Himalayan Experience base camp to Camp 1 in 3 hours and 15 minutes, which is a rather impressive time. "Quite a good number, considering the lack of acclimatisation," David continued. They were back at base in the late morning.
On Saturday, the team is starting the acclimatisation climb to Lobuche East to get above 6,000m, and I will continue to introduce guides and members to you.
Thomas Jacobsen
Thomas from Oslo is also no novice to Mount Everest. The 40-year-old advisor for the Norwegian Central Bank was a strong member of the 2009 Himalayan Experience Everest expedition, however, sickness did not allow him to reach the top.
How did you first come across Everest and who inspired you to climb it?
My interest for Everest was awakened in 1985, when the first Norwegians reached the top of the world. I was following the daily updates from the Norwegian Broadcasting Service and since that time climbing Everest has been a dream. I climbed Kilimanjaro, Elbrus, Aconcagua, Cho Oyu and I have done a lot of trekking and climbed some of the trekking peaks. I was on Everest with Himalayan Experience in 2009, however, sickness prevented me from getting higher than Camp 3. I am back now and feeling very strong!
What has been your biggest achievement so far?
Climbing Cho Oyu in 2006 was a great feeling and I had a similar sense of achievement when I was crossing Greenland on skis last year. It is difficult to compare these two accomplishments but both things were just amazing.
What is your biggest challenge on this Everest expedition?
Staying healthy and not getting sick on the wrong day – and I certainly know what I am talking about!
How do you think Everest will change your life?
It has already changed my life. Getting to the top has been a dream and is still a dream. It is something I need to do, otherwise I will be unable to get it out of my system. I am afraid of what comes next as I might not know what to do, however, I am sure I will find another project.
How mentally prepared are you for the possibility of not getting to the top?
I have been thinking about it and as I have experienced it before I know it can happen and I am prepared. However, I don't want to spend too much time thinking about it. I know I am strong enough and I can do it.
What will you carry to the summit?
I will carry my climbing teddy bear Mr Sokrates to the summit. He was also crossing Greenland with me.
Himalayan Experience guide: Shinji Tamura
Shinji, from Osaka, Japan, is one of Himalayan Experience's guides and has been on four expeditions with Russell Brice. The 44-year-old mountain guide lives in Zermatt in Switzerland with his wife and two children.
How did you first come across Everest and who inspired you to climb it?
As a mountain guide I guess Everest is always an issue. However, I think the most important thing is to bring people safely up and down the mountain. It is always a good feeling when you get to the summit as it is the hightest place on earth. I have climbed Everest twice. The first time I climbed with Phurba Tashi, our sirdar, to the summit. We did not have any clients and I remember that it was a great feeling.
What has been your biggest achievement so far?
I think the first time I had the feeling of a great achievement was in 1996 when I went to Cho Oyu with an expedition from Kazakhstan. I had underestimated the altitude of the mountain and it was the first time that I had gone to an 8,000m peak. We had no Sherpas and at the time it was the hardest thing I had ever done in my life. We were very slow and the expedition was not very well organised and I learned a lot from my mistakes from this expedition. And even though we did not get to the summit it was one of my biggest achievements.
What is your biggest challenge on this Everest expedition?
Bringing all the members safely to the top. Climbing Everest has the following order for me: safety, summit and enjoyment. I enjoy working with other people and with a good doctor.
How do you think Everest will change your life?
I am not sure but it might have changed my life already. Some people react differently towards me and some of my clients certainly respect me more.
What will you carry to the summit?
Nothing. In 2002, I carried a T-shirt with a photo of my kids that my wife had given to me.