Getting Ready for the Real Deal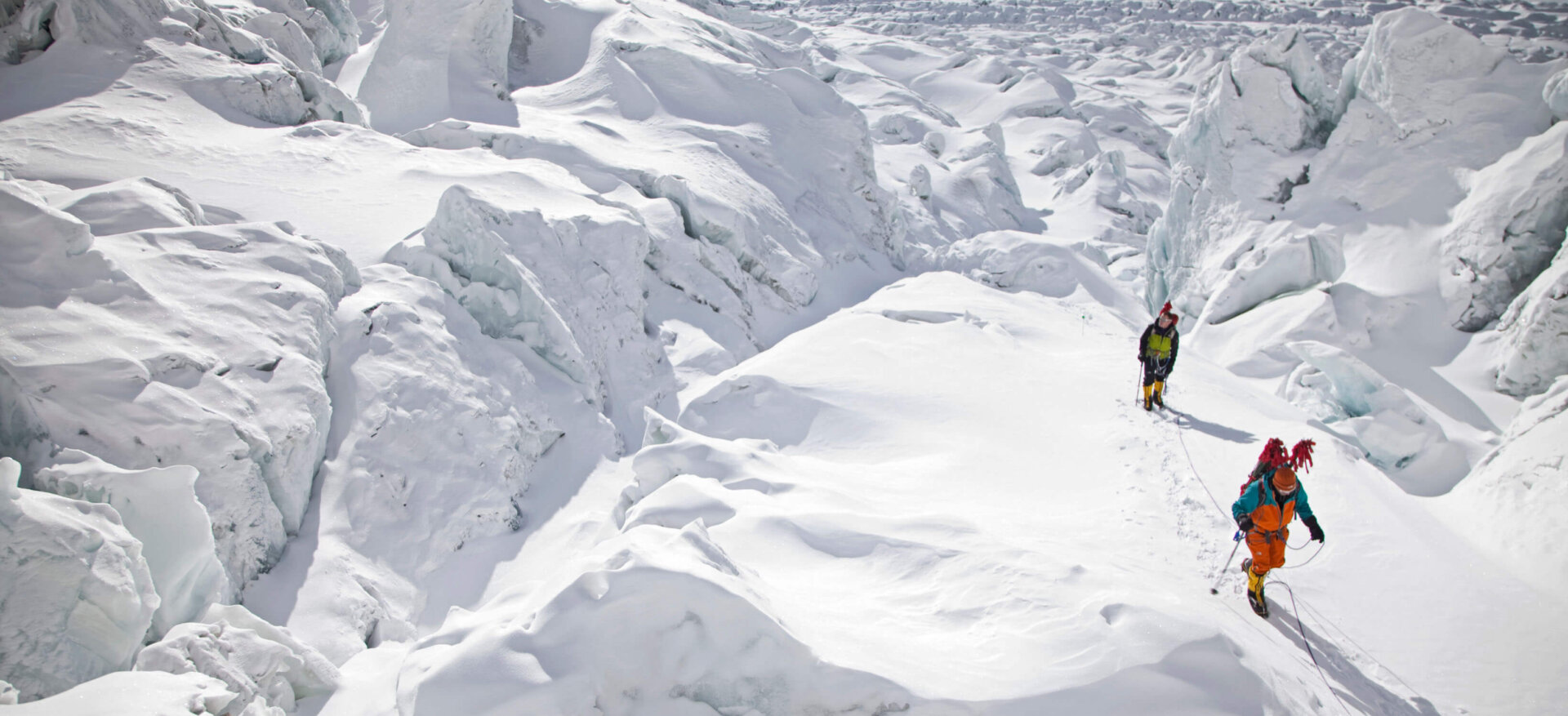 The following blog is courtesy of Billi Bierling (Himalayan Experience):
After another rest day at base camp, the members are slowly getting ready to go up on the mountain for Phase Two of their acclimatisation programme. The team, guides and Sherpas are due to leave base camp on Thursday at the crack of dawn to go to Camp II at 6,400m (21,120ft), where they will be staying for four consecutive nights. "We need the time to acclimatise properly before we tackle the Lhotse Face to get to CIII," our guide Woody explained. The group will then spend one night at CIII at 7,300m (24,100ft) before heading back down again for another night at CII and then back to base camp. "We shall be back at base camp on 4 May and I guess we will then wait for the weather window to arrive to go for our summit attempt," Rene explained while reading his book in the White Pod.
The Sherpa team, who has been fixing the ropes up to CIII has just got back to base camp and despite the hard work they have been doing they are looking pretty fresh. "Dorjee looks as if he has been up there for a couple of hours, and not for a whole week," David said, briefly looking up from his writing his latest dispatch. "The Lhotse Face looks good but it was very cold up there," Dorjee commented while plonking himself into one of the comfortable deckchairs in the White Pod. Over the past week, the Himalayan Experience Sherpas, who have been fixing ropes with Sherpas from other teams, have worked very long days on the mountain. "On Tuesday they had another 12-hour day," Russell said. "But the great thing is that our Sherpas have started to take their own initiative and are making their own, good decisions," he continued. The Sherpas will now stay at base camp for a well-deserved break. "We need to rest and do some washing before we go back up and set up Camp III for the clients," Dorjee said.
The members are currently gearing up for their first trip through the Khumbu Icefall – the huge broken glacier at the edge of base camp that paves the way to CII through the Western Cwm. "There are a few tents at CI at 6,100m (20,130ft), which lies at the top of the icefall, however, we are encouraging our members to go straight to CII as it is a more comfortable camp," our guide Adrian explained.
There will be two cooks at Camp II who will be looking after the team serving them breakfast, lunch and dinner. "These guys will be working from 4am to 10pm, so please do not waste water or any other resources up there," Adrian reminded the team.
On Wednesday morning, the guides conducted a meeting in the White Pod for everyone to get ready for their first trip up to Camp III via Camp II. "You may find the night without supplementary oxygen at CIII one of the most difficult nights on the trip – or even in your life," Adrian warned the group about their first night above 7,000m (23,100ft). Furthermore, helmets, radios, avalanche transceivers and good teamwork are certainly required to go through the icefall. "It really helps when you cross the ladders in the icefall in pairs as you can pull the safety rope for the person going across," he continued.
The use of avalanche transceivers in the icefall is pretty new among Everest expeditions and, unfortunately, is not yet the norm. "We decided to use them as it will make the search for someone in the icefall easier and will cut down the time people spend looking for others." The transceiver will only be used in the icefall as there is very little avalanche danger in other parts of the mountains.
Icefall Doctors
Like every year, the so-called Icefall Doctors have prepared the Khumbu Icefall for the climbers, and without their hard work it would be impossible to get through this maze of huge icebergs and pinnacles. The team consisting of eight Sherpas has put ladders across the crevasses and fixed the ropes for the climbers to clip in for safety. "This year, the icefall looks very straightforward and the doctors only had to fix 29 ladders," said Russell, who has already been to Camp I with David Tait. In other years, more than 50 ladders were necessary and sometimes as many as four or five ladders were tied together to bridge the huge gaps in the glacier. "There is only one place where the doctors had to tie five ladders together and that is above Camp I. However, this particular bridge can be avoided by walking around it, which I absolutely recommend," Russell continued. The most important thing about crossing the Khumbu Icefall is moving through it as quickly as possible. "David and I took 3hrs and 15min and I expect everyone to get through within five hours."
How our members will experience the notorious Khumbu Icefall remains to be seen, but in the meantime, they will continue to rest and get their gear ready for Phase Two of the acclimatisation programme. However, before they get to CIII for the night, our Sherpas will have to beat them to pitch the tents and equip them with sleeping mats, sleeping bags, stoves, pots, and pans to make the members' stay at 7,300m (24,100ft) as comfortable as possible.
On a different and sad note, Steve Sandstrom from Utah is leaving us today for medical reasons. He came here with a heart condition, however, after having had a bypass operation last year, his cardiologist gave him the green light to attempt climbing Mount Everest. "I am pretty shattered that my childhood dream is not coming true but I am not feeling well and the tightness around my chest worries me. I came here to climb a mountain and not to get sick and I would be very upset if I damaged my body in a way that I could no longer do all the other things I love doing – like flying, for example," the former airline pilot said on his way to the helipad. We wish Steve all the best and we will certainly miss his interesting and colourful input during our dinner conversations.