Heading up for Acclimatization at Camp 1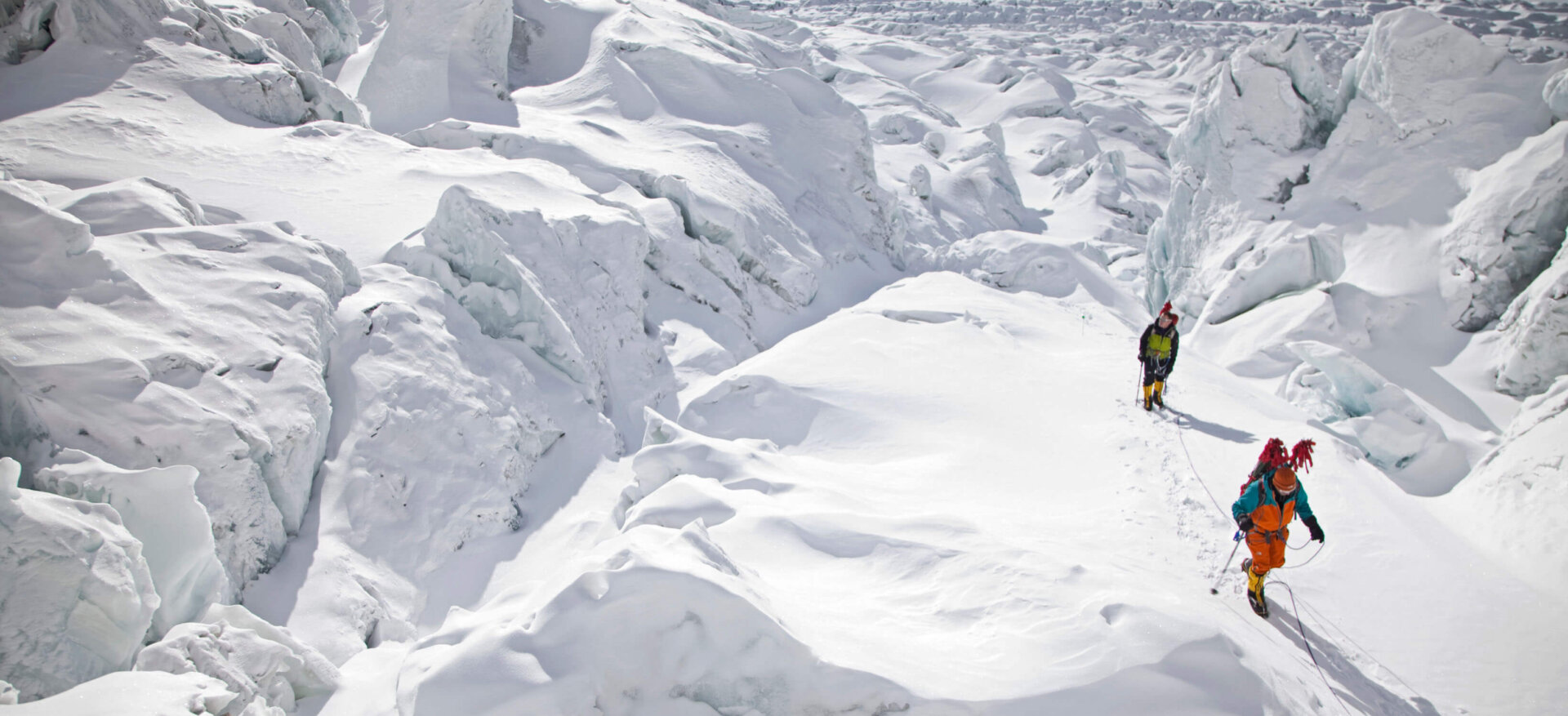 The following blog is courtesy of Billi Bierling, Himalayan Experience:
First trip to Camp I
On Tuesday, the team ventured out to higher altitudes and for the first time they reached the height of 5,500m (18,200ft), where they 'tagged' Camp I (tagging a camp means to touch the camp without sleeping there). Thirty-one climbers, including the nine wounded soldiers and their mentor, and guides as well as 23 Sherpas and four kitchen staff left basecamp at 7:30 in the morning. The conditions are extraordinarily good this year. "I have never seen the mountain so dry before," said our Sirdar, Phurba Tashi, who has climbed Manaslu twice so far. But despite the good conditions, some of our members found their first trip to Camp I hard, which can probably be contributed to the fact that they had never been so high before.
As mentioned in one of our earlier Newsletters, this year Himalayan Experience has nine wounded soldiers from the British charity 'Walking With The Wounded' on board. "The highest I had been before was about 4,100m and that was in Chamonix when we were training for Manaslu," said Martin Hewitt, who manages the WWTW team and has already been to the North Pole with "Walking With The Wounded". Being at such a high elevation was certainly a revelation for some of the members. "This was the first time that I noticed the lack of muscle tissue in my left leg," said Jaco Van Gass, who as a British soldier is used to tough training. The 25-year-old lost his left arm and a lot of muscle tissue in his left leg in Afghanistan two years ago. Most of the British soldiers, who are joining the 12 other members of our team, have been injured either in Afghanistan or Iraq. Karl Hinet, who was injured by a petrol bomb in Iraq and had more than 37 percent full thickness burns (worse then 3rd degree burns), has already ran 35 marathons this year – but the climb to Camp I was tough for him. "It was a real wake-up call for me as I am not used to finding something difficult. I think I will have to learn to slow down and accept the different rules at altitude," the 24-year-old said. The whole team took between three and five hours to reach Camp I, which, according to Russell, is very good time. "I really enjoyed the day and seeing the soldiers together with the rest of our group getting up to Camp I in such good time made me very proud," he said.
Good drying weather
All in all, everyone had an amazing day on Tuesday and even though some still struggle with a loss of appetite or slight headaches, the walk up to 5,500m was well worth it. "I am very tired but I really enjoyed the day. It was great to get that high up on the mountain," said Herbert Hellmuth from Germany. At the moment, everyone is resting, reading, washing and simply enjoying the few hours of sunshine we seem to be getting every morning. "Clothes washing has to be done early as the clouds normally move in around lunchtime and then the good drying time is over," David Wiseman, also known as 'Wisey', said while doing his laundry at the crack of dawn. And while the members are resting, the Sherpas are enjoying a good match of volleyball. "I am very happy that we were able to flatten some ground (part of the cricket pitch from last year) and make a good pitch for our matches," Phurba Tashi said – and the Sherpas seemingly love their extra exercise. Maybe, when all the members are well acclimatised after having been to Camp I for a few days, the Sherpa team will challenge them for a match.
The current plan is to move up to Camp I today (Thursday) to stay there for three nights and maybe do a trip towards Camp II – once the Sherpas have fixed the necessary ropes. "The conditions are great and I think we will be able to fix all the way to Camp II tomorrow," said Phurba Tashi. The rope fixing will probably be shared with other teams that are on the mountain, but for that the expedition leaders will have a separate meeting once all the teams have arrived.
Preparations for Camp I
In the afternoon, we had a brief meeting on the procedure for the next three days and our guides Adrian and Brian explained what the members had to carry up and what the Sherpas had already taken up. Basically, we will all find a tent with two sleeping mats, two sleeping bags, a stove, cooking equipment and a lighter at Camp I. The members simply have to carry their personal gear and food for those days. "We will provide 'boil-in-the-bag meals, cheese, biscuits and other snacks for you to take up. But remember, you will definitely be less hungry up there than down here," Adrian explained.
I will be in touch again once we get back down from our acclimatisation trip to Camp I. So far, everyone is feeling great and excited about staying a few nights higher up on the mountain and closer to the summit.
Billi Bierling at Manaslu Base Camp