Himex Newsletter 11 – Manaslu 2010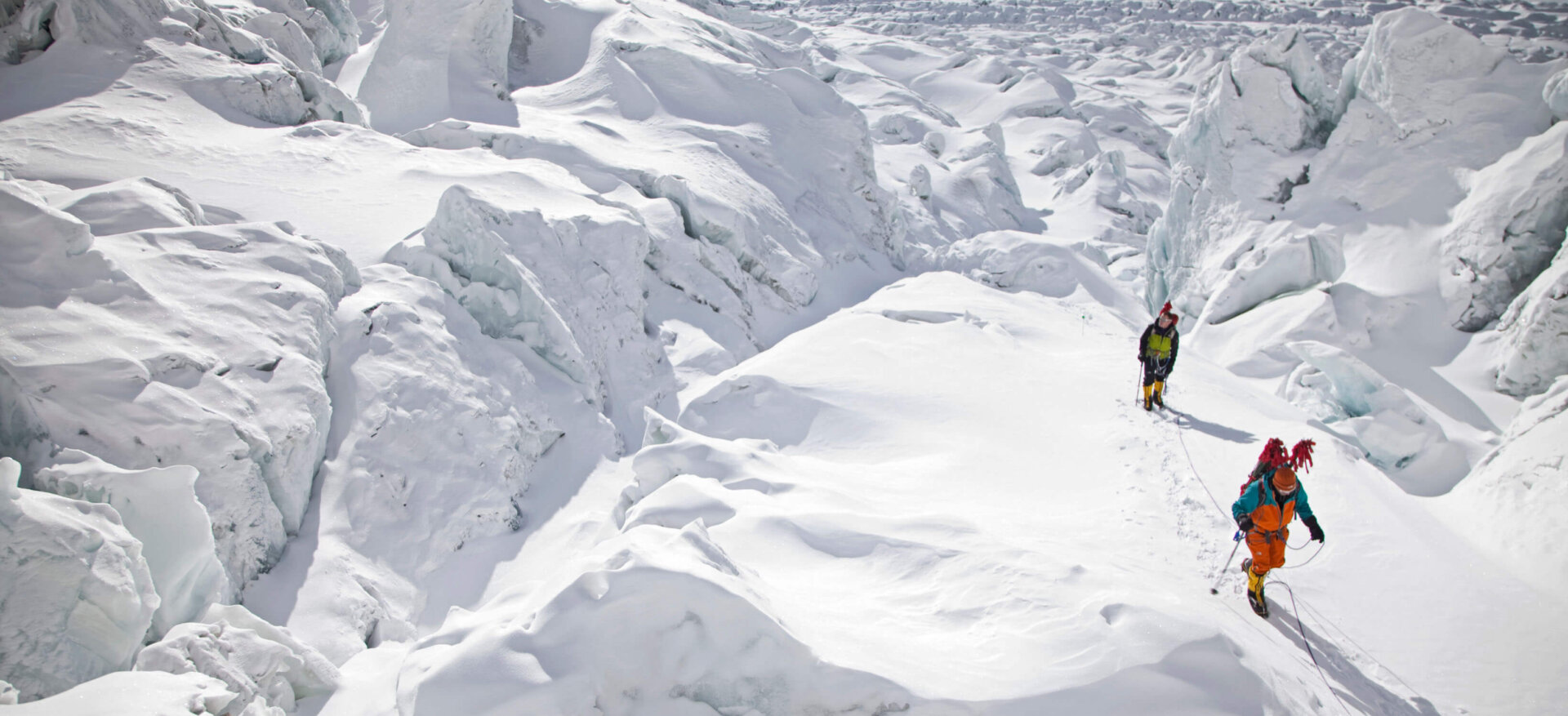 Horizontal Limits
After having been up higher on the mountain for four nights we are back down at base camp enjoying showers, good food, clean clothes and actually standing upright. "What is more challenging – climbing up the steep slopes to Camp II or lying horizontally in a tent for more than 40 hours," Ellen asked over breakfast when we were back at base camp. Most of the group agreed that actually being stuck in a tent for such a long time was harder than climbing, even though the climb was physically very challenging. "I knew it was going to hurt but I did not expect it to hurt that much," said Adam while we were discussing the route. However, when it comes to the mental challenge I guess we all had reached our 'horizontal limits' at Camp II.
We had left base camp on Monday after lunch to initially spend one night at Camp I. The whole group was feeling strong and it took us between three-and-a-half and four hours to get to our camp at 5,400m. When we reached there we found that some of our tents had been buried under the snow and the big Sherpa tent had partly collapsed under the heavy weight. However, this was nothing the Himex team could not cope with and within minutes the camp looked like new and we all crawled happily into our tents.
We were all just getting ready for our first snooze of the day when we suddenly heard a scream from Russell's and Matthew's tent. "Who put the heavy jar of Salted Plums in my pack," Russell called out holding the fine Chinese delicacy in his hands. It took us about a minute to figure out that the culprit must have been Adrian. "I thought it would come in handy in case we were making any bets up here. And by the way, Russell needs slowing down anyway," he said.
On Tuesday, we woke up to a beautiful sunny morning and we were all eager to carry on to Camp II. Adrian and the Sherpas had left a little bit earlier to check the route and dig out the rope that had been covered by a few days of snowfall. At about 8am we received a radio call from Adrian saying that it would take them a few hours to get the rope out of the deep snow and that we should stay put.
"The Sherpas and Adrian must be working very hard considering they are breaking the trail and recovering the rope with big loads on their backs," Russell said starting to re-arrange the camp, which inspired the rest of the team to spend their time flattening the ground for another good night's sleep at Camp I.
Hot and cold
The temperature fluctuation on Manaslu is very significant and it reminds of the Western Cwm on Mount Everest. "I am either in my underwear or in my downsuit – it is difficult to find a middleground," said Mat while he was walking around in his underpants. For the rest the day was filled with eating, drinking or just lying in the sun or the tent snoozing and waiting for the day to pass before it was time to make another 'boil-in-the-bag' meal and go to sleep.
After having broken the trail to Camp II, the Sherpas came back down to Camp I and it is always astonishing to see how chirpy and energetic they are after such a hard day's work. "Boli janne Camp II," Phurba Tashi said with a big smile on his face while he was running towards his tent to find some rest, which he might have needed after all.
The next morning, the whole team left for Camp II at 5.30am and we were all taken by surprise by how steep the route was. Russell set off at an amazing pace, closely followed by Rene and Ellen. "For me it was not too difficult as I have long legs and the big steps were not too hard for me," said Rene. The route up to Camp II was pretty busy as most of the other teams were also heading in the same direction.
Once we had arrived at our camp at 6,270m, we had no idea how much time we would actually be spending in our tents. "If the weather allows, we will go for a walk tomorrow morning, so be ready at about 6.30am," Woody told us during his regular evening visit to all the tents. We were all very exhausted and there was not a lot of movement or chatting in the tents that afternoon. "I just lay down when I arrived and could hardly get up again," said Alan, who together with Aaron, Adam, Rene and Mat had never slept so high before.
Acclimatisation
Shortly after we had lied down, it started snowing and did not stop all night, which did not bode well for our 'walk' the next morning. At 7am the decision was made not to go any higher due to the bad weather, but to stay for another night at Camp II for acclimatisation purposes. After a while, Adam stuck his head into Ellen's and my tent, saying: "I am bored!" and that was only at 8 o'clock in the morning!! Most of us stayed in their tents all day snoozing, trying to eat, which becomes a bit of a chore at 6,270m, listening to music or literally just staring into thin air. However, while we were feeling lazy, our bodies were actually working hard to acclimatise. "While you were up there, your bodies were busy creating more red blood cells and increasing the respiratory rate and volume. You may not have noticed, but your bodies have undergone many subtle changes to help you acclimatise to the decreased pressure and the availability of oxygen," Monica explained when we returned to base camp.
The hike back down to Camp I – where, once again, we had to dig out our tents –was done in brilliant sunshine and the trail was very good and well-trodden. "I don't think I have seen the trail in such good condition before," said Adrian, who has been on the slopes of Manaslu three times.
Our bodies are now well acclimatised and ready to climb the mountain and we are hoping for the weather window to arrive soon. After having left base camp early this morning, our Sherpa crew is currently trying to open the route to Camp III and hopefully establish a camp there. We will be staying at base camp to rest, eat and according to strict instructions from our doctor Monica, most importantly to rehydrate.