Himex Newsletter 13 – Manaslu 2010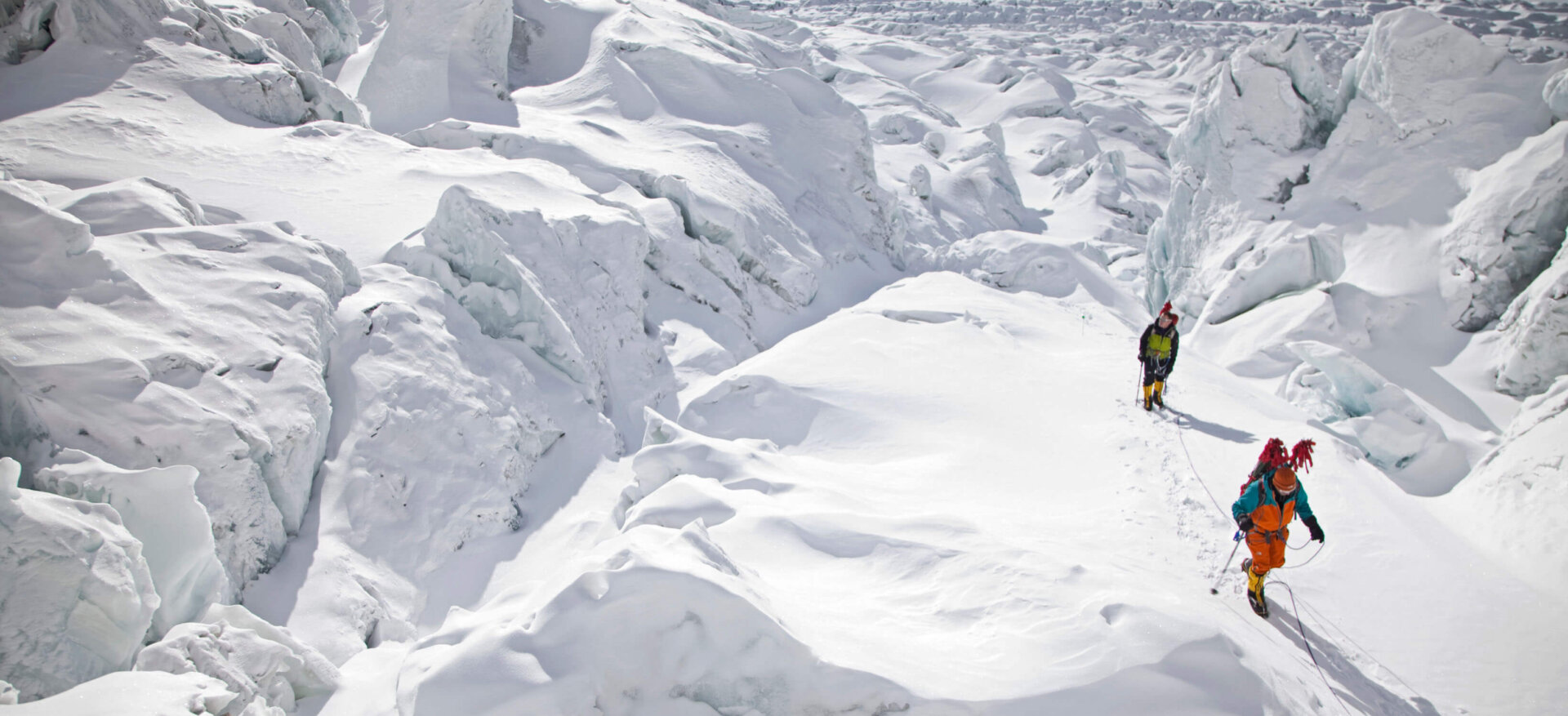 Himex has done it again
I would like to start this Newsletter by saying how much we missed Aaron on our summit push on 1st October. Unfortunately our great team member had to leave the expedition by helicopter after sustaining an injury to his shoulder during our descent from our final acclimatisation trips. Furthermore, I would also like to mention that we are very proud our esteemed leader, Russ, for completing his 14th 8,000m peak. He has climbed Everest twice, Shisha Pangma twice, Cho Oyu 9x and now Manaslu.
On 1st October, seven of the Himex members, three guides and seven Sherpas stood on the true summit of Mount Manaslu. Adam, Matthew, Mat, Alan, Rene, Ellen and Billi with their respective Sherpas and Adrian, Woody and Russell summitted the eighth highest mountain in the world between 10.30am and 11.30am on a gorgeous day.
Unfortunately Pieter and Suzuki could not be with us for various reasons but their thoughts and good wishes gave the rest of us all the energy we needed to climb this tough mountain.
The Himex guides and Sherpas also made it possible for our and other teams to reach the true summit as they were fixing the rope across the final cornice that leads to the tiny highest point of the 8,153m high mountain.
Reaching the true summit of Manaslu has been an issue for quite some time now as climbers have claimed to have reached the top when they get to the plateau at about 8,100m. In 2008, the Himex team reached the plateau and did not claim the summit, whereas last year the successful members made it to the real top, which is a cornice about 10m higher than the so-called rock tower. And this year, Himex did it again! The guides and Sherpas managed to fix the rope all the way to the tiny top, which is barely big enough for two people to stand. Adrian and Dorje Sherpa spent a lot of time up there directing the members and their Sherpas to the right spot so they can claim the true summit in Elizabeth Hawley's "Himalayan Database".
Pushing for the summit was a difficult decision as the weather forecast had predicted the already strong winds to become even more forceful and the Himex team had a tough night at Camp IV at 7,400m. "It was blowing all night and not many of our team got a lot of sleep during the night before our summit attempt," said Woody.
The ascent between Camp III and Camp IV had been a tough one as the steepness of the climb is relentless and there is not a place where one could rest and enjoy the views. "I was dying for a drink but there was no place I could comfortably stop and hydrate," said Alan while Matthew was reminded of climbing another mountain. "It was a bit like climbing the Lhotse Face on Mount Everest – the only difference was that we were not able to see the camp until the last minute," said Matthew, who had climbed Everest before.
Challenging climb
The climb was challenging and had it not been for the fixed rope and the preparation work the Sherpas of Himex, Dream Guides, Kari Kobler and the Japanese team had done, some of us would have struggled to get through the icecliff, which was a taxing part of the climb. And when we arrived at Camp IV in raging winds, the Sherpa team had already done amazing work as all our tents were up and all we had to do was crawl into our tents, melt snow to re-hydrate and wait for the winds to abate, which did not really happen. We had seen quite a few expeditions who had abandoned their summit bid due to the cold and as some of them were climbing without oxygen or even without downsuits, a summit attempt could have cost them fingers or toes due to frostbite. And exactly that was Russell's concern. "I don't have good news. The weather forecast looks pretty bleak and the winds are supposed to get stronger tomorrow," said Adrian when he visited all the members' tents on the eve before our summit attempt. "However, we are leaving our options open and if it does not get worse, we might go and see how far we get."
I guess we all had a tough night as sleeping was not really an option due to the high altitude and the strong winds that were shaking our tents relentlessly. And most of us who were trying to get some food down also had a difficult time as nothing really appeals at 7,400m. "I could not even face a boil-in-the-bag," said Woody, who normally has a very healthy appetite. At about 6am Russell visited everyone's tent, saying that despite the strong winds, the Himex team would give it a go. "I am a bit worried as the winds are already stronger than my normal cut-off point but let's see how far we get." Apparently, Adrian and our Sirdar Phurba Tashi were pushing for an attempt, so Russell took the chance and we waited until 7am, which was the right decision as the winds had reduced to a workable and safe level by then.
True summit
There were quite a few teams moving along the ropes, which had been fixed by a handful of commercial expeditions. "It is always a bit of a struggle to sort out the ropes-fixing as the smaller teams often do not want to contribute, however, we have to fix the mountain for our members and, of course, I cannot stop other people using them," said Russell. "We fixed the final stretch to the true summit. The last bit along the cornice was fixed by another commercial expedition, however, as we had so many members we had to do the final stretch," explained Adrian.
The Himex crew was the first team to reach the summit that day, however, the group was followed by other expeditions or individuals from all over the world. "It was just a perfect day but I think this was the hardest thing I have ever done in my life," said Adam. While we were on the summit one of our Sherpas, Ang Nuru, had stayed at Camp IV to make hot drinks, pack up the camp and help with radio communication. When we arrived there, we were all welcomed with a bowl of hot juice and even though we were trying to help the Sherpas pack up our camp, they were working so quickly that there was not that much left for us to do. "Just take whatever you can fit inside your pack and don't worry whose it is," Adrian shouted, and so everyone grabbed whatever they could take and descended to Camp II where we re-grouped to make a decision of where to stay the night. During our descent the wind had picked up again and we could see a big plume coming off the summit, which made us realise how small our weather window was.
Most of us were exhausted enough not to carry on to base camp and face another night at 6,270m, however, Mat, Matthew and Adrian decided to go all the way down. "I can't wait to breathe thick air again and eat Lacchu's delicious food," an excited and always hungry Mat said, and so the three of them left. The Sherpas also descended to base camp with huge loads as they were basically carrying Camp IV and Camp III on their backs. "I will see you up here again tomorrow Didi," Phurba Tashi said, reminding us that the Sherpa crew would be back up the following morning to clear Camp II and Camp I.
"Even though we feel we have had a successful expedition, for me it is only successful once the Sherpa crew is back down," said Russell while we were stuffing our faces with the kitchen team's good food. And in the afternoon, in the pouring rain, the Sherpa crew arrived with massive loads on the backs and they managed to get everything down from Camp I and Camp II, which is probably a relief for them as they don't have to go back up again.
Another little secret Russell revealed over lunch was that everybody on our expedition had carried one carefully packed 'Salted Plum' to the summit of Manaslu. "I wrapped them into tinned foil and snuck them into everybody's rucksack before we left Camp IV." We were all mind-boggled by how Russ managed to get it into everybody's pack on that windy morning. "I was wondering what the piece of tinned foil was doing in my pack but I had no idea it contained a Salted Plum," said Rene.
In this way the 'Salted Plums' have been an essential part of the expedition from the very beginning and we are all wondering whether Himex will continue the tradition and take this Chinese delicacy to Mount Everest next year. But before that we will probably send one more report from Samagoan, where we will be moving to on 4th October before we – weather-permitting – will catch a helicopter back to Kathmandu.
Footnote:
Climbing 14 8,000m peaks is not the most important thing for Russ. He says that he is most happy that he finally set foot on an 8,000m peak with his long time friend and right hand Phurba Tashi and with his two guides Adrian and Woody.