Himex Newsletter 3, Manaslu 2010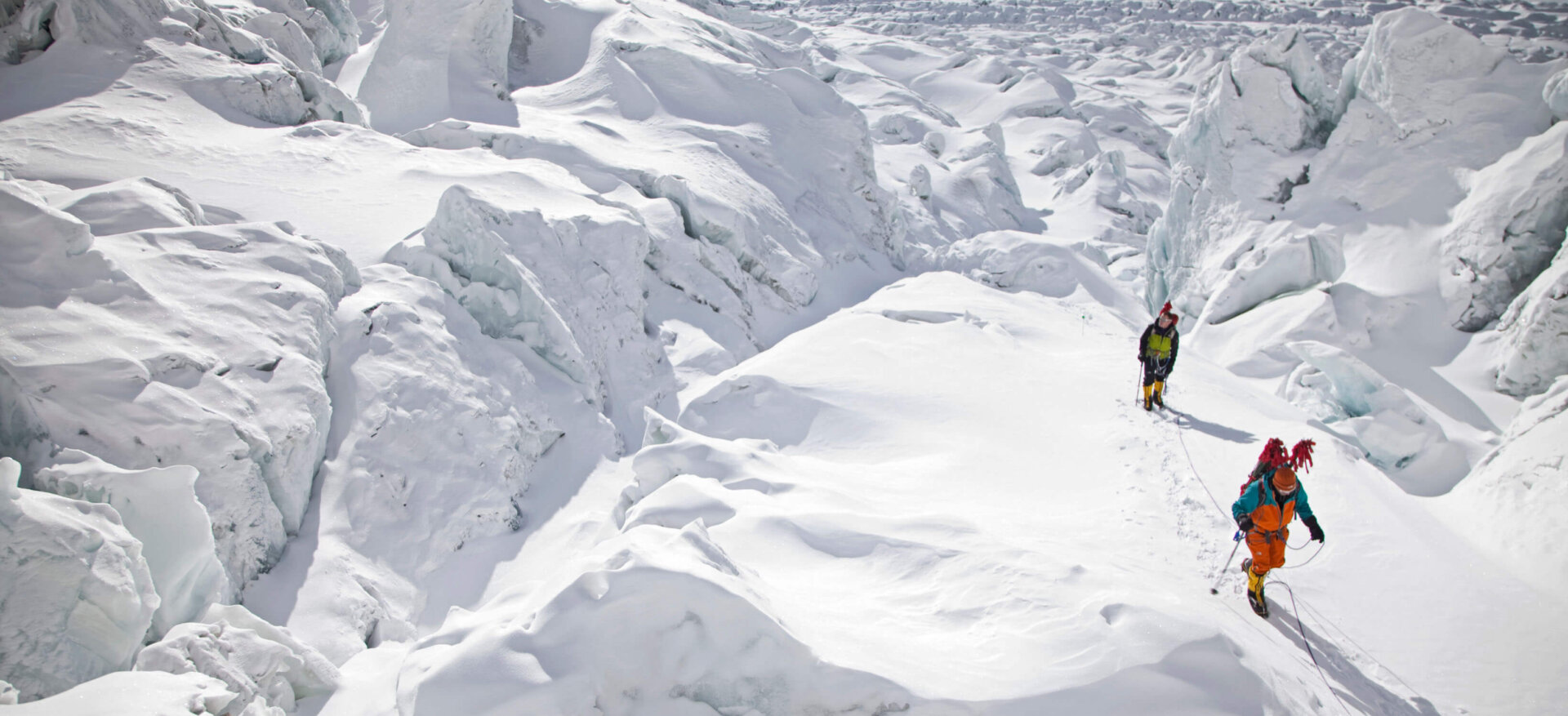 The following blog is courtesy of Billi Bierling, Himalayan Experience:
Building Bridges to Basecamp
Manaslu Base Camp(4,700m), 6 September 2010 – After more than a week at Samagoan, the Himex team has finally arrived at Manaslu base camp, which will be their temporary home for the next month. Adrian, Woody and Phurba Tashi had done an amazing job at setting up the tents, and none of us could recognise the barren site we left a couple of days ago in thick cloud and rain. When we arrived in brilliant sunshine on Monday morning, all member tents were pitched as well as the mess tent, the Sherpas' tent, the communication and medical tent and, most importantly, the toilet and shower tent. "This is a pretty impressive base camp," said Matthew, who has already climbed the seven highest peaks on all seven continents and has undoubtedly seen many different base camps.
"We worked pretty hard to get everything ready, especially on Saturday when it was still pouring down with rain," said our guide Woody, who had just come out of the shower tent when we arrived. It was a gorgeous day when we reached base camp this morning, which made the downpour we saw on Saturday easy to forget. That day all we could do was sit in our tents and listen to the constant pounding of the rain and think about all our wet gear that we thought would never ever dry again.
But despite Saturday's downpour the villagers of Samagoan managed to build stone bridges over the two rivers everyone has to cross on their way to base camp, which has certainly made the approach route a lot safer. "This puts my mind to rest as the crossings seemed a bit iffy when we came up on Friday," said Adrian.
In order to build these bridges, Russell had initiated a money collection from all expeditions, asking for 1,000 rupees (about $13) per member to hand to the local community. "I have spoken to a few teams and they were all happy to contribute, I just hope that the other expeditions that are still coming up will also pay," he said.
As mentioned in the previous newsletter, the whole village of Samagoan has been involved in getting our gear up to base camp, however, some of the helpers were not dressed properly for the bad weather on Friday.
"When you guys had left to go back to Samagoan, a villager, who was deaf and dumb, arrived here in bare feet. He was shivering with the cold," Woody told us.
As this man had arrived quite late in the day, Phurba Tashi, Adrian and Woody took him in, gave him hot food and drink and wrapped him up in several blankets and asked him to stay the night as it would have been too dangerous for him to go down on his own. Fortunately he was able to meet the bridge builders on the following day and was helped back down to Samagoan, where everyone arrived safe and sound.
A Lull in the Rain
When we woke up on Sunday, there was no pounding on our tent walls and it was almost if something was missing. "It is so nice not having to listen to the rain all night," said Allen from the UK while he was catching a glimpse of Manaslu, which showed its full beauty for a few minutes before it disappeared again in thick cloud.
Later in the day, while we were visiting the 200-year-old village monastery, another two expeditions had arrived in Samagoan. The first to join us was British mountain guide, Kenton Cool with four members, who had walked in from the roadside village of Arughat, and a Spanish expedition consisting of four members, who flew in by helicopter from Kathmandu. Both teams will stay in Samagoan for another couple of days before they will join us here at base camp.
First Team
So far, we are the only expedition that is camped at the bottom of the Manaslu glacier at 4,700m and everyone seems well and in good spirits. "The walk up here felt so much easier than on Friday, I am feeling so much better and well acclimatised," said Adam from Auckland. Suzuki from Japan also had a much better time than during her first ascent to this altitude, which shows how important it is for our bodies to acclimatise properly and slowly.
It took most of us between three-and-a-half and four hours to reach base camp, which is a pretty good time considering that we climbed 1,200 vertical metres from Samagoan. "I am so happy we are here now. I like being closer to the mountain," said Ellen Miller. And she is right – the mountain now seems a lot nearer and it has been fantastic to look at the amazing shape of Manaslu all the way up.
With all our barrels and kit bags having been brought up as the last Himex load for the villagers, all members are spending their afternoon getting settled in their tents and making them as cozy as possible. Our Sherpa team is due to arrive on Tuesday afternoon and we are all looking forward to meeting the rest of the crew.
Tuesday will be spent resting and giving our bodies the chance to acclimatise to the new altitude before we go for a stroll to crampon point at the bottom of the glacier on Wednesday.