Himex Newsletter 4, Manaslu 2010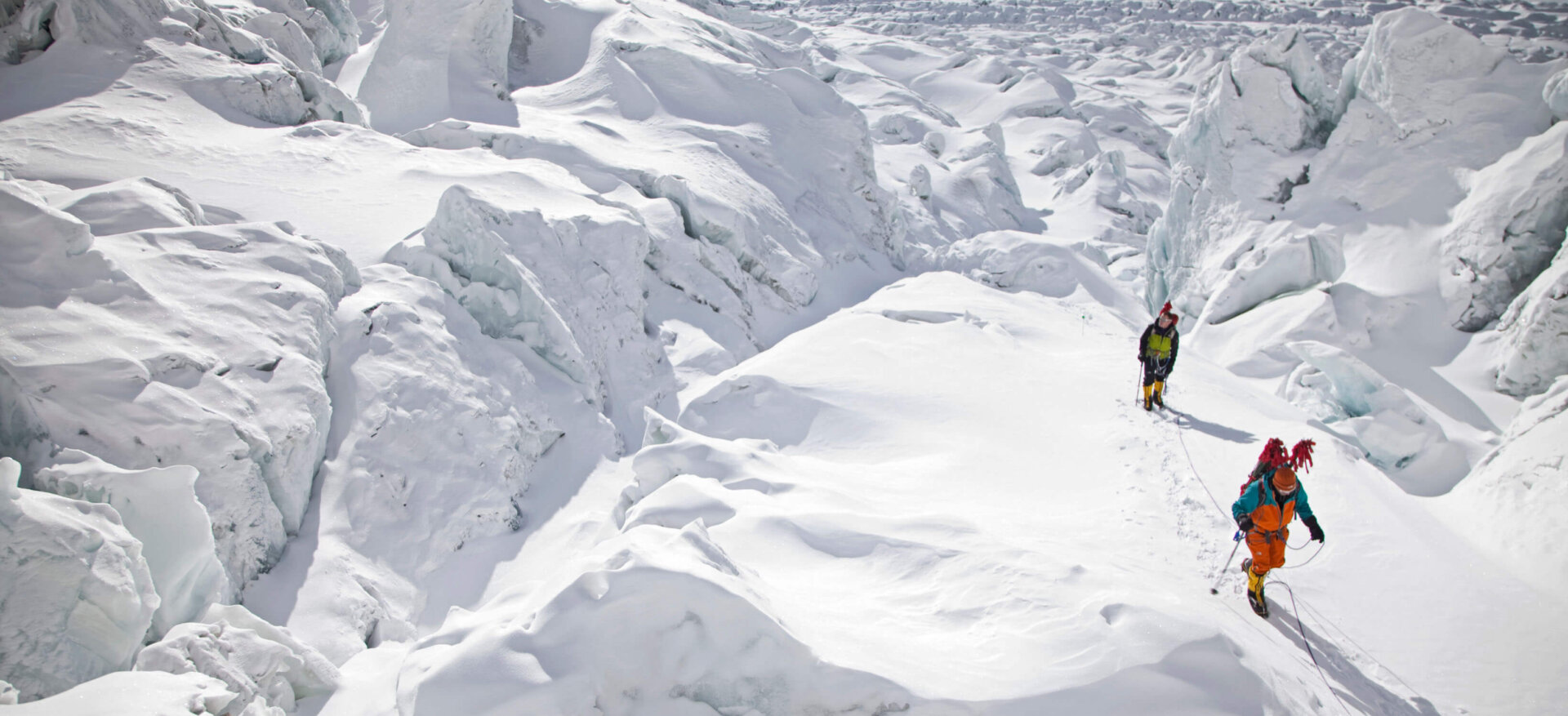 The following blog is courtesy of Billi Bierling, Himalayan Experience:
Secrets, Songs and Salted Plums
Manaslu Base Camp (4,700m), 8 September 2010 – Tuesday saw another rainy day and most of the Himex members and crew were tucked up in their tents, reading a book, writing their journals or just listening to the pounding of the rain on their tent walls. Even our hardworking Sirdar Phurba Tashi, who always finds things to do, said he was bored as there was nothing anyone could do in the pouring rain.
Every once in while we could hear an avalanche coming off the steep ridge to the east of our base camp, however, the ridge is far away and we are in no way endangered by falling rocks and snow.
In order to keep the good spirits up, Russell got out a carton of red wine for dinner last night, which went perfectly well with the amazing beef sizzler our chefs Lacchu, Phuri and Kur Bahadur spoilt us with. However, little did we know what the red wine would lead to and what hidden talents we would come across that evening.
Mat from Perth revealed that he actually used to be an Australian rock star a few years ago but had to pack in his rock star life for a career as a physiotherapist. "It was either singing or helping people with physiotherapy, and I chose the latter," he said. However, he gave us a taste of his talent by plugging in his iPod and playing some of his tunes to us over dinner.
We were all pretty stunned by this hidden talent and kept on asking for more and Mat, who was obviously a bit embarrassed by our interest, had a story for every song. "…and this song I wrote on a Greek Island when my heart was broken by one of my girlfriends," he said and we all listened to it in silence.
Winning song
Mat also revealed that he had won a singer songwriters' contest in Australia when he was 16 years old and even these early tunes kept up our interest and made us listen in awe. "I want this on my iPod," a rocking Adrian called out.
The evening carried on with more music and more wine and at one point Woody and Adam, our former professional cricket player from New Zealand, made a bet over who sang the 80ies song 'Centrefold'. It was a welcome bet as it gave us the chance to get rid of some unwanted condiments in our mess tent.
"Whoever loses the bet has to eat five salted plums," Russell suggested with a smile, as for some bizarre reason we have about 20 jars of 'Salted Plums' from China in our food store. "I have no idea who ordered them but I certainly do not want to take them back down again, so we have to come up with some ideas of how to get rid of them," Russell continued.
Peter from the Netherlands, who seems to have every song on this planet on his iPod – including Suzy Quattro (!!) – said he might be able to solve this mystery. Unfortunately this involved going back out in the pouring rain to get his player from the tent but as hardy a Dutchman as he is, he braved the rain in his golfing shirt and came back with the answer to the riddle.
Ten salted plums
As it turned out neither of the two betters was right as 'Centrefold' was neither sung by Duran Duran (Adam's bet) or Huey Lewis and the News (Woody's bet) but by the 'J. Giles Band', who probably had only one single hit in their career. "This means we are now getting rid of 10 salted plums," said an excited Russell.
The pair did not hesitate and forced the plums down their throats, which was a very impressive act considering their horrid taste. "Never again," spurted Adam while Woody tried to convince the rest of us that they tasted of salted liquorices.
After we got some more teasers of music from different parts of the world, most of us went to bed at around 10pm, including Ellen, who normally hits the sack around 8pm when on expedition. "This was such a funny night and I just could not stop laughing," she said.
Another lull in the rain
Wednesday morning saw us waking up to silence as the pounding rain had stopped, which was a big relief as Tuesday's downpour seemed relentless. After breakfast the team headed up to crampon point – the place where we will start using our crampons – at about 4,950m. It was good to get out without getting drenched, and we even could feel the sun trying to get through the layer of clouds, however, in the end the clouds won once again and more rain started to fall upon us.
When we got back to base camp we were relieved to see our Sherpas, who had finally arrived from Kathmandu. Dorje, Ngima, Pasang Kami, Nuru, Lhakpa Nuru, Tshering Tashi, Tashi Tshering, Lakpa Nuru and Son Dorje had quite an odyssey to get here. Initially, they were supposed to fly from Lukla in the Khumbu region, which is their home, to Kathmandu, and then travel overland to Arughat and walk to Samagoan.
However, due to the bad weather in the past few weeks most flights from Lukla had been cancelled and instead of taking a 45-minute flight to the capital, the Sherpa crew spent four days walking to the roadside town of Jiri from where they took a bus to Kathmandu and then carry on to Arughat.
It is great to finally have our Sherpa team here as it is only now that the expedition team is complete. The crew will recover from their long journey for the rest of the day and, weather-permitting, will go up to Camp I on Thursday to carry up the first load to 5,300m.
For the rest of the team, the next few days will be filled with training sessions on avalanche rescue, moving on fixed ropes and crevasse rescue in order to be competent enough once we reach the higher slopes of the mountain.