Himex Newsletter 6, Manaslu 2010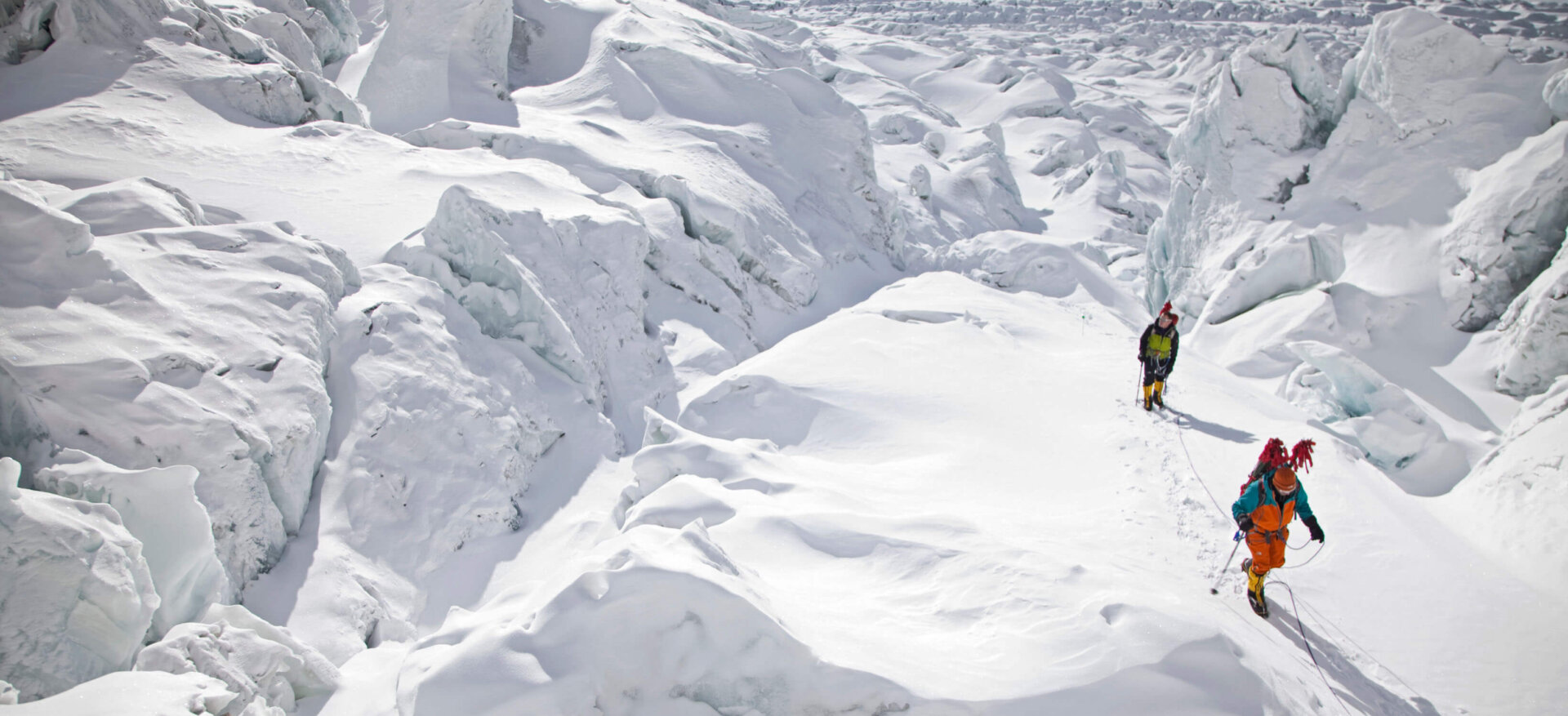 The following blog is courtesy of Billi Bierling, Himalayan Experience:
Manaslu vs Everest
On Saturday morning, we were woken to the sound of gear sorting and when I looked out of my tent at 6am I saw the Sherpas heading up the hill towards Camp I. "They are going back up to carry more tents and sleeping bags to Camp I and I guess each Sherpa is carrying a load of about 25kg," Russell said when I joined him and Ellen having their early morning coffee.
We were all surprised to see the Sherpa crew come back down to base camp as early as 9am, which made their round trip to Camp I take less than three hours. "This trip is quite easy for us and the great advantage we have here over Everest is that we don't have to go through the treacherous icefall," our Sirdar Phurba Tashi said.
"Manaslu is certainly an easier mountain for both clients and Sherpas and it is a great preparation for Everest," Adrian explained. "Even though it is totally different there are certain similarities between the two mountains. They both have four camps, and there is a small icefall between Camp I and II on Manaslu, which requires some complicated steps giving the climbers a good idea of what is awaiting them on the Lhotse Face on Everest."
Quite a few members of this year's Manaslu expedition are aiming to climb the highest mountain in the world next year and for most of them this is the first time they are actually getting the real feel for expedition life. "It is important for everyone to find out about all the tricks on how to be comfortable on an expedition, to see how the Sherpas work, how to move on a fixed rope and how to use oxygen," Russell added.
Himex used to run expeditions to Cho Oyu in the autumn and use the sixth highest mountain in the world as the 'practice run' for Everest, however, due to the Chinese authorities frequently closing the border between Nepal and Tibet, Russell decided to lead expeditions to Manaslu instead. "I actually think that Manaslu is a better preparation than Cho Oyu, where people have become complacent and don't see the dangers anymore," he said.
Bigger challenge
Furthermore Manaslu seems more of a challenge for the mountain guides. "People have climbed Everest and Cho Oyu the same way for many years and nobody is going to change that. Here on Manaslu we are still figuring out how to best climb the mountain as there is still a lot of unknown territory," Adrian said. In Himex's first year, for example, Camp I was about 150m higher than it is now and the team is still trying to find out the best site for the various camps.
When it comes to logistics, getting the loads to Everest Base Camp is a lot easier as a fair amount is helicoptered to Syangboche, the airstrip above Namche Bazaar, from where it is transferred on to yaks and shifted to base camp. "Here in the Manaslu region it is more complicated as everything is carried in by porters, however, as our expeditions here are a lot smaller the logistics are less complicated," Russell, who is storing a large part of his expedition gear in Samagoan, explained.
The sacred mountain
As far as food is concerned, getting fresh supplies to Everest BC is also easier even though the base camp there is almost 700m higher. "We can get everything we need from Namche Bazaar, which is only a couple of days' walk away," our chef Lacchu told me. "Fresh meat is more of a problem here and I would never ask the people of Samagoan to kill an animal for our expedition. The Manaslu God is strong and as this mountain is still sacred I would not want to upset the gods in any way," he added.
Most of the expedition's supplies come from Kathmandu, where Lacchu, Phuri and Kur Bahadur had ordered the food for the whole team. "At the beginning it was very difficult for me to know how much food I would need for an expedition consisting of a certain number of people but I have worked as an expedition cook for 28 years, 16 of which for Himex, and the experience has taught me what to buy", Lacchu continued. It took the team about five days to pack the 2,000kg of food for this year's Manaslu expedition, which consists of 28 people in total.
Himex is also in radio contact with Samagoan and the operator has an agreement with the villagers to get fresh vegetable supplies. "It is really good to be in touch with the villagers as they can provide us with fresh supplies whenever we need them and it also creates an income for them. The contact to Samagoan is also useful once we have finished our expedition and need the villagers to come up and help us carry our gear down," Russell said.
For the Sherpas Manaslu is certainly an easier mountain to work on even though they are in a different territory and are not working on their home turf, the Khumbu. "It is a bit harder to transport all the gear as we have to change porters on the way up but apart from that our work here is certainly easier and there is no Khumbu icefall," Phurba Tashi said.
More energy
But in spite of being easier the individual days are filled with more work. "We are using up a lot more energy here as we are working every single day. After the acclimatisation period on Everest, most of us actually go home and spend a few days with our families before we go back and go for the summit push," Dorje Sherpa, our second Sirdar explained.
As far as the rest of the team is concerned, Saturday was a relaxed day of washing and drying clothes, having showers, reading, observing newcomers walk into base camp or just sitting in front of the mess tent enjoying the warmth of the sun. "I think the weather has turned. The clouds have changed and the wind is coming from a different direction and this certainly bodes well," Russell explained.
On Friday afternoon we could actually feel a big thump on the ground and consequently a big avalanche came down from the ridge near our base camp. At first we thought that it was just a huge rockfall but Russell told us that it could have been an earthquake.
On Sunday, the lama of the Samagoan monastery will conduct our Puja, the Buddhist ceremony for good luck on the mountain, which is very important for the work of the Sherpas on the mountain. We are all looking forward to the ceremony and we are also excited to move further up the mountain at the beginning of next week.