Himex Newsletter 7 – Manaslu 2010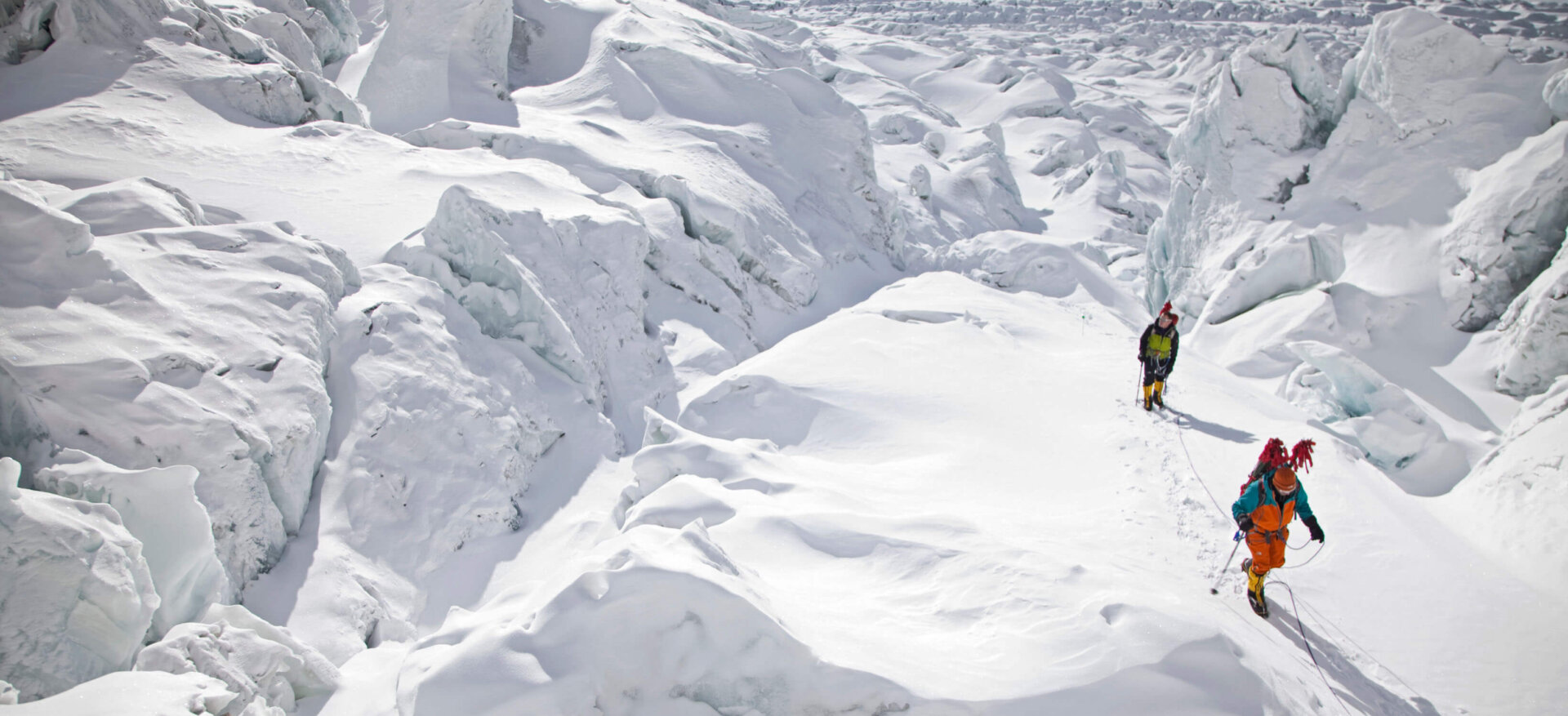 Singing and praying in the rain
Despite the change in the weather on Saturday, our Puja day turned out to be a rather wet and grey day with the whole of base camp being engulfed in a huge cloud and visibility being almost zero. However, the bad weather gods did not stop the young Lama from Samagoan perform his ritual for most of the expeditions that are currently camped on the mountain.
"I have never seen such a modern monk before. I was stunned when he got out his video camera and filmed our Sherpas dancing," said Pieter from the Netherlands.
The day started as usual with a hot fresh face towel and a cup of tea in bed, some general faffing around the camp and breakfast at 8am. Straight after breakfast, the whole team gathered around the Chorten, the Buddhist altar, which had already been there from previous expeditions. This morning, our Sherpa crew decorated it and put some offerings, such as soft drinks, beer, whiskey, cake and chocolate on the altar and Russell had asked us to put a piece of our climbing gear there to be blessed.
The ceremony, which was quite solemn but informal, took about two hours with the Lama and Sherpas chanting away and the occasional throwing of rice, which we all took part in. However, on the whole the members had more of an observatory role as this culture is very foreign to most of us.
Buddhist scarves
During the ceremony, the Lama's assistant, who seemed to be the key figure in this ritual, had lit some fresh juniper bushes and every once in a while a Sherpa, the Lama's assistant or even Russell took their 'Kata" (white Buddhist scarf) and waved it in the thick smoke, which had completely engulfed base camp, for good luck. "This is a very beautiful ceremony and I feel very privileged to be able to take part in this," Alan said.
At the end of the ceremony, the offerings in form of beer, sprite, coke, whiskey and sweets were handed out and everyone had to sip some of it. "This is an alcoholic breakfast," the Lama called out, probably thinking about the other five or six Pujas he had to perform that morning. By that time the rain had started to pelt down pretty hard but neither the Sherpas nor the rest of the Himex team were deterred by the wet weather. After the Sherpas had put up the colourful Buddhist prayer flags across our camp, we all joined in when they started to sing and perform their Sherpa dance.
A few cans of beer and some gulps of whiskey later, Phurba Tashi begged Suzuki from Japan to sing a traditional Japanese song, and Suzuki surprised us with a beautiful song to which the Sherpas started stamping their feet in their traditional dance. Of course, Suzuki could not be the only one to sing a song from her home country and everybody in the group was asked to go on centre stage.
"Ellen and I have been wrecking our brains for a good American song but I guess we are just not a singing culture," Aaron from the US said. However, the pair came up with an American song most of us knew and joined in. The Dutch connection, consisting of Rene and Pieter, were not very successful in finding a tune from the Netherlands and Pieter ended up singing a FRENCH song, which does not bode well for the Dutch heritage of singing. Matt, our hidden musical talent, sang an Australian song about using Zimmerframes, to which Russell gave us a perfect indication of what he would be like using one of these walking aides.
The rain was still falling relentlessly and even though all of us were longing to crawl into the mess tent for some tea, a hot toddy or more beer, there was a great demand for the New Zealanders to do the 'Hacka' – the traditional Maori dance that is traditionally performed before a Rugby match. Adam, who used to be a professional New Zealand cricket player, and our other two Kiwis Russell and Woody, staged a great show of this traditional dance to which the Sherpas also joined in and practiced their moves.
Busy Lama
For our Lama, who is traditionally from Samagoan but spends a lot of time in Kathmandu, this outbreak of international folklore was very exciting and he had a lot of fun filming the performances with his fancy camera – until his assistant dragged him away to see Kenton Cool's team up the hill. "I am a very busy Lama today," he said handing me his business card before he got dragged up the mountain to bless the next expedition on the mountain.
When the rain got too hard and it got too cold outside we all moved into the mess tent, where our cooking team served us a nice hot lunch to warm up. Everyone seemed a bit exhausted after all this unexpected activity this morning and even the Sherpa quarters are very quiet this afternoon. I guess most people are tucked up in their sleeping bags recovering from the amazing but active Buddhist ritual, which has now given us full permission to climb the mountain.
As far as our climbing plans are concerned, we will be walking up to Camp I on Monday and will stay there until Wednesday morning. This is the first serious acclimatisation period higher up on the mountain, and up there life will be a bit different as we will be sharing a tent with another person and will be cooking in our own tents. Himex is providing us with 'boil-in-the-bag" meals that can simply be heated up in hot water and are easy to prepare. We are all very excited about spending some time at 5,450m, however, we are hoping that our Lama has had enough power to influence the weather gods and bring us better and more stable weather.
I shall be in touch again once we get back down from Camp I, which will probably be in the middle of next week but until then keep your fingers crossed that we will be basking in the sunshine rather than walking in the rain.
— Billi Bierling, Himalayan Experience