Himex Newsletter 8 – Manaslu 2010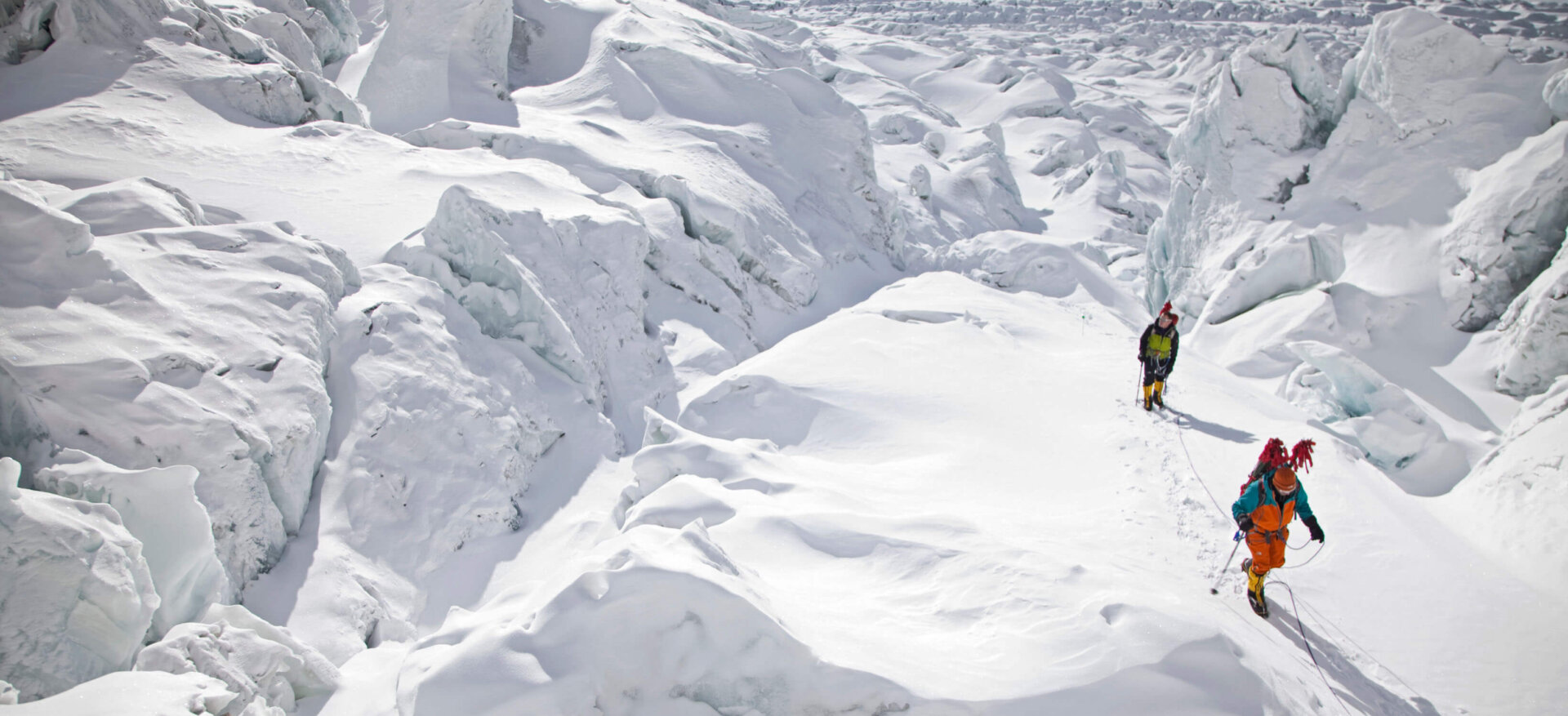 The first taste of proper mountaineering
The last three days were spent with climbing, plodding across the glacier, boiling water, resting in our tents, sheltering from the rain, snow and intense sunshine and just enjoying the amazing views from our hike up to 6,000m.
After another rainy morning, the Himex crew left for Camp I just after lunch in the pouring rain on Monday. "I hope the rain will turn into snow further up," said Ellen, who is certainly not the only one who is getting a bit bored with the wet weather we have seen here at Manaslu base camp. The hike up to Camp I certainly seemed a lot easier for everyone than the first time, even though we were all carrying much bigger loads with all the climbing gear we will need higher up, including downsuits, warm gloves, sleeping mats and of course food for the next two days. "Wow, I have never had 'Spotted Dick' before – it must be a British delicacy," said Aaron when we were handed out our 'boil-in-the-bag' meals.
It took us about three-and-a-half hours to get to camp even though some of us stopped every once in a while to chat to other expeditions that were coming down the mountain. "The route is pretty busy today," I heard Adrian say over the radio. Once at camp it was amazing to see how well the Sherpas had prepared our temporary home for two days. All the tents were up and they were each equipped with two sleeping mats, two sleeping bags and a cooking set – almost like in a five star hotel!
The Sherpas had a big tent where they all huddled up to stay warm whereas the rest of us shared a tent between two, which is great as it keeps the tent warmer and it is certainly more fun. Some of us immediately fell into a deep sleep while others chatted, played cards or entertained the camp with their tunes, like Adam who was displaying his Australian and Kiwi music to the rest of the camp.
The next morning, we woke up to brilliant sunshine and getting out of the tent was a delight as the dry weather encouraged all of us to make the most of it while it lasts – and of course there is always some other morning business to do. "I am just about to do the least pleasant thing of the day," one member commented while walking to the toilet spot carrying his toilet bag.
Himex provides all his members with a so-called 'Wag Bag' for toilet use, which means that nobody leaves their human waste on the mountain. "Nothing disintegrates up there and I wish that all expeditions would use these bags. They are clean and don't smell, and it is not a problem for us to take our waste back down as this is the only way we can keep the mountain clean," said Russell.
A short walk
After we'd had some hot drinks and a few cereal bars for breakfast, Adrian and the Sherpas were the first to leave Camp I to find the route and fix the ropes towards Camp II. "We will also go for a short walk," Woody announced and we were all dressed up and ready to go at 8am. Little did we know what Woody meant by a 'short walk'! We were all moving towards Camp II and it was certainly more than a walk in the park as the route was pretty steep. "This is exhausting but hey, we are supposed to have fun," said Aaron climbing up towards the rope fixing team at 6,000m. The Sherpas and Adrian did a great job at fixing the ropes, which we all clipped in to be secure in case of any hidden crevasses – and sometimes we used them to haul our bodies up, as we had to do on a steep section on the way up. "Look at Rene, with his long legs this seems like a piece of cake for him," said Alan while he was waiting for his turn to tackle this crux of the climb.
While Adrian and Dorje Sherpa were leading the rope fixing team all the way to Camp II, the rest of the crew stopped at about 6,000m, which was certainly enough for most of us. The descent was a lot quicker and there was lots of 'arm wrapping' involved, which was very good practice for all of us. When we reached our Camp I at about 2pm the whole team seemed pretty knackered. "Going up was ok but going down is what really tires me out," said Adam. Everyone crawled into their tents as it had started snowing again and the hot sunshine was replaced by grey weather and lots of precipitation that carried on all through the night. "I think most of the team is asleep," said Ellen before she cuddled up in her sleeping bag to follow the example of the rest of the crew.
About two hours later, Adrian and the Sherpa team came back announcing that they had made it all the way to Camp II. "Some parts of the route were certainly interesting and it is amazing how much the stretch between Camp I and Camp II changes every year. This year our Camp II is a bit higher at about 6,300m but it is in a really nice and safe spot," Adrian said, and he looked very pleased with their work. "I just love working with the Sherpas," he continued.
Three-course meal
And that was the last we saw of Adrian or anyone else in the camp as the Sherpas descended back to base camp and the other climbers were busy sleeping, playing cards, brewing a hot drink or cooking dinner. "We are having a three course meal – at first soup, then chicken pasta and a delicious spotted dick to finish off with," Mat called out of his and Alan's tent.
It continued to snow all through the night and we were literally in our tents for about seventeen hours until we packed up again and descended back to base camp for a welcome breakfast the next morning. The descent was interesting as it had snowed about 30cm. "I wish I had my skies here," said Aaron who spends a lot of his time on skies in Utah.
It took us about one-and-a-half hours to get back to base camp and it was a relief to see Phuri, Lacchu and Kur Bahadur handing us a hot towel and serving us breakfast as we were all starving. "Being at altitude feels weird, I expected to be hungry but was not really keen to eat anything up there," said Adam.
Of course, Russell and the kitchen crew were not sitting around while we were working hard to get higher up on the mountain. The mess tent had been reorganized, the toilet and shower tents had been cleaned – and some presents had been organised. They were certainly a few surprised faces when Russell handed Adam a cricket set and Mat a guitar. "This is a proper cricket bat Russell – you certainly don't mock about," Adam said in awe of his high altitude present, while Mat gave us yet another taste of his talent and played us a tune with his new guitar. But shortly after this impromptu concert, he disappeared and put the guitar in his tent. "I am charging my iPod to have a look at my songs and remember the words, so I can give you a proper performance tonight," he said. And while I am writing this I can actually hear Mat practicing his tunes in his tent so I guess we will be spoilt with some more of his musical repertoire tonight.
We might have to wait for a dry day for the cricket match but hopefully we will find an expedition that will challenge the Himex team as they will certainly be stunned at what talents we have in our crew. However, it is only the Brits, the New Zealanders and the South Africans who know anything about cricket in our team as the rest of the Europeans were baffled by the cricket bat wondering which side it was used to hit the ball with.
As far as our progress is concerned, we will be at base camp for the next couple of days to relax, rest, re-hydrate, eat well and get ready for our next acclimatisation trip which will take us to Camp II and hopefully for a visit to Camp III.
— Billi Bierling, Himalayan Experience