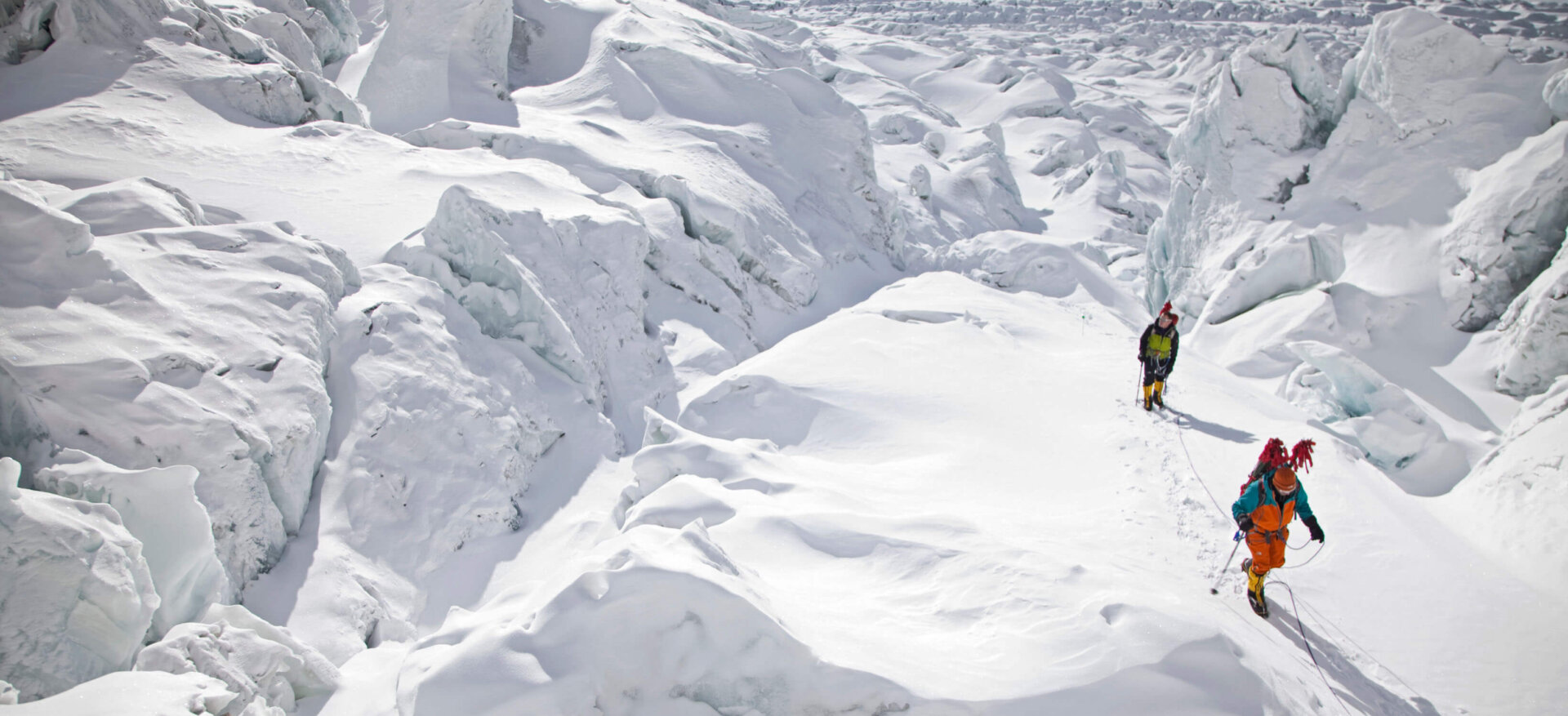 The following blog is courtesy of Billi Bierling, Himalayan Experience:
Acclimatisation process in full swing
On Saturday after lunch, all members, guides and some of the Sherpas headed down the valley to Lobuche base camp, where they are staying one night before ascending to high camp at 5,400 metres. Together with our Lobuche climbers Hilde and Stephan, the team will head for the summit on Monday. After topping out they will return to Lobuche East base camp, where they will rest for a couple of days before going back up to sleep on the summit for two nights. With this acclimatisation programme, the expedition cuts out too many trips through the icefall and has the chance to enjoy much better views than from Everest's Camp 1, which lies on the bottom of the Western Cwm.
"The group is doing well and everyone is healthy, including our Sherpas, who are as strong as usual," Adrian reported. While the members were resting and acclimatising at Everest base camp over the past few days, our Sherpa team has already made three trips through the icefall to carry up climbing gear, tents, ropes etc to Camp 1 and Camp 2.
Over the past few days, other people have passed through base camp, like Lance Fox and his 'Yak Deworming' team, who reported to have treated over 100 yaks, eight horses and two dogs in Khumjung alone. The 'dewormers' are currently on their way down and will probably bump into Ellen Miller, who is at Lobuche base camp with her group getting ready to climb the 6,119m mountain in the next few days; and the Himalayan Experience Lhotse team is due to arrive in Kathmandu on Tuesday, 19 April.
At the moment, Himalayan Experience's different teams are still following their own itineraries, but it won't be long before Everest and Lhotse climbers will be joining each other at Everest base camp. Your 'blogger' will be heading to Lukla on Monday, which means the updates will probably get a bit more sketchy, however, I will try and get news from the team as I amble up the Khumbu and post them on the website.
In the meantime, I would like to introduce some more of the guides to you, starting off with Adrian Ballinger, who has been guiding for Himalayan Experience since 2007.
Adrian Ballinger
Adrian is one of the Everest guides on this year's expedition. The 35-year-old lives in Squaw Valley, California, summited Everest for the first time in spring 2009, and repeated his summit as guide in spring 2010. He has worked as a qualified mountain guide since 1997.
How did you get into guiding and was Everest one of your guiding goals?
I started climbing when I was 12 years old and I have wanted to climb Everest since then. When I left school I was going to study medicine to become a doctor. I climbed my first 6,000m peak when I was 17 and I was absolutely hooked and kept on climbing. My parents did not like the idea of me giving up my professional career and becoming a mountain guide. However, a few years ago I took them on one of my expeditions in Ecuador and they were very proud of my work.
I really enjoy the whole process of climbing with people, who train, give up a lot and take two months to climb the biggest mountain in the world. Helping these people getting to the top is just amazing.
What has been your biggest achievement so far?
Taking the path to be a mountain guide. I grew up in a very middle-class society with a lot of expectations regarding a proper career and making good money. I have no regrets that I took this turn and I am very proud of my lifestyle.
What is your biggest challenge on this Everest expedition?
Getting to know my members and the people I will be climbing with. Being able to recognise their strengths and their abilities. That is what I love about my job. Every expedition is unique as the team is made up of many different characters, which I absolutely love.
How difficult is it to deal with members, who do not make it to the summit?
This is actually the most challenging part of the job. The final summit is so important, however, I always hope that the top is not the only part the people remember about their expedition. I want them to remember the best parts of the climb and that is often challenging.
Has Everest changed your life as a guide?
Definitely. Most of my clients ask me whether I have climbed Mount Everest, and having climbed it has certainly opened new doors for me and has changed me as a person. It completely fulfilled me last year and I am excited to be doing it again.
Marc Woodward
Marc, known as Woody is from Queenstown in New Zealand. The 47-year-old is married with three daughters. He has worked as a skiing guide for over 20 years and has been mountain guiding for 13 years. He has climbed Everest seven times (five times from the north side in Tibet and twice from the south side in Nepal) and has always climbed with Himalayan Experience.
How did you first come across Everest and did you always want to climb it?
I never had a burning desire to climb Everest, but I always knew that I would do it if I had the opportunity. And the opportunity came up in 2004, when I was guiding a team to the North Col for Himex. The team was part of an Everest expedition with Russell, and when one day one of his guides fell sick, he asked me whether I wanted to take over and guide his clients to the summit.
What has been your biggest achievement so far?
I have lots of achievements in my life, and I don't want to single anything out. Having three daughters is probably a big achievement, but so is racing my motorbikes and climbing.
What is your biggest challenge on an Everest expedition?
Getting everyone up and down safely on summit day. I have had to turn clients around but it was always obvious to the clients that they had to. Another big challenge is having good people skills and a good grip of psychology.
How has Everest changed your life as a guide?
Everest did not change me as a person but it certainly changed my life as a guide. The clients love going to the mountains with a guide who has been to the summit of Everest.