Manaslu, 8156 meters – First Complete Ski Descent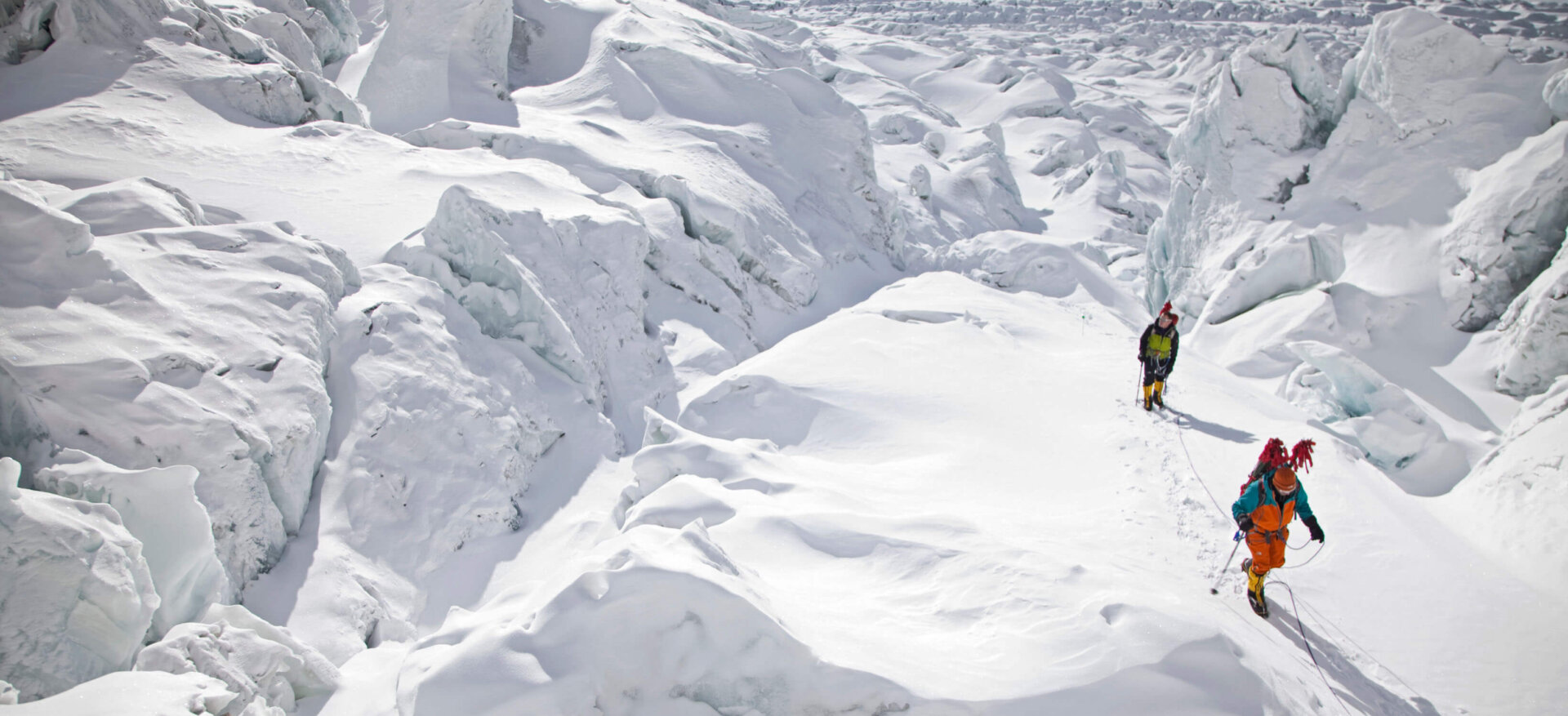 In 2007, after 10 years of guiding rock, alpine, and ski terrain around the world full-time, I decided to attempt my first 8,000 meter peak by guiding Cho Oyu with Himalayan Experience and the legendary Russell Brice. If I was going to guide the 8,000 meter peaks, I knew I wanted to do it with the best. In 2007 we were ultimately unsuccessful due to big storms and lots of wind. Then, in the spring of 2008, we had to cancel a North Side Everest expedition when the Chinese closed Tibet. But I knew I was on the right path. In the fall of 2008 I summited my first 8,000 meter peak, Manaslu, while guiding. Manaslu captured so much of what I love in the mountains. It was remote, aesthetic, only a couple of hundred people had ever climbed it, and the route offered up lots of challenges including steep climbing, an icefall, high avalanche conditions, and of course high altitude (at 8156 meters/26,759 feet, the Mountain of the Spirit is the eighth tallest peak in the world).
When I summited that first time, on October 3, 2008, I did not have any idea the key role Manaslu was going to play in my climbing and guiding world. Nor the path I had begun walking down. In the three years since my first Manaslu climb, I have summited Everest 5 times, Manaslu 4 times, and Lhotse (the fourth tallest peak) once. Standing on top of Manaslu a few days ago marked my tenth 8,000 meter peak summit, 3 years (almost to the day) after my first. And it capped a very special 2011, my fourth 8,000 meter summit in a calendar year.
And Manaslu this year was special for another reason…skiing. Each of the previous three times I have climbed the peak, I have dreamt of skiing it. The mountain is perfect for a serious ski descent; with the right skills and conditions it is possible (but serious) to ski every foot of the mountain, from the summit almost all the way into basecamp. And each of the past 4 years I have watched others attempt to ski the hill, often getting some great days in, but never skiing the whole peak. When Sergey Baranov from Russia approached us looking to attempt a ski descent, I jumped. Sergey had skied with many of my friends in Alaska, Antartica, Chamonix, and La Grave and I knew he was the real deal – a strong climber who also loves steep technical skiing.
After some acclimatization hikes and "get-to-know-you" time, Sergey and I began getting on the mountain with our skis. Between September 5 and September 20 we skied a bunch of days, skiing from as high as Camp 3 (6650 meters, 22,000 feet). Some of these were fantastic days, with firm, edgeable conditions on steep terrain (especially between Camps 2 and 1), and long descents. Then on September 21 it began snowing for the first time all season. While it made for some fun powder turns, it also meant avalanche danger went through the roof. On one day, I kicked off more than a dozen avalanches (some as big as Grade 3: 2-3 foot (80-100cm) crowns with avalanches running thousands of feet and propagating far away from us) in order to clean the slopes enough to descend back to our basecamp. This new snow aborted our first summit attempt, and dramatically increased the risk and the workload (breaking new trail, re-fixing rope, and replacing damaged and lost tents) for the guides, sherpa, and team.
On October 1, with a good forecast and the slopes settling, we left basecamp for another summit bid. Sergey and I had heavy packs throughout, carrying our skis and avalanche gear as well as all the normal 8000 meter climbing gear and clothing. We moved slowly but consistently to Camp 3, where we slowed even further due to new snow. On October 4 we led the charge of our team and a few others, breaking trail through 1-2 feet (30-60 cm) of fresh snow and crust to 7450 meters, Camp 4. It was a hard but perfect day of climbing that led to a long night of wind and cold. We pushed our summit leaving time to 6am due to the cold, and then climbed quickly for the summit. At approximately 8:45 AM Sergey and I stood on Manaslu's true summit!
With cold but manageable conditions, I made the decision to try to get my skis on on the top and ski from there. Sergey descended to the plateau below (the false summit) where all past skis of the mountain have begun from. With the help of Namgil Sherpa, I made a platform just below the summit cornice, removed my overboots, and stepped into my Sportiva GT skis. It was a wild place to be perched on skis – a knife edge corniced ridge with 8,000 feet of air below me, leading back to basecamp in one direction and to Annapurna in the other. Conditions off the top were steep 55 degree terrain and almost ice, so I made the decision to be backed up with a rope. After a short sideslip and a few turns I rejoined Sergey at the plateau, totally stoked and ready to ski. The turns off the plateau were hard work, with breakable crust mixed with sastrugi, and firm windswept steeps. I've never breathed so hard while making jump turns through these conditions.
At Camp 4 we took a short break to celebrate, drink warm Tang, rewarm my toes (thanks to guide Brian Warren's stomach, I still have all of my toes despite -22 degree temps and up to 40 kilometer winds), and drop our O2 gear (we used supplemental oxygen from C4 to the summit and back to C4). We then continued our descent. Camp 4 to Camp 3 had the most dangerous and technical skiing, with multiple sections of 50+ degree terrain on very firm "snow". The line we chose to avoid having to rappel took us far out skier's right under the East Pinnacle. Russell Brice, in basecamp, was essential to our descent, spotting us with a telescope and giving us a route through the many seracs and ice bulges as we made our way down the huge face. This section was probably the best skiing of the day, but also had the highest consequences.
Our skiing line passed Camp 3 far in the distance and continued down progressively easier slopes to Camp 2, where we rejoined the line we had skied previously while acclimatizing. We stopped for a quick break at C2 and then continued down the steep icefall. Unfortunately the slopes at this altitude had still failed to consolidate and at 6100 meters I caused a big avalanche while skiing a steep rollover in great powder. The hard slab went big and almost took me and a couple of nearby climbers down the gully we call the Hourglass. At this point, in consideration of our safety and that of the climbers below us, we took off skis and descended the climbing line (and ropes) until we passed the loaded avalanche slopes. At 5800 meters, we clicked back in, and had great slush skiing down the glacier all the way to 4900 meters, just above basecamp, where we ran out of snow. It was 3200 meters of skiing, and combined with our earlier ski of the Hourglass in safer conditions, meant that we had skied every foot of Manaslu, for the first time!
Sergey and I are still processing the ski, and already making plans for the next adventure. Hopefully we will have the time to meet up this winter, in either the Alps or Alaska. And then… Everest 2012! This past year Everest had incredible ski conditions on much of the mountain's South side – the Lhotse Face and much of the upper mountain would have made for stellar turns. We will be meeting in Kathmandu at the end of March hoping for similar luck! Stay Tuned.
-Adrian Ballinger, Alpenglow Expeditions/Himalayan Experience