Members Back in BC; Sherpas Fixing Higher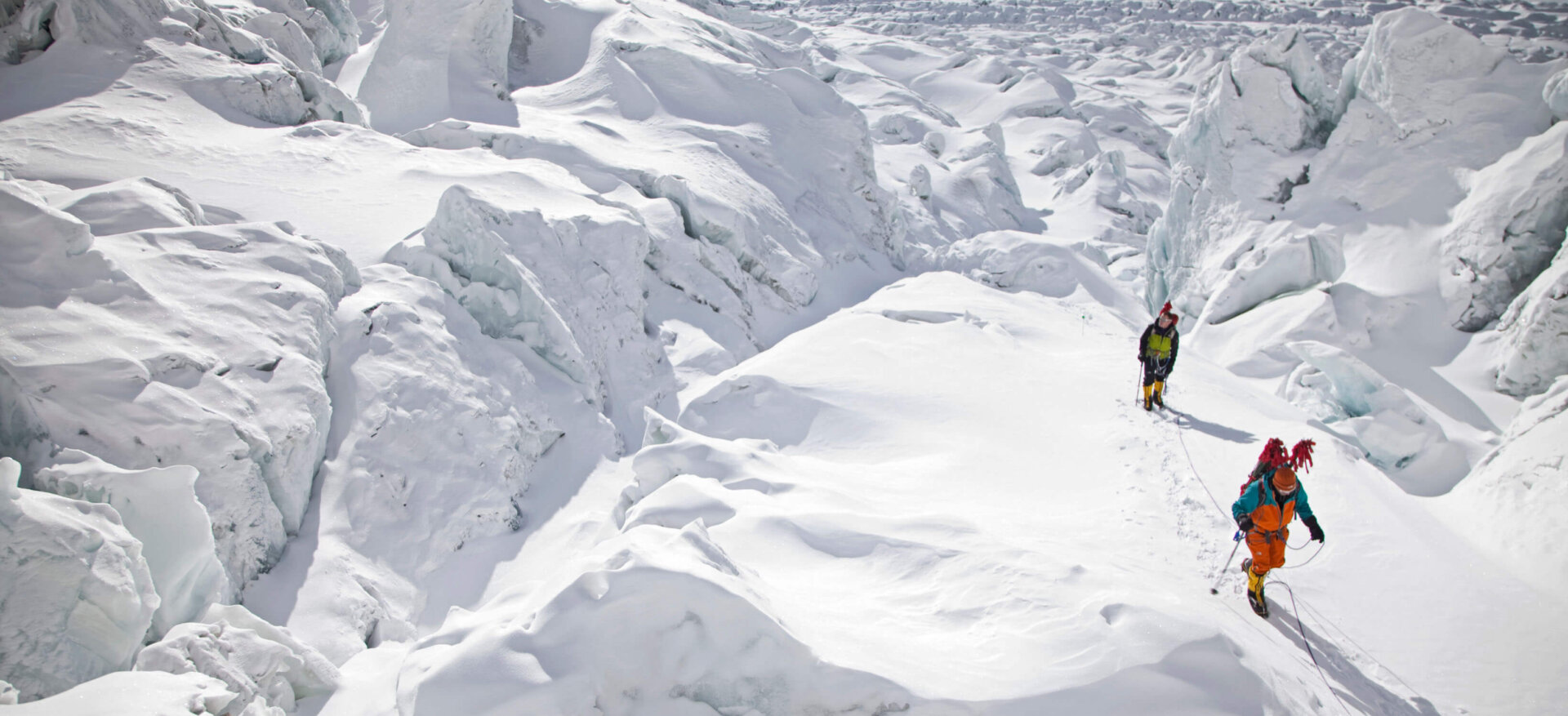 The following blog is courtesy of Billi Bierling (Himalayan Experience) reporting from Everest Base Camp:
Resting, Rope Fixing and Roaming for the Internet
Easter Sunday started out like every other day with a hot towel and a nice cup of tea in "bed" or rather on the mat brought to us with a huge smile by Mingma, Kur Bahadur and Phuri from our kitchen team. All 11 members and three guides are happy to be back in their own little tents at Everest Base Camp after having spent two nights, and in Adrian's and David's case even three nights, on top of Lobuche East. "Fortunately, I had my dispatch to write on my small computer, which always takes ages – otherwise it would have been very boring up there," said David upon his arrival at Lobuche base camp. But with iPads, Blackberries and 3G mobile phone connection on the summit, the team managed to entertain themselves watching movies, playing games or emailing their family and friends back home. "David, Woody, Adrian and I had a great, and probably the highest pajama party in the world, watching a film on my laptop," Adam said.
While on Saturday morning, the team made their way back down to Lobuche basecamp Phurba Tashi, Lhakpa Nuru, Ang Karma, Pasang and Pasang Kami quickly nipped up to the summit to pack up the tents and store everything away. "We left one tent pitched up there and put all the equipment inside as we need it again in about ten days, when the Lhotse team will do the same acclimatisation climb on Lobuche East," Phurba Tashi explained. Ellen Miller and her client Gerlinde from Vail in the United States also had a successful climb on the peak. "I had such a great time and I can't believe how much Pasang Kami helped us with our feat," a happy Gerlinde said. "I think I will be grateful to him forever." And with all the climbs being finalised for the time being, the comfortable Lobuche base camp has been locked up and everyone has gone back to Everest Base Camp.
Despite the fun on the hill, the team was relieved to be done with Lobuche Peak and to have "officially" finished the first phase of the acclimatisation programme. "While we have finished "Phase One" of our acclimatisation and are resting, the Sherpas are working hard fixing the ropes on the mountain," Russell said. On Saturday, eleven Sherpas of seven different operators worked 12 hours non-stop to fix the ropes on the Lhotse Face all the way up to Camp III. "I just spoke to Dorjee, our head Sherpa up there, and he told me that they managed to fix 1,600m of rope each way on the face," Russell said.
Rope Fixing Meeting
Like in the previous few years, the leaders of the big teams on Everest conducted a meeting to decide which Sherpas were fixing the ropes, who was contributing hardware and who was leading the rope fixing team. "Despite what other people say, I think the meeting went very well and everyone seemed to agree that one or two Sherpas each of Himalayan Experience, IMG, Jagged Globe, Asian Trekking, Peak Freaks, Alpine Ascents International and Adventure Consultants would be fixing the rope on the mountain," Russell said. In addition to that Sherpas from 15 different expeditions have carried up 62 loads with rope fixing equipment to Camp II and Camp III. "The cooperation is working extremely well and it is good to see that we are getting better and safer each year. We also have to think about the safety of the Sherpas, who are using the fixed ropes much more than we do as they are working on the mountain and carrying heavy loads. Their safety is paramount to us," he continued.
What's new this year is that a Nepali organisation, "The Expedition Operator's Association" is collecting the money for the rope fixing, which is a mere USD 150 per client, from the trekking agencies in Kathmandu. "Let's see how this will work but it takes away the stress of us walking around base camp to physically collect the money."The current plan is to fix the ropes up to Camp IV by 30th April, however, up until then the weather needs to improve as the cold wind sweeping the Khumbu and the slopes of Everest has still not stopped. "I have been coming here for more than 15 years and I have never seen the region so cold at this time of year," Adrian said. And so, the members are wrapped up warmly enjoying the coziness of the White Pod, listening to Mat play his guitar, reading from their books or their Kindles or trying to get the 3G system to work to send an email or catch up on the latest news. "Your best bet is to walk over to the prayer flags, which is the official end of the base camp trek. The signal works pretty well and you can send and receive emails," said Adam, who has definitely worked out the best way to connect to the internet even though he sits in the cold wind in the middle of the Everest Base Camp trail. "The trekkers look at me very strangely when they arrive at their final destination feeling tired and short of breath. They are definitely not expecting to be faced with a weird guy who is playing with his computer up there."
Over the next few days, the guides and members will be resting at Base Camp while our hard-working Sherpas will be carrying more loads to Camp II and Camp III and, weather-permitting, will be setting up the tents on the Lhotse Face. In the meantime, the five remaining Lhotse members, some trekkers and Lobuche East climbers have arrived in the Khumbu and are currently acclimatising in Phurba Tashi's Lodge in Khumjung. "Everyone is doing great and we are eager to get to base camp soon," our Lhotse guide, Narly, said by sms. However, it is a shame that they will not be here tonight for our little get together in the White Pod to mark the end of Phase One and the "Liberation of Lobuche."