Monica's First Hand Account of the Icefall and Camp 2!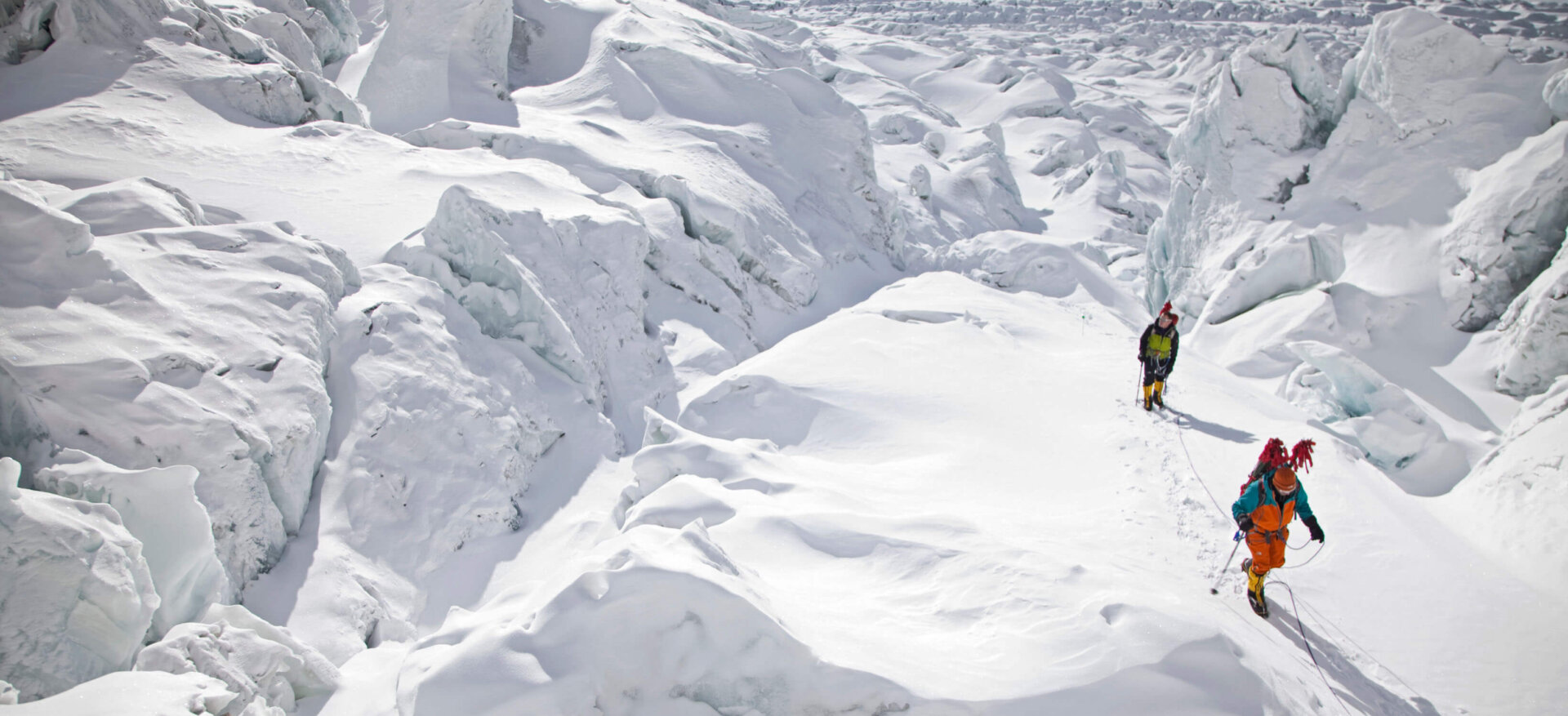 Well hello there from EBC!
The Alpenglow team rocked back "home" this morning after their trip to Camps 2 and 3. Well, perhaps let me be more honest…Sergey and Adrian rocked back into Base Camp….I think my entrance could more appropriately be described as stumbling back, staggering back or rolling back: but I most definitely didn't ROCK back! And that is despite the fact that I went no farther than Camp 2, and was there only for 3 nights. These boys are STRONG…and the Sherpa, are quite simply super human.
So, given that Adrian has asked me to write the blog, I shall take license to describe my first ever experience through the Icefall and up into the Western Cwm. Despite this being my 5th year on the south side of Mount Everest, I have never been above Base Camp (and given how wrecked I feel right now, it might well be the last!). I have heard hundreds of accounts of this section of the climb every year. I have seen hundreds of people leave to embark upon it, and seen hundreds of people descend back to Base Camp from it. I have treated injuries sustained during it and been involved in rescues and body recoveries from accidents that have affected that path: but this year was the first time that I myself have tackled it…and OH MY GOODNESS…is it hard or what!!
It is impossible to say how much energy is spent simply in dealing with the tension of knowing that you are traversing dangerously unpredictable terrain with a considerable amount of objective risk: but that aside, the amount of energy it takes to wind one's way up and down and around and along and across the endless jumble of ice blocks and crevasses is phenomenal. The ice blocks are beautiful in their own eerie and sickening way. I left Base Camp at 2am so about half of my trip was done in the dark, and despite being accompanied by Pasang Renji Sherpa (of unlimited patience and kindness!) I was alone in my own small pool of headlamp light. I found myself identifying familiar shapes in every teetering block: a dog with floppy ears, a rocket, a goblet, the beak of a pelican, all sorts of weird and wonderful forms, each one as beautifully crazy as the next; and all of the time forcing myself to keep moving, slow and steady, but never stopping, following the rope, unclipping and clipping around the anchors, wobbling across ladders making that very unique creaky clunky sound of steel crampons on the soft aluminum rungs. At the famous "Football Field", which could very appropriately be renamed the "Postage Stamp" as this gives a much better idea of the size of this "safe spot", we stopped for a quick drink and some energy snacks. Pasang then told me that the next part of the Icefall was the most dangerous and I must try and go fast. UGH! I did try…I'm not sure I managed….Pasang prayed the whole time and I followed along behind his mumbling chant trying not to look up at the West Shoulder and it's crumbly incisors of ice just waiting to fall off on someone's head.
This final part of the Icefall transitions into the mouth of the Western Cwm. The glacier flattens, the ice blocks disappear, the crevasses lengthen, Camp 1 comes into view, and a cold cold wind creeps up from behind. On the ascent to Camp 2, the Western Cwm opens up before you in all it's splendour. It is a truly regal panorama: spectacular, magnificent and formidable beyond belief. Everest, a monstrous and impossibly huge lump of rock to your left; Lhotse filling the head of the valley with white streaky couloirs of snow criss-crossing her body of blackened rock, and to your right, Nuptse with her endless rows of jagged, tooth-like seracs crowning the untouched ridge that completes the Everest-Lhotse-Nupste cirque. It is a place of unimaginable beauty, steeped in mountaineering history and folklore; and it is where we place Camp 2.
Sergey and Adrian spent almost a whole week at Camp 2. Despite its privileged position in a place of inimitable natural beauty, Camp 2 is a rough place to hang out. It is at 6400m (21,500 ft), it's cold almost all of the time, the wind blows incessantly, and the altitude takes it's toll…for some more than others. Strong high altitude climbers (like Adrian and Sergey) seem to acclimatize to a degree which allows them to feel well and function. Poor acclimatizers (like myself!) feel terrible, never quite manage to have an appetite, get no sleep, take loads of drugs to try and combat killer headaches and intractable nausea …and generally have a horrendous time. Everyone's experience is different.
As for Camp 3, I can give no personal account of its horrors, but Sergey and Adrian made it up the Lhotse face in 3 hours and 45 mins and spent the better part of 18 hours suffering at 7350m (24,000 ft). Although the wind managed to stay fairly tame, the temperatures were extreme and Adrian told me that his watch measured -28 degrees celsius! Brrrr! They (speedily) came down the following morning to join me at Camp 2 for another day and half before we all made the descent back to Base Camp this morning…which takes us right back to where I started!
The fresh salads, fresh fruit, espressos and Tashi's fantastic cooking have never tasted so good. The hot showers, clean clothes and soft furnishings in our Zebra Den have never felt so good…and quite frankly, the prospect of being here for a good few days waiting for the weather to give us a break to allow Adrian and Sergey to go back up and try for a summit or two…is truly not so bad!!
-Monica Piris, Expedition Doctor