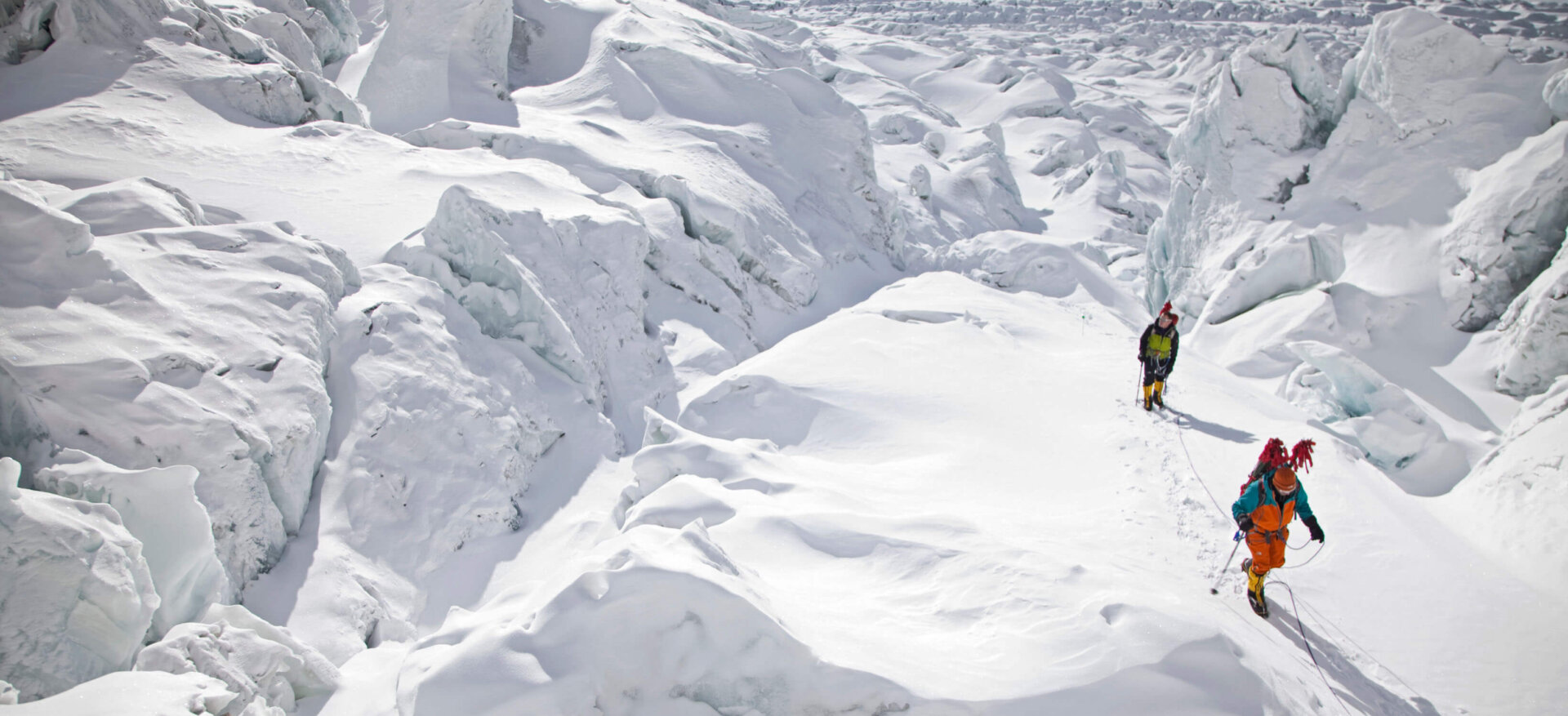 On The Move….
Adrian and Sergey are enjoying their last afternoon in the Zebra Den before the real work starts. It's been a great week of relaxing, catching up with friends, eating good food and drinking good wine, but finally, the stars have aligned, the opinions of our forecasters in Bern are coming together and the weather charts look consistently promising. We are ready to go. Our four Sherpa left BC at 4am this morning for camp 2, and Adrian and Sergey will follow tonight. We have left some flexibility in our schedule such that the boys may or may not choose to spend a rest day at camp 2 depending on the weather forecast tomorrow, and on the amount of movement on the mountain. After a fairly long period of waiting, teams are all anxiously chomping at the bit to get going. There have been some small groups attempting summits even yesterday and today, (when meteorological conditions have been far from perfect)….but as the weather settles and the winds are set to drop, everyone will be wanting to get a chance at their summit bid. This could mean a lot of traffic on the fixed ropes and this is something that, if we possibly can, we would like to avoid. Nonetheless, a small, fast team of two is pretty flexible and capable of stepping out of line to move fast as a short rope team and avoid getting stuck in long, motionless lines of people.
SO…the plan is as follows: Adrian and Sergey will move to camp 2 in the early hours of tomorrow morning. There, they will rest for the remainder of the day and, if the forecast stays as it is and it looks to be not too crowded at the upper camps, they will continue straight to camp 3 on the 15th, camp 4 on the 16th and to the summit of Everest on the 17th. From the summit of Everest they will go back to the South Col, at 7950m, where they will rest, rehydrate and recuperate such that early on the 18th, they can descend back to the bottom of the Geneva Spur and move across to Lhotse. They will climb the beautiful Lhotse couloir, and hopefully, if the Snow Gods have heeded our prayers and conditions allow, they will ski down.
Now…you don't have to be Reinhold Messner to realize that this not a small objective. In fact, it is a huge objective: a HUUUUUGE objective. An ENORMOUS challenge: physically, psychologically and emotionally; it's off the scale. To date, we think that less than 8 people have managed the double summit in 24 hours…"The Blip" as it is starting to be known around BC: I guess in reference to the altitude profile of an ascent of both peaks: the summit of Everest at 8848m, down to the bottom of the Geneva Spur at about 7600m and back up to the summit of Lhotse at 8516m. To top it all off, the Alpenglow team intends to attempt the first ever ski descent of the Lhotse Couloir….AFTER having spent more than 48hours above 8000m, (yes… breathing bottled oxygen…OF COURSE! but still…!), and most of those hours actually climbing, not sitting around in a tent.
Our four Sherpa will not be any less challenged over the next few days. As I mentioned, they went to camp 2 this morning, carrying their usual loads of around 15-20kg each. They have been resting there for the rest of the day and tomorrow they will carry loads of oxygen to camp 3 and Lhotse camp 4. They will then rest on the day that Adrian and Sergey move to camp 3, but climb directly from camp 2 to camp 4 on the 16th. All four of our Sherpa will attempt to reach the summit of Everest with Adrian and Sergey on the 17th. After that, Dorji and Pasang Renji will stay at South Col in preparation for climbing Lhotse and supporting Adrian and Sergey on their second summit and ski descent: Karma and Tenzing will go straight down to camp 2 from the summit of Everest. On the 18th, while our "high four" are climbing Lhotse; Tenzing and Pasang will go back to the South Col to take down the camp and empty oxygen bottles. On their way down, if the others are below camp 3, they will take down that camp also.
And so it will begin; the crazy dismantling of a house of cards put up so painstakingly and with so much hard work from our Sherpa team. The high camps get dismantled, camp 2 gets taken down, the loads get ferried to camp 1 (where we actually no longer have a camp) and amalgamated into monster loads that bring everything off the mountain and back to base camp. The whole process takes two to three days…weeks of work, taken apart in just a few days….the Sherpa once again demonstrating their formidable strength, resilience and tenacity: carrying, setting up, climbing, summitting, breaking down, carrying…
As for me, I will be at base camp (biting my fingernails to the quick) reading the weather forecasts and relaying the information to Adrian: updating you guys, and perhaps, also starting to make the odd list of equipment to be packed and sent to Phortse for storage until the autumn season. On summit nights, I will move my sleeping mats and sleeping bag to the kitchen where Tashi and I will set up camp next to the radio base station to guarantee communication with the team up above.
This time of the expedition is always the most surreal: after weeks of preparation and planning, which at times feels painfully slow, finally there is a tangible schedule to try and realize the objective that has been set: planning starts shifting to packing up and heading out….but the job isn't done yet!!! I always feel a little strange thinking about what to pack up where before we've even reached the summit. But I know that once the team is down safely, all we will want to do is to get out of here ASAP!!!
-Monica Piris, Expedition Doctor, Alpenglow Expeditions.