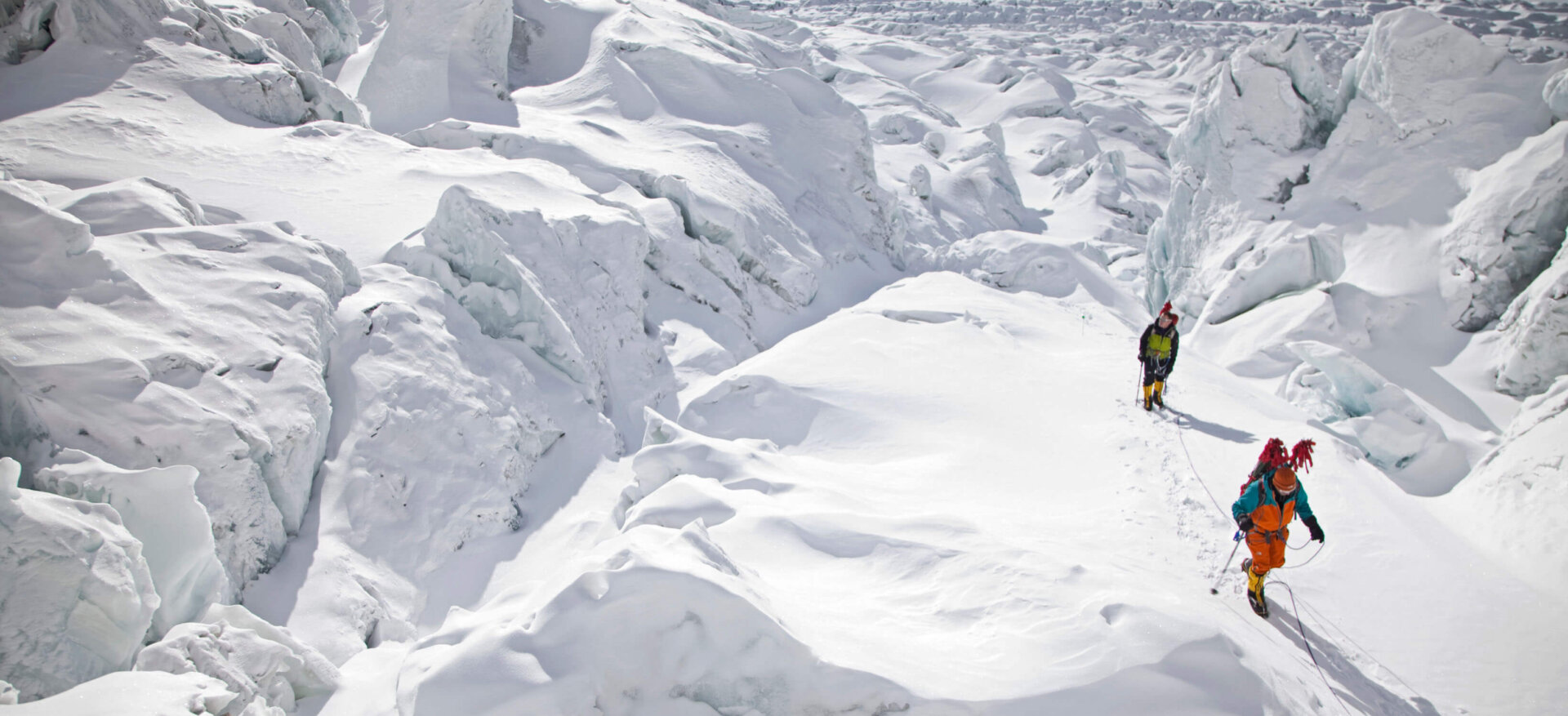 The following blog is courtesy of Billi Bierling, Himalayan Experience:
Special Camp II Pizza Delivery
While the Everest team has spent their second night at 6,400m (21,120ft), two Sherpas nipped up to Camp II at the crack of dawn on Saturday to deliver pizza for the group to enjoy after their first trip to the bottom of the Lhotse Face. "We left at 6 this morning to have a first glimpse of the Lhotse Face and it took us about three hours return," Adrian reported by radio. At 9am, the group was back at Camp II for another relaxing afternoon and even though exhausted, all of them were feeling well and enjoyed their exquisite lunch. "The pizza delivery was well worth it," Adrian reported. The pizza was one of the many varied meals our kitchen team, consisting of Phuri, Tashi, Mingma and Raj, prepares every day. "Even though I get up at 5am and work non-stop till about 9pm, I really enjoy my job here," Phuri said while chopping ubiquitous potatoes.
In the meantime, the long-awaited Lhotse, Lobuche and trekking group has arrived at the Himalayan Experience base camp, with Chris Jones from Ireland, Sissel Smaller from Norway, Jing and Liang from China gearing up for Lhotse, Shiji an artist from China, who has adopted the name 'Picasso' attempting Lobuche East, John and Mike from the US going to Lobuche East and then to Camp II on Everest, and Chris from the UK and Raiden from Norway trekking to base camp. "It is great to finally be home," Narly, one of our Lhotse guides, said while diving into the dining tent for lunch. Our second Lhotse guide, Brian Warren, is new to Himalayan Experience, however, he is not new to Nepal as he guided Ama Dablam with Adrian last autumn. "It's great to be back in Nepal and I am really looking forward to tackling Lhotse," he said.
After a few days of peace and quiet, the White Pod, which has been cleaned and dried for the new arrivals, has come back to life again. "This is so much more comfortable than sitting in one of the teahouses," said John, one of the members who is intending to go to Camp II on Everest..
Soon after the group's arrival, Russell convened a brief meeting to tell everyone more about their upcoming expedition as well as base camp life. "Our main challenge is to keep healthy," he started the meeting. "If you have any medical problems, please see Monica as we need to get rid of any bugs here at our camp," he reprimanded the team referring to the fact that a common cold could cost the Everest and Lhotse aspirants their summit success. He further explained the upcoming schedule for the Lhotse team, which will be exactly the same as for the Everest climbers. "You may think that you are late, however, nothing has happened on Lhotse so far, and by the time the mountain is ready to be climbed you will be ready to go." However, on Sunday the Himalayan Experience Sherpas started fixing the rope to Camp IV on Lhotse. "It is great that our Sherpas are now making their own decisions. It is too windy on the South Col today and so they opted for fixing the way to Camp IV on Lhotse as that side is more protected."
As far as the rope fixing on Everest is concerned, the Sherpas of the different operators were bang on schedule with the rope having been fixed all the way to the South Col by 30 April. "It's amazing but we are following last year's schedule and I am happy it is all working so well and the different teams are cooperating," Russell said.
Sunday will be yet another relaxing day for the Everest team up on Camp II, who are preparing for their first ascent to Camp III tomorrow, and for the Lhotse and Lobuche team, who are acclimatising at base camp.