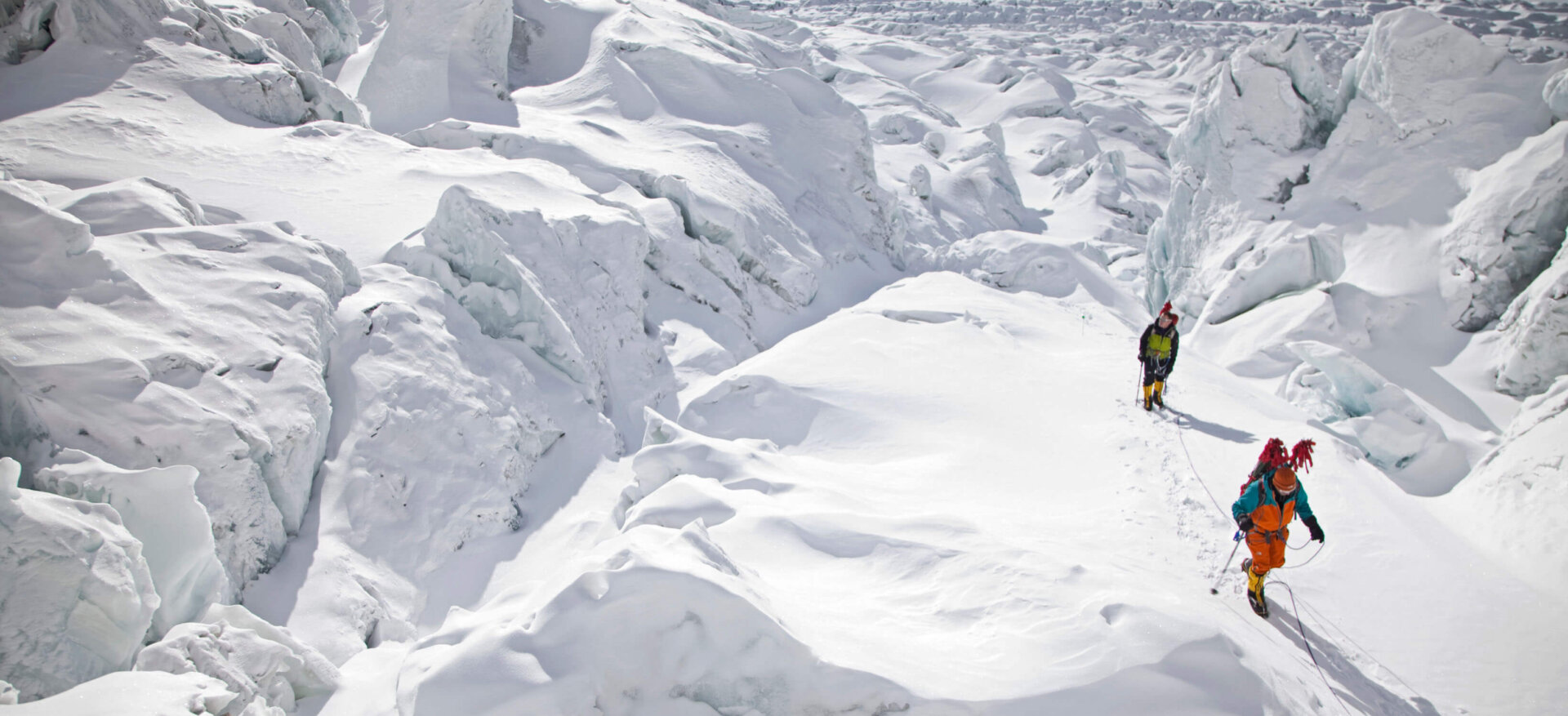 The following blog is courtesy of Billi Bierling, Himalayan Experience:
After a sturdy breakfast, the group left Phortse and is now on its way Pheriche, which at 4,600m is the next acclimatisation stop for two days. "It snowed on and off all day on Monday and there are a few centimetres of snow on the ground. Today, the weather is perfect – there are no clouds in the sky and the views are magnificent," Adrian reported from his Blackberry on Tuesday morning.
In Pheriche, the team will have the opportunity to visit the hospital, which is one of two aid posts owned and run by the Himalayan Rescue Association (HRA) of Nepal. The Japanese built it in 1974 as both a hospital and a research centre, and the reason they chose Pheriche was that it is situated at a critical location where altitude sickness often begins to bite.
Every year from early March to early June, the health post is staffed with two volunteer doctors from various corners of the world. They treat both trekkers and porters, who often do not acclimatise any better than the tourists as most of them come from the lowlands of the Terai. On top of treating patients for acute mountain sickness (AMS), the doctors offer a lecture about AMS every afternoon and even though our team has the luxury of having Dr Monica, it is certainly an interesting lecture to listen to.
During their two days in Pheriche, the members can simply rest or go for a short walk across the ridge to the neigbouring village of Dingboche to check out the quality of coffee and cake there or visit the internet café, which is perched at the end of the settlement. However, they might just opt for staying at the brand-new Snow Lion Hotel, which is run by our head Yakman Nawang, as Pheriche can be a very windy and chilly place.
While our group is busy acclimatising to the higher elevations, I would like to introduce you two more members of our team, Alan Millard and Kin Man Chung.
Alan Millard
Alan Millard is from the UK, or to be more precise, he is from Colchester – 'the oldest recorded town in England' Alan said proudly during the interview. The 48-year-old has two sons and a daughter and is the chief operating officer of an insurance company. He successfully climbed Manaslu with Himalayan Experience in October last year.
How did you first come across Everest and who inspired you to climb it?
Everest has always been in the back of my mind. I started rock climbing when I was in my 20ies and I got into Alpine climbing in my thirties. However, when I got married and had my children I stopped and it was not until 2003 that I climbed Kilimanjaro. Two years ago I went to a talk by Doug Scott and I ended up buying one of the photos he took of Dougal Haston on the top of Mount Everest. I put it on the wall and it has been staring at me ever since.
During a ski trip last year, I talked to a guide who had been to Everest and I guess this was when the seed was planted. I had heard about Himalayan Experience and I immediately contacted Russell Brice who told me to go to Manaslu first, which I did and summited on 1 October 2010.
What has been your biggest achievement so far?
I guess it was Manaslu, and before that it was the Matterhorn.
What is your biggest challenge on this Everest expedition?
Fear of failure. Fear of the things I cannot control – like bad weather or sickness. If it is up to me, I know I can do it. On Manaslu I did not really have this fear of failure as I had no idea what it was going to be like.
How do you think Everest will change your life?
I think it will change my life in lots of ways, as a matter of fact it already has. When I first had the idea to climb Everest, I focused on the physical challenge. But now I have realised that it is a life-changing experience, and I can already feel it. It teaches you, who you are and I am in the process of finding myself – and that process was already triggered by Manaslu. Climbing Everest also spreads good feelings – everyone around me feels good about it. I have done some talks at schools and it is such fun seeing the wide eyes of the kids, who are so excited about me going to climb to the top of the world.
How mentally prepared are you for the possibility of not getting to the top?
I promised myself that I would come back once if I don't get to the top. So I am prepared for it.
What will you carry to the summit?
I would like to carry something to the top but I haven't found anything yet. However, it will definitely be something light!
Kin Man Chung
Kin Man Chung owns an outdoor equipment business and is from Hongkong. The 58-year-old is married with two daughters and has already been to the top of Mount Everest.
How did you first come across Everest and who inspired you to climb it?
Nobody needs to inspire me – it is the highest mountain in the world. I have already tried to climb it five times and in 2003 I summited from the North side in Tibet. This is my third time on the Nepal side and I want to see the complete route from this side. I want to find out whether I can go on and whether I can still do it at 58. There are people out there who think that you cannot do anything anymore when you are 50 years of age and I want to prove them wrong. I also want to continue mountaineering.
What has been your biggest achievement so far?
Mountaineering and my adventures. I have climbed all Seven Summits and I have skied to the North and South Poles.
What is your biggest challenge on this Everest expedition?
I guess it will be to see my performance and to see whether I can still climb high. I am getting older and everything is slowing down. I also want to find out about my mental strength. For me, the most important thing is to find out how I will do this time. Whether I will reach the top does not really matter.
Has Everest changed your life?
Reaching the summit in 2003 certainly changed my life. Once you have climbed Mount Everest, society knows more about you and everyone thinks you are 'Superman', even though you are not. You feel good about yourself and that has changed me. Mount Everest is the biggest thing I have done in my life.
How mentally prepared are you for the possibility of not getting to the top?
I feel physically strong but I know that my mental strength is very important. I have tried to climb Everest since 1992 and I have failed many times since then, and I have failed on other mountains too. So, I will not be upset but I will certainly try my best.
What will you carry to the summit?
The Hongkong flag and my sponsor's flag.