Private Bolivia Expedition Updates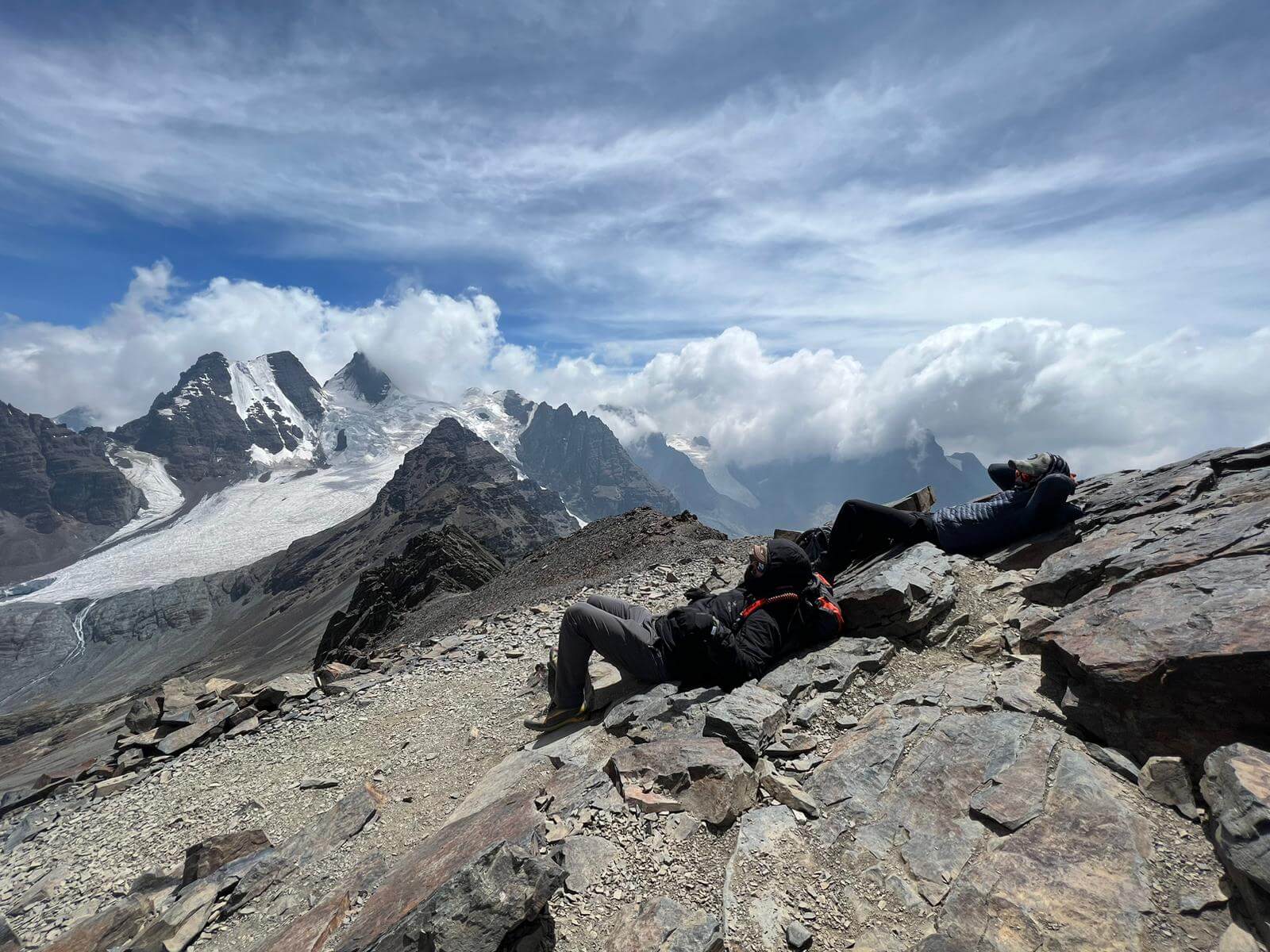 Updates From Guide Mike Pond: November 4-23
November 5th: Made it to Condoriri Base Camp
November 6th: Planning to climb Tarija & pequeño Alpamayo tomorrow. Aiming to be back at camp before 3pm.There's lots of dry glacier. But actually seems like it might be more interesting and fun climbing. We'll see!
November 7th: Top of Tarija and Pequeño Alpamayo. Super perfect weather. Icy (fun) conditions. We even picked up a team mascot! A local dog followed us all the way up, first dog ascent of Tarija and Pequeño Alpamayo? 4th class rock and AI 3!!
November 8th: Clients on Pico Austria right now! They make summiting look easy. After this we are on our way back to La Paz.
November 9th: We're going to take a rest day tomorrow in La Paz. So we'll go see a Lucha Libre tomorrow to pass the time
November 10th: We'll take off to Illampu tomorrow for 4 days. Tomorrow to Base Camp, day 2 to High Camp, day 3 summit then High Camp, day 4 to La paz, day 5 rest in La paz.
November 11th: Greetings from Illampu BC! All is well. Got pretty wet in a storm in the way in, but we're warming in camp and all have dry clothes. And clearer skies now!
November 12th midday: Safe & sound at high camp at 17,000', at least the precip is frozen up this high!
November 12th evening: Major thunderstorm has been nearby last 3 hours. Pretty scary a few hrs ago. Still lingering – lots of lightning about 3 miles away still, And snowing. (Which is pretty damn obvious no-go weather at the moment). We'll keep looking at the now-cast and wait an hour at a time til if/when we get climbable weather.
November 13th: Hey folks, we're on the drive back to La Paz – all safe and sound
November 14th: Hey all, we're taking a rest day today in La Paz. Given the weather, we're going to pivot to the Sajama region for the rest of the trip.
November 15th: Made it to Sajama town. What a cool place!
November 16th midday: Made it to HC! All good. This is the highest any of the clients have slept!
November 16th evening: Morning (evening)! We're off for the summit of Sajama.
November 17th morning: Cumbre of Sajama!
November 17th midday: Back at HC! Now only a few (more) hours of waking downhill
November 18th: Hi folks. We had a really nice rest day here in Sajama town. Hot springs! Tomorrow we'll do a day trip of Acotango.
November 19th: Greetings from summit of Acotango 6000m! Windless sunny day! Oh yeah!!
November 20th: Nice rest day today! We'll do a day trip to Parinacota tomorrow. Crew is tired and in high spirits!
November 21st: Greetings! We're finished up climbing, driving back to Sajama town now. We're going to head back to La Paz this evening