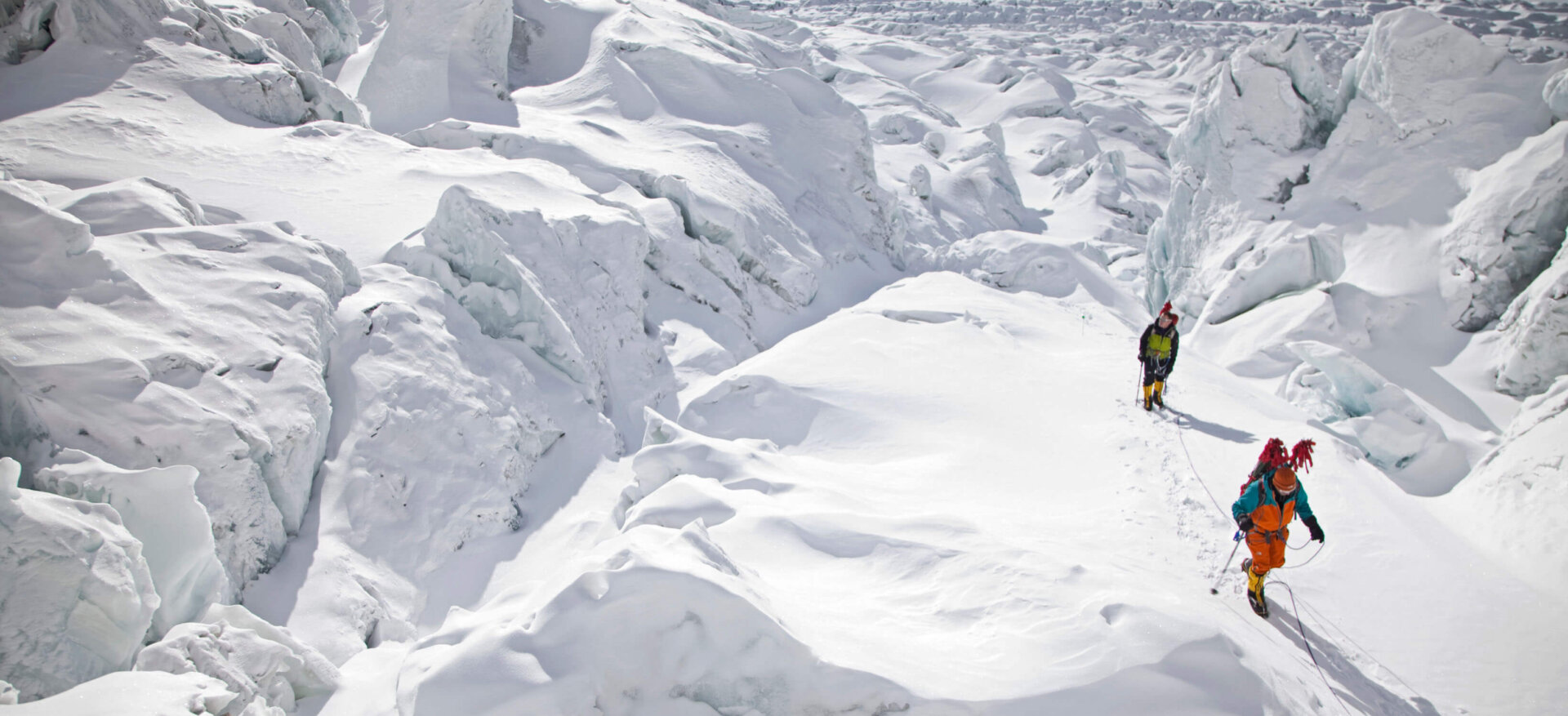 The following blog is courtesy of Billi Bierling, Himalayan Experience:
Buddhist Blessings for a Successful Expedition
Tuesday started as usual with a hot fresh face towel and a cup of tea in bed or rather 'on the sleeping mat', which is just the right thing to wake up to in the abnormally cold mornings. "Our oxygen bottles are freezing every night," Adrian reported from his Blackberry. After some general faffing around the camp and the usually hearty breakfast, the whole team gathered around the Buddhist altar for the traditional Puja in brilliant sunshine. "The weather was kind to us," David Tait commented. This traditional Buddhist ceremony is very important for the Sherpas but also for the guides and members as it is auspicious for the expedition. The Sherpas do normally not go through the icefall or touch the mountain without this significant ritual.
Our Sherpa crew had decorated the altar, also known as 'Chorten', with the colourful Buddhist prayer flags and put some offerings, such as soft drinks, beer, whiskey, cake and chocolate around it – and every expedition member brought a piece of their climbing gear to be blessed for their upcoming adventure.
Our head Sherpa, Phurba Tashi is also a trained lama and was leading the chanting of the Puja while the other members of the Sherpa crew were trying to keep up by finding the right words in their little prayer books. As usual, Russell was sitting in the front row with the Sherpas and I remember him telling me that the Puja had become a very emotional part of the expedition for him. And looking at his solemn face, it really showed. While many other spectators were busy taking pictures, Russell seemed entirely immersed in the ritual.
The Puja concluded with a few whiskey shots and the traditional Sherpa dance before everyone crawled back into their tents again to shy away from the clouds and the snow that started falling in the early afternoon.
Wednesday started with an outing to Kala Pattar, the famous view point near Gorak Shep – the last village below base camp. Kala Pattar means 'black rock' in Nepali and it actually looks like a big black bump that is perched just below the south face of Pumori. Unfortunately, the views were marred by heavy clouds, however, it was the first time the expedition members reached the height of 5,545m and everybody was feeling great.
The afternoon will probably be spent inside the tents or the 'White Pod' as the bodies of the team will have to rest for the next activity, which will be the acclimatisation climb to the 6,119m-high Lobuche East peak in the next few days. But in the meantime, I will continue to introduce our members to you.
Jim Holliday
Jim from Pittsburgh in Pennsylvania is returning to Everest. The 55-year-old was on the 2009 Himalayan Experience Everest expedition but after a very strong performance he had to turn back due to illness.
How did you first come across Everest and who inspired you to climb it?
When I was eight years old my mother bought me a "Climb Everest" game and I have wanted to climb the mountain ever since that time. When she passed away I wanted to fulfill that dream in her memory. In 2004, I trekked to Everest Base Camp and when I saw the mountain I knew I was going to make it happen. In 2009, I was on the Himalayan Experience expedition and I got as far as Camp 3 – but then I got sick and could not carry on. It was very hard for me but I knew there and then that I would come back.
What has been your biggest achievement so far?
Standing by my mother, when she needed me most.
What is your biggest challenge on this Everest expedition?
Believing that I can do it.
How do you think Everest will change your life?
I am who I am and I don't think it will change me. I have my values and summiting Everest will be a wonderful thing. It will fulfill the promise I made to my mother when I was eight years but I don't think it will change my life.
How mentally prepared are you for the possibility of not getting to the top?
I know it is a real possibility and I accept it. It will certainly not ruin my life and it will probably not make me feel like a failure.
What will you carry to the summit?
A picture of my mother and her in my heart. I want her to see what I see and experience what I experience.
Stephen Sandstrom
Stephen is a representative of the House of Representatives in Utah, an architect and a former airline pilot. The 47-year-old lives in Oram, Utah, and is married with three boys and one girl.
How did you first come across Everest and who inspired you to climb it?
Climbing has always been by dream. When we were kids, my mother used to write down our desires and one of my wishes was to climb Mount Everest. I did a lot of rock climbing and a lot of backpacking as a teenager. When I was in my early 20s, I was planning to go to Everest with a bunch of Utahns but it all fell through due to lack of money. I got married when I was 27 and had kids, and it was only about five years ago that I started again to dream about Mount Everest. I took up climbing again and scaled Mt Rainier, Orizaba in Mexico (5,800m) and a few more 6,000m peaks during two different trips to South America. I also climbed Huascaran and Alpamayo in Peru, which I think was the toughest mountain I have climbed so far. In 2009 I was on the Himalayan Experience Manaslu expedition, however, during the trip I found out that I had a serious heart condition, which required heart surgery when I got back to the States. My right artery was blocked by 95 percent and the centre one by 70 percent. My doctor has cleared me for Everest and I am very intrigued to know how I will do on Everest this year.
What has been your biggest achievement so far?
My most fulfilling accomplishment is being a dad. I go climbing with my oldest daughter and I spend a lot of time with my kids. My political career is also something I consider a great achievement. Last fall, there was an article about me in 'The Economist' which I also consider a great achievement.
What is your biggest challenge on this Everest expedition?
I don't think it is going to be the climbing as I am in really good shape. The hardest thing for me will be being away from my four kids and my wife. I think climbing is a very mental thing and dealing with the mental challenge will be tough.
How do you think Everest will change your life?
It will certainly be a life changing experience. Getting to any of my peaks has been an accomplishment but I think that once you have climbed the highest mountain you will be able to do everything.
How mentally prepared are you for the possibility of not getting to the top?
I think it will be very tough if I did not get to the summit because of what I have been through on Manaslu. I know I could have summitted but my heart condition did not let me. I felt like a failure and that feeling was really hard for me. When I left Manaslu base camp I was defeated and battled. I just don't want to go through this again. But I know there is always the chance that I will not make it and that will be very difficult.
What will you carry to the summit?
A picture of my wife and I and a flag of the Utah House of Representative. Every member of the HoR signed the flag so I want to hold it up for a picture.
If you want to follow Stephen's blog, click here: www.politicalclimber.blogspot.com