Second Summit Window Looking Good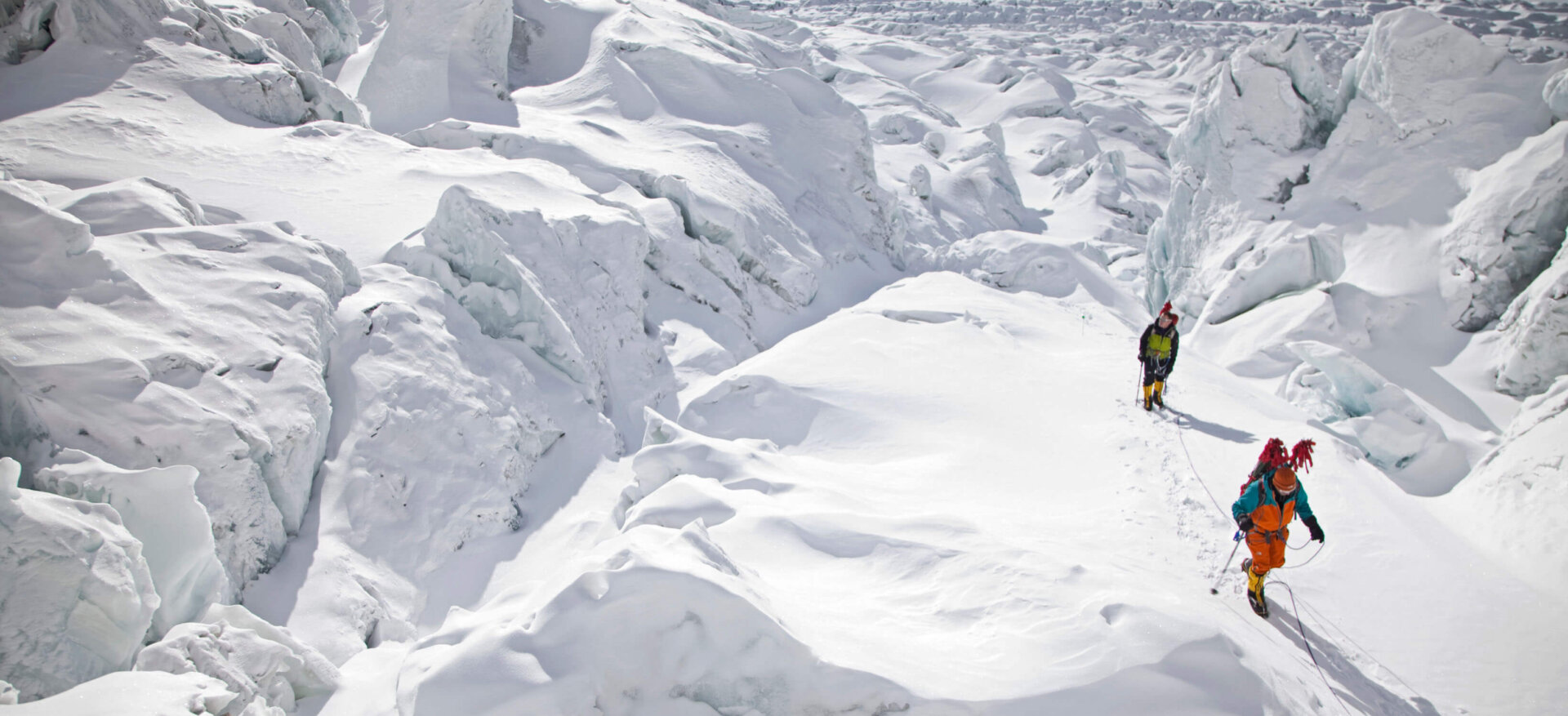 The following blog is courtesy of Billi Bierling, Himalayan Experience:
Quizzical Looks at the Weather
After having relaxed in the snow, rain and finally in the sunshine, the team is getting ready for their second summit attempt. The weather had played a few tricks on us and after the two groups had come down from the mountain last weekend, it had continued to snow and rain for another two solid days. "It is difficult to accept all the sitting around but I guess waiting is part of big mountain climbing," said Sergey from Russia. "I definitely have to sit it out as I cannot go back to Russia without the summit in my pocket," he continued with a smile.
He certainly has a good chance to finish his quest as the end of the waiting game is in sight. According to the latest weather forecast, the heavily-laden clouds have moved on and a more stable weather system has come in. "The 4th and 5th October are looking good and even though it will be a lot colder, the wind speed is still within our limits," Russell told us after having checked the latest weather forecast, which we receive from Switzerland on a daily basis. However, for our Sherpas it seemed to be crystal clear that the weather would change on Wednesday. "Today is the start of a new Sherpa month, which normally means a significant and lasting change in the weather," said Phurba Tashi while having a wash in the ice-cold water that is coming straight from the glacier.
And he was right, on Wednesday morning the atmosphere seemed to have changed in the whole of base camp. "It is amazing how much of a difference a bit of sunshine makes to people's faces. Everyone seems to be smiling this morning," Jaime observed while most of us were washing, sunbathing, doing our laundry or going for a walk down towards Samagon. "It was great to see something different and even though we did not get all the way to the village it was nice to hang out by the river in the sun," said Pierre, who will be attempting Manaslu without the use of supplementary oxygen. On the previous day, our Sherpa team had already gone to Samagon to pick up the goods that had been sent by helicopter from Kathmandu. "We needed fresh food as we were running low on supplies – our army boys certainly have a good appetite," Lacchu smiled while cutting fresh tomatoes and peppers for the chicken chilli that was going to be served for our quiz night.
Picking brains
Wisey spent all of Wednesday picking his brain to compile a quiz for the whole crew. "I have tried to make it as international as possible and find a question for everyone. Unfortunately, I don't have a lot of knowledge about Latvia," he said looking apologetically at Voldemars and Kristina. After one of the mess tents had been emptied and the buffet had been opened, Wisey took the floor to start frying our brains, which are certainly tired and not very much use at this altitude. We were all very impressed, as he had come up with 50 questions for 10 different categories – and all this without Google! "What is the name for the dessert 'Pavlova' based on," he expectantly looked at Sergey – but all he got was a blank look from our Russian skier. Fortunately, his team members knew that it was based on the famous Russian ballet dancer 'Anna Pavlova' and secured the point for them.
Some of our non-native English speakers had a hard time understanding Wisey's strong Yorkshire accent and even though Herbert looked clueless most of the time, our true German football fan knew that the 1998 World Cup took place in the United States. "Thank God I knew this one answer as otherwise my presence would have been completely useless." The quiz went on until far beyond our usual bedtime and the winning team consisted of Karl, Francis and Dan from our Walking with the Wounded (WWTW) group. Everyone seemed to have enjoyed this social event, which was very different from our normal evenings. "It was also nice to see the two teams mingling a little bit more as they normally don't really swap tents," said Russell referring to our WWTW and our 'civilian' team.
On the following morning, eight of our Sherpas left base camp at 4 o'clock in the morning to find out whether our tents were still standing at the upper camps. "Good news Dai," Phurba Tashi called out to Adrian. "All our tents are okay and our gear is safe." Despite the good news, the Sherpas took eight hours from base camp to Camp II, which would be quick for any of us, however, it means that the Sherpas must have been struggling through the deep snow. "The route is ok but breaking trail was hard for our team," Phurba Tashi continued. The eight Sherpas will carry on to Camp III and then Camp IV to hopefully fix the route to the summit ahead of our first team on 4th October.
Summit Attempt
The first group, which was the second group last time, will be leaving base camp for their summit attempt on Friday. "We are switching the groups around as last time's second group has been at base camp for one day longer, which means they are more rested than the fist group," Russell explained his strategy. The second group, which will be our 'Walking with the Wounded' team, including Ken the cameraman and Sergey the skier, will be following on Saturday to reach the summit on 5th October.
Of course, we have to see what the route is like and hope that the Weather Gods will finally be good to us and let us reach the summit in fine and calm weather. But before that the Sherpas need to look at the route and make sure that it is safe for our team.
The following climbers will leave base camp on 30 September to attempt to reach the summit on 4th October:
Wallace Chambers
David Craven
Makoto Fujikawa
Pierre Godof
Herbert Hellmuth
Kristine Kravcova
Noboru Kudo
Rumiko Saito
Yoshiki Sakai
Voldemars Spruzs
Billi Bierling
Ryuseki Hiraoka
David McKinley
Jaime Avila
The following climbers will leave base camp on 1st October to attempt to reach the summit on 5th October:
Francis Atkinson
Christopher Gwilt
Andrew Hawkins
Martin Hewitt
Karl Hinett
Manunora Rai
Jaco Van Gass
David Wiseman
Henry Chaplin
Ken Sauls
Sergey Baranov
Brian Warren
Adrian Ballinger
We will keep you posted on how the members are doing on their individual summit days and will send an update once they have reached the safety of one of the high camps.
-Billi Bierling at Manaslu Base Camp