Some Go Up, Some Come Down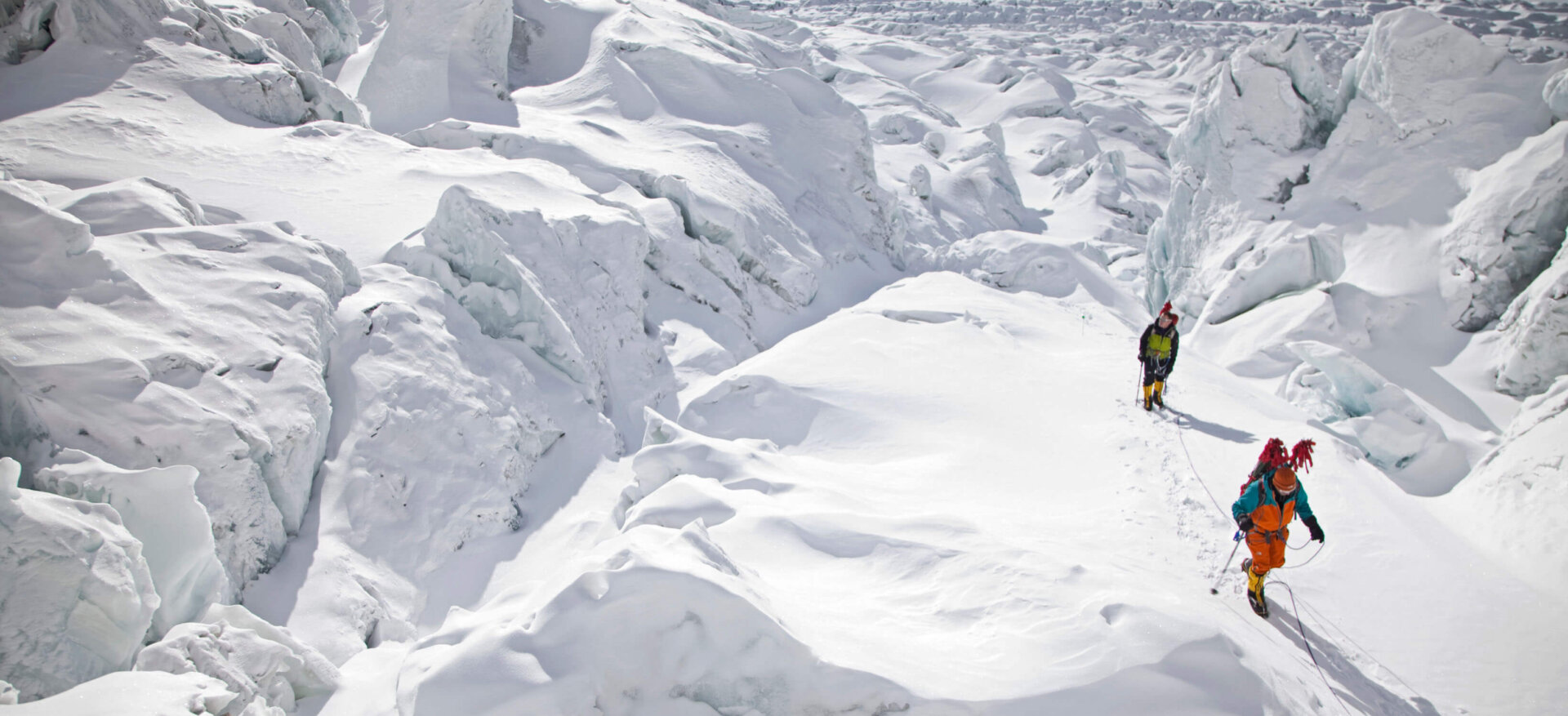 The following blog is courtesy of Billi Bierling, Himalayan Experience:
Wednesday morning saw a lot of activity in the Himalayan Experience camp with the Everest team arriving from their acclimatisation rotation from Camp II and the Lhotse team preparing for their first acclimatisation rotation on Lobuche East. "The Lhotse Face was a lot less frightening than I imagined," said Matt from Australia plonking himself into one of the chairs in the dining tent and ravenously digging into his breakfast. "I have been waiting for this moment for ages," Adam agreed looking up from his cozy position on one of the sofas in the White Pod. It seems a long time ago that the team had left on 28 April to acclimatise for four nights at Camp II and one night at Camp III before they spent another night at Camp II and came back down to base camp. "Don't come near me, I think I smell," Jim called out when the girls came to welcome him with a big hug. The only person, who is missing here at base camp is our guide Adrian, who opted to stay at Camp III to help the Sherpas carry loads to the South Col and maybe assist them in fixing the ropes to the summit. "I just love working with the Sherpas," Adrian told me before he left for Camp II at the end of April.
On the whole, the acclimatisation rotation went very well and all the members and guides achieved what they needed to achieve with the Sherpas accomplishing the almost impossible. "While we were lying in our tents utterly exhausted, Phurba Tashi carried a load from Camp II to the South Col at 8,000m (26,400ft), then came back to Camp II and then he nipped down to Camp I to pick something up and then came back! It is amazing what these guys can do and we cannot even begin to compare ourselves with them," said David.
For the Everest team the waiting game has now begun as they are finished with their acclimatisation and other than rest, sleep and eat the only thing they have to do is wait for the weather window to arrive. "The Sherpas of the different teams are due to fix the rope to the summit on 6 May and after that we will have to see when the weather allows our team to go for the top," said Russell.
Lhotse team starts acclimatising
While the Everest group is resting and recuperating, the climbing finally begins for the Lhotse team with their first trip to Lobuche East starting on Thursday. "It seems weird to go back down to go up again but I guess that is the best acclimatisation and it saves us going through the icefall more than one time," said Chris Jones of the Lhotse team, who summited Mount Everest with Himalayan Experience in 2009. The team will spend six days on the 6,119m peak (20,190ft) doing different rotations and spending two consecutive nights on the summit. "The views from up there are great and I am looking forward to going back there," said Jing Wang from China.
On Tuesday, Narly and Brian, our two Lhotse guides, had set up a training course just outside our camp for our group to practice and remember their mountaineering skills. "It was such fun I could hardly stop going around the course," said Mike from the US, who is attempting to reach Camp II on Everest together with his mate John. It was a good refresher for all of us – even for those who have already climbed several 8,000m peaks. "I learn something new every year," our experienced climber Ellen Miller commented.
The course involved two ladders, a steep abseil – or rappel as they say in the US – and a few places, where we reminded ourselves how to 'arm rap'. "I am really happy that we are doing this as even though I have climbed many mountains, it is always good to remind myself of how to do these things," said Sissel from Norway.
Wednesday night will be one of the few nights when the Lhotse and Everest teams are spending time together at base camp, so we are planning a little 'reunion party' in the White Pod. However, one of the highlights of the evening will definitely be the "Peking Duck", which is currently being prepared by one of our Chinese members, Jing Wang, and our super chefs Tashi and Phuri.
I will try and send updates from both the teams from the top of Lobuche East, where the 3G connection is allegedly good enough to send data, however, I apologise in advance if the newsletter trickles in less frequently than previously over the next six days.