Summit of Lobuche, 'Monica the Medic', and 'Billi the Blogger'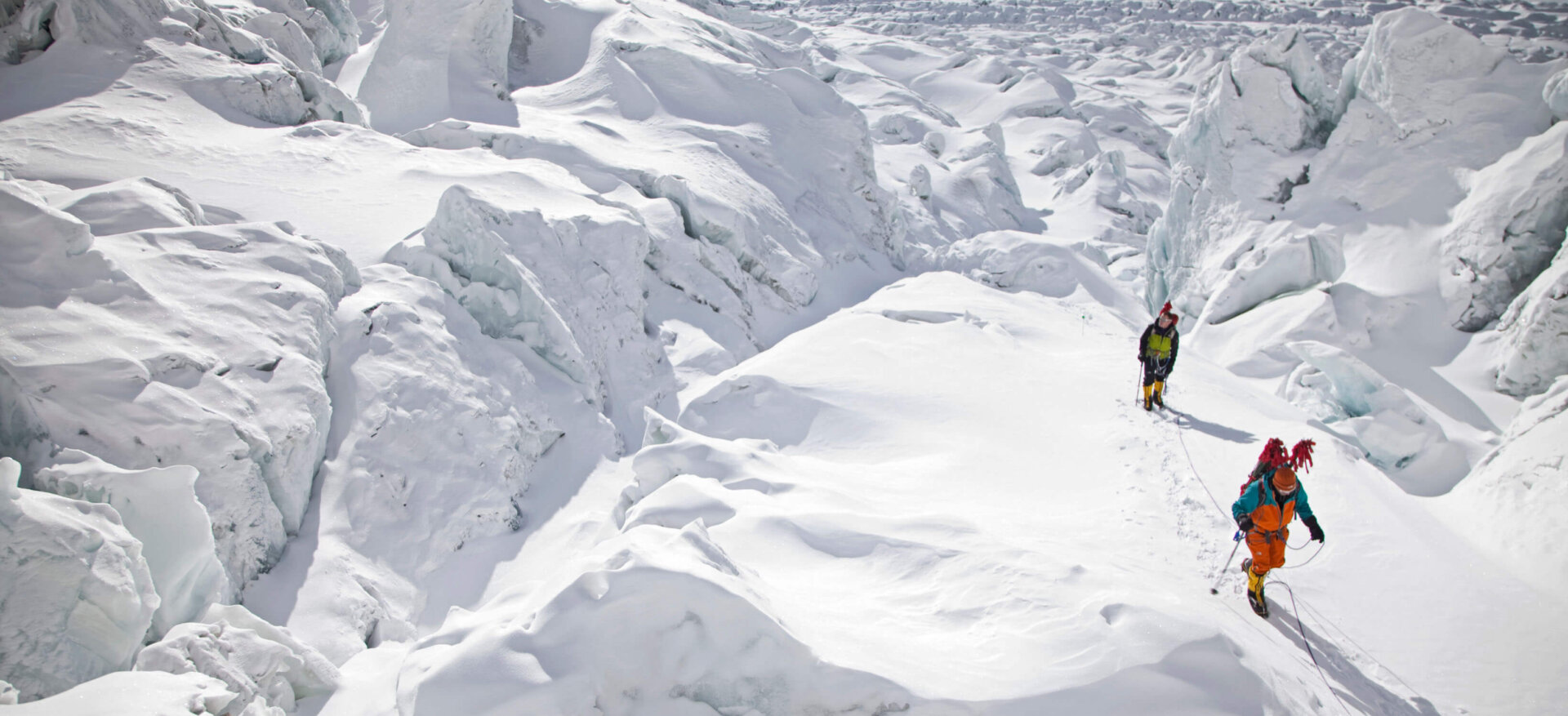 The following is courtesy of Billi Bierling, Himalayan Experience:
While our team is on its way to the summit of Lobuche or already on their way down, I will be wandering up the Khumbu to meet them at base camp in a few days. Until then there might only be sporadic news, however, given a working internet connection I will try and send you short updates on their progress.
'Moni the Medic' and 'Billi the Blogger'
Monica Piris Chavarri
Monica Piris is our expedition doctor and this is her fourth time working on Everest for Himex. Unfortunately, I did not get the chance to do an interview with Monica as I only had a couple of days to talk to all the expedition members and guides, and Monica was busy getting the huge medical kit ready for the trip. Not only did she have to prepare the medical kit for Everest base camp, she also had to put together small kits for the trek to base camp, the trips to the high camps and, of course, for summit day.
I met Monica two years ago and it was a real pleasure to spend time with her at base camp. She is a very accomplished high altitude doctor and she was fantastic at looking after the clients during our Everest expedition. She made sure everyone was well and healthy and took a lot of time and effort to explain the dangers of high altitude sickness to everyone.
Monica was born in Oxford, UK, to Spanish parents and she is completely bilingual. Her English is so posh you sometimes wonder whether you are actually speaking to the Queen herself!
She spends her summers rock-climbing in the Spanish Pyrenees and her winters skiing and ice-climbing in the US and Chamonix, France. She funds her amazing lifestyle by working as a locum doctor in the UK, where she goes in between her climbing trips. She is a great asset to the team and it is fantastic that Himex has its own doctor. I am very much looking forward to spending some time with Monica at base camp and maybe learn some more about high altitude medicine.
Billi Bierling
Finally, I would like to write a short introduction about myself. I was born in Bavaria to German parents and spent my childhood skiing, however, climbing or even hiking was never my cup of tea. In 1998, I came to Nepal for the first time and immediately fell in love with the country. After having come here every year to do some trekking and climbing, I finally moved to Kathmandu in 2004. I have been based here ever since, and during the expedition season I work for the Himalayan chronicler, Miss Elizabeth Hawley. This work entails racing around Kathmandu on my bike, trying to track down expeditions in order to interview them. I also work as a freelance journalist, editor, expedition leader and translator. I have just finished an 18-month post as the spokesperson for the United Nations Office for the Coordination of Humanitarian Affairs in Islamabad, Pakistan but I am very happy to be back in the madness of Kathmandu.
In 2009, I climbed Everest with Himalayan Experience, which I thoroughly enjoyed – in fact, I enjoyed it so much that I approached Russell last autumn offering him my services as a writer for his website. I wrote the 2010 Everest Newsletter and in autumn last year, I climbed Manaslu with Himalayan Experience but kept on writing for the Newsletter.
This year I am going back to the Everest Region and different from the 2010 expedition, where I was solely known as 'Billi the Blogger', I am attempting to climb Lhotse, the fourth highest mountain in the world.
I am very much looking forward to going back to high altitude climbing and providing you with interesting stories from both the Everest and Lhotse expeditions. I will try and make this Newsletter as interesting as possible as there are dozens of stories to tell – especially those behind the scenes.
As the Lhotse climbers are only arriving in Kathmandu on Tuesday, I will not get the chance to do an interview with them but I shall introduce them to you during our expedition – until then, watch the space!
Billi Bierling in Kathmandu