Summit Push Day 3…and other stories.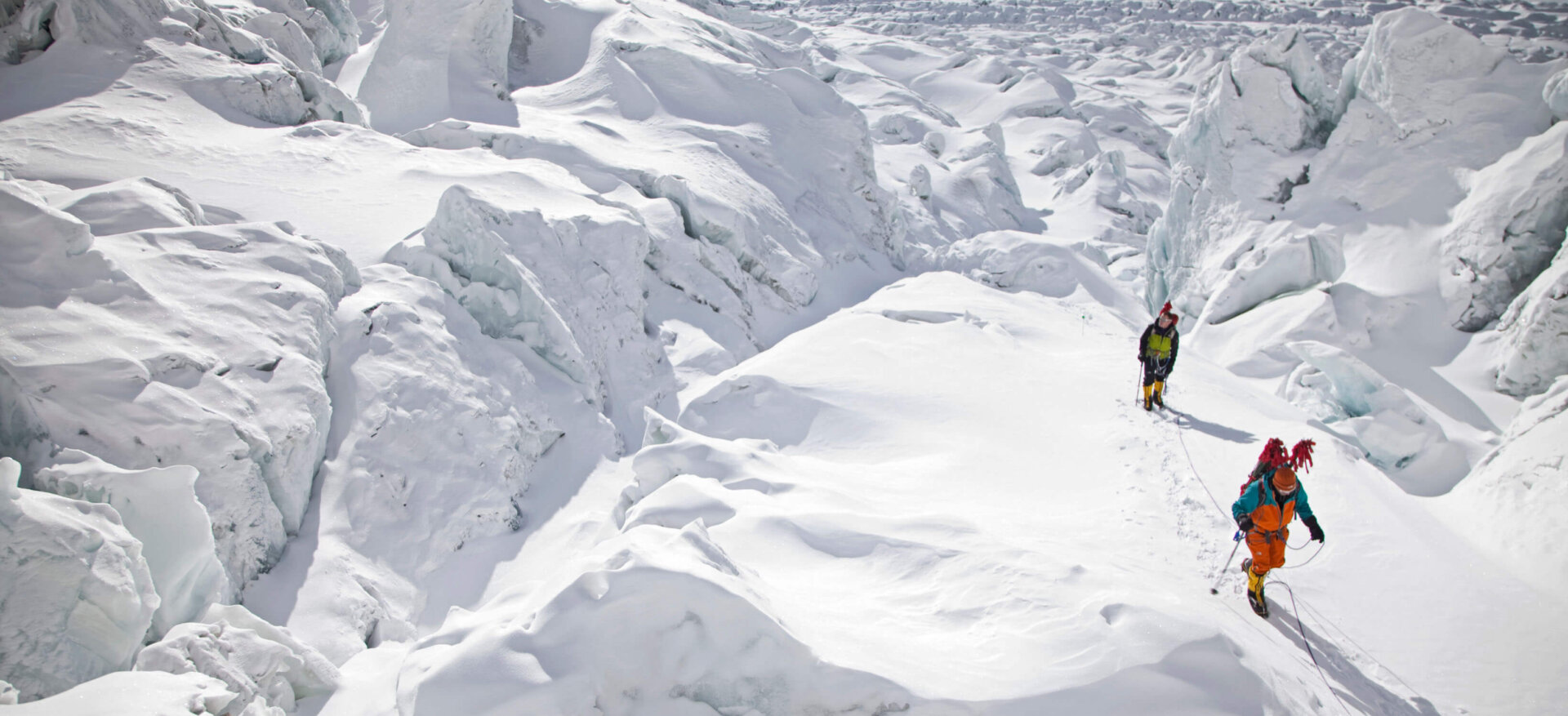 Summit Push: Day 3.
First things first:
Adrian and Sergey are well on their way to the South Col, they are both feeling well and climbing well.
The Sherpa are ahead of them, also doing well; they have arrived at a very windy South Col to get the tents up and ready for the others to arrive.
Conditions on the mountain are good…for climbing; wind is gusty (as we were led to expect by the forecast) but temperatures are mild. Adrian has however made it quite clear that the terrain they have ascended so far, through The Yellow Band and to the Lhotse junction…is utterly un-skiable. Nothing but bullet proof ice and rocks. No snow … ANYWHERE! In fact, he was so despondent that he said they were both secretly hoping that their skis might just disappear over the next 24hours! and I know how much he loves his La Sportiva skis….so it must be looking pretty dire. Hmmmmm. One thing at a time…let's get Everest done first and then think about the skiing. They should arrive at South Col in the next couple of hours.
SO…now that you know those important facts, I'll expand a little on yesterday….for me most definitely NOT a good day!
It began in the morning with the very sad news of Alexei Bolotov's death in the area by base camp. I did not know Alexei well, but had had some friendly banter with him on the route between camps 1 and 2 where I was gasping my last and he looked to be in his element. I was in awe of his phenomenal achievements in mountaineering, and his plans to open a new route on Everest's monstrous South West Face had me weak at the knees. He was a true himalayan climber with strength, skill and style….they are a rare breed. Our thoughts are with his family, climbing partners and friends.
After such sad news, my own disasters of the day are of course insignificant….but to me yesterday, they were huuuuuge!!! Nowadays, one of our lifelines out here in the Himalaya, is the phenomenal access we have to modern communication. You can probably tell from the barrage of blogs, Facebook updates, Tweets, Instagrams and the like…that everybody is online almost all of the time. As for myself, I must admit to being a bit of a dinosaur and not very "au fait" with social media (although before leaving, Adrian gave me a 2 hour long tutorial on how to update the blog and link it to FB and Twitter etc…yawn yawn) BUT, the one thing I cannot live without up here is our daily weather forecast. It's become almost a pathological addiction for me…the pretty charts, the scary spikes of the wind meteogram, the messy hashtags of 40 knots of wind on the GFS profile, and of course the invaluable words of our professional meteorologists in Bern.
SO, you can imagine my HORROR, when yesterday, our satellite internet device decided to give up the ghost. It simply decided to DIE. It spent all day pretending to respond to the power button and getting my hopes up, only to insolently get stuck on the message "Thuraya IP". OH how I grew to hate that little screen with those little stupid letters on it!! I had Adrian on the radio talking me through things to try. I had the battery of the device out with little screws and wires littered sadly on the table looking like a failed surgical procedure. I plugged the machine in, unplugged it: turned it on, turned it off, talked to it, made it warmer, made it colder…I tried everything!! It was awful. And as the hour of the new weather forecast approached…I felt my blood pressure and heart rate rising. Finally, I radio-ed a friend who has the same device to ask his advice. He suggested that I walk up to his camp to try and work it out…so off I trotted to Damian Benegas's camp with the disobedient device in my pack. Damian was great…he pretended to understand my anxiety (and I tried to be cool and "not-that-bothered"….but I'm fairly transparent so I think he guessed that I was on the verge of tears) and we went through all the options again together. We looked in the instruction booklet…a predictably useless exercise: we looked online (because his evil little device WAS working), we Googled everything Googleable …. and we got nowhere. Eventually, I called the technical support team of Thuraya. They are very efficient…it took them only ten minutes to confirm the death of my Internet device: not a technical problem, not a hiccup…nope…"HARDWARE FAILURE" was the diagnosis and there was no treatment. UGH!!! Damian…to whom I am eternally grateful, allowed me to download the weather forecast and said that I was welcome to come and do the same over the next couple of days over our summit push. I wandered back to our own camp all crestfallen and sad, told Adrian the bad news and got to work using the satellite phone to SMS our first line contacts to let them know that we would be offline for the foreseeable future, all the time wondering how I would manage to get our weather forecasts in and expedition dispatches out without becoming an utter nuisance to other teams.
As is often the case…..all that angst and stress and worry has turned out to be in vain. This morning as I walked into our Zebra Den and gave the hateful little internet device a withering stare…I considered stomping on it with my crampons on but instead I decided to hit the power button just one more time…..and….guess what….???!!!! IT WORKS! It's on! It's capturing little satellites buzzing around over our heads and it's turning waves into words (or whatever it is that these machines do) and it has put me back in touch with the world. HURRAY!!! I'm so relieved. Disproportionately so….you know how it is… we all manage to almost drown in our own glasses of water, regardless of how small and silly they are. SO that…is the end of that. Technology…..PAH!!! It's as unpredictable and fickle as us humans….and techy geeks are as likely to misdiagnose as we doctors are…or perhaps more so. I shall never diagnose imminent death with the nonchalance of the dude in Dubai!
Other things of note that happened yesterday……a regulator exploded in Adrian's hand as he tried to screw it on to the oxygen bottle at camp 3….!!! He is fine: his glove got a little burnt and the loud BANG! surprised both him and Sergey just a touch (!!! I bet here were some wide eyes and lots of swear words!) but nothing more than that. This is something which thankfully does not happen often…it is however a known hazard of using the high pressure oxygen systems that we use for climbing at high altitude: hence the importance of wearing gloves when changing oxygen bottles. We are not sure where the failure has been: bottle or regulator, but we will have all the parts looked at back in Kathmandu. Thankfully, this time it goes down as an amusing anecdote.
And finally……the BEST news of the day yesterday was that it was Sergey's birthday!!! He stoically endured his birthday climbing from camp 2 to 3, and then spending the afternoon, evening and night snuggled up to his oxygen bottle and guide! There was a touch of irony in his voice when he told me that he had never celebrated a birthday with oxygen and dehydrated macaroni before!!!! I believe him….but I also know that he won't ever forget this birthday!! We promise to celebrate in style when the task in hand has been completed!!!!
As I said at the beginning of the blog, they guys are almost at South Col. I will get a new weather forecast at midday (big smiles!!) but unless there are serious changes the plan remains the same: Adrian and Sergey will rest at The Col until 2 or 3 in the morning and then start climbing towards the summit of Mount Everest!
I'm nervous.
More soon.
Monica Piris.
Expedition Doctor.
Form the Zebra Den at EBC.